Japan reveals record 2012 trade deficit
updated 12:04 AM EST, Thu January 24, 2013
STORY HIGHLIGHTS
Japan exports fell 5.8% in December from strong yen, China territorial dispute
Imports grew 1.9% in same period; fuels accounted for 34% share
New PM Shinzo Abe maintains call for 2% inflation rate, more spending
Japanese yen has weakened 9% since mid-November, benefiting exporters
Hong Kong (CNN) -- Japan's annual trade deficit rose to a record $78 billion in 2012, according to official data from the Ministry of Finance.
Japan, a nation whose export-driven wealth has traditionally been built on trade surpluses, had a second straight year of trade deficits thanks to a persistently high yen, trouble with trading partner China and weakening demand in the eurozone.
Exports fell 5.8% in December 2012 compared to a year earlier due in large part to a strong yen which makes Japanese exports more expensive overseas.
A protracted territorial dispute with China in the South China Sea has also seen Beijing slow its imports of Japanese goods. Japan's exports to the country plunged 10.8% in December year-on-year.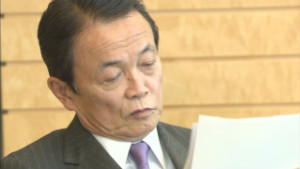 Japan deputy PM in 'die quickly' blunder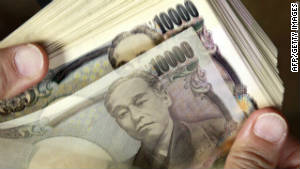 Bold moves from the Bank of Japan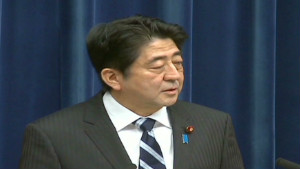 Kickstarting Japan's economy
Imports grew 1.9% over the same period, with mineral fuels including oil accounting for 34.1% -- and the majority -- of Japan's total imports for the year.
Late last year, then-prime ministerial candidate Shinzo Abe campaigned on a mission to turn his country's economy around. His government unveiled $117 billion in new stimulus earlier this month.
"Beating deflation and curbing the yen's appreciation is crucially important," Abe said on January 10 and that a "daring monetary policy is essential."
Earlier this week, the Bank of Japan signed on to Abe's plan to raise inflation to 2%, with the hope of pulling the world's third largest economy out of a two-decade slump of deflation.
Since mid-November, Japan's currency has weakened more than 9% and to a two-and-a-half year low -- boding well for Japan's exporters.
Abe, who served as Japan's premier from 2006 to 2007, was sworn back into the office on December 26.

Part of complete coverage on
updated 2:47 AM EDT, Mon April 22, 2013

Twitter resumes -- or "twesumes" -- have been touted as the best way for social media-savvy types to snag a dream job.
updated 4:00 AM EDT, Wed April 17, 2013

We live in a three-speed economic world, according to the International Monetary Fund.
updated 12:27 PM EDT, Wed April 17, 2013

Women have long dominated the heated discussion around gender equality. But men need to too, says Facebook's Sheryl Sandberg.
updated 6:53 AM EDT, Fri April 19, 2013

Security threats from mobile malware are on the rise and nearly 95% of targets operate on the Android operating system, according to a new report from NQ Mobile.
updated 4:06 PM EDT, Mon April 15, 2013

Microsoft is working on a touch-enabled smartwatch, The Wall Street Journal says, reporting that the company asked Asian suppliers to ship components for the device.
updated 2:47 AM EDT, Fri April 19, 2013

Give your anxious, negative colleagues a chance, and they just might surprise you.
updated 6:46 AM EDT, Wed April 17, 2013

In Europe, high-speed rail has come to stand for ease and efficiency where journeys of four hours or less trump airplanes and the hassle of airport security.
updated 2:12 PM EDT, Fri April 19, 2013

Infographic: Singapore may be tiny but it is also one of East Asia's most powerful trading hubs.
updated 8:27 PM EDT, Sun April 21, 2013

In Hong Kong urban lore, an apartment where a violent death took place can often be bought for as much as 10-30 per cent off the market price.
updated 12:05 PM EDT, Tue April 16, 2013

With gold prices officially in a bear market, investors must ask themselves if this is the time to buy?