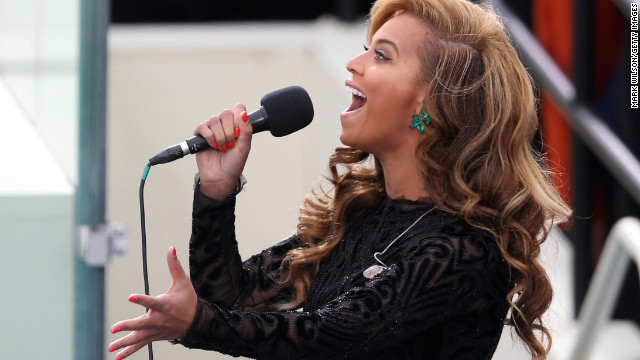 A spokesperson for the U.S. Marine Band
told CNN
Beyonce used a "prerecording" of her rendition of the national anthem during inaugural ceremonies in Washington on Monday. But Bey isn't the first artist to rely on a prerecorded track:
reportedly sang along
to prerecorded renditions during their performances at the 2009 Super Bowl.
Jennifer Hudson and Faith Hill
The New York Times
in 2009. "We also knew we couldn't have any technical or instrumental malfunction on that occasion. A broken string was not an option. It was wicked cold."
Cold temperatures forced Cellist Yo-Yo Ma and violinist Itzhak Perlman to mime along to a prerecording during President Barack Obama's first inauguration four years ago. "I really wanted to do something that was absolutely physically and emotionally and, timing-wise, genuine," Ma told
Leone Magiera wrote in his book
in 2008. Low temperatures reportedly made it dangerous for him to perform live. Pavarotti died of cancer in September 2007.
Luciano Pavarotti lip-synced his performance at the opening ceremony of the 2006 Winter Games in Turin, Italy, conductor
Ashlee Simpson was caught lip-syncing on "Saturday Night Live" in 2004. She had already made it through one performance -- her single, "Pieces of Me" -- when the band launched into "Autobiography." Simpson was dancing around with her mouth closed as her vocals on the prerecorded track began.
accused of lip-syncing
during the Super Bowl halftime show in 2009. But in all fairness, she was dancing around quite a bit.
Madonna was
said she was singing
, but her mic was turned off so viewers heard a prerecorded track.
Whitney Houston is believed to have lip-synced her impressive rendition of "The Star-Spangled Banner" at the 1991 Super Bowl. Her spokesperson at the time
caught in the act
on her "Circus" tour in 2009.
Britney Spears has been known to lip-sync in order to keep up with her intricate and fast-paced dance routines. The pop star got
Kanye West has been accused of lip-syncing on "American Idol" and "Saturday Night Live," though the artist has attributed issues to technical difficulties.
Beyonce
Faith Hill and Jennifer Hudson
Itzhak Perlman and Yo-Yo Ma
Luciano Pavarotti
Ashlee Simpson
Madonna
Whitney Houston
Britney Spears
Kanye West