Michelle Obama's eye roll: What was she thinking?
updated 5:23 AM EST, Wed January 23, 2013
STORY HIGHLIGHTS
President Obama and House Speaker Boehner's relationship has become contentious
Michelle Obama was seated between the two at inauguration luncheon on Monday
First lady's apparent eye roll while Boehner was talking to her husband set Internet abuzz
Tell us what you think she was thinking
Washington (CNN) -- If President Barack Obama's relationship with House Speaker John Boehner was contentious in the past, he certainly wasn't showing it while the two sat at the head table of a congressional lunch following Monday's inauguration.
The two appeared to have a lighthearted exchange that prompted an apparent eye roll from first lady Michelle Obama, who was seated between them.
Was it something Boehner said that prompted the reaction? He tapped her shoulder while she ate her lunch.
Or was it something the clearly amused president said?
Or maybe it was something both of them said.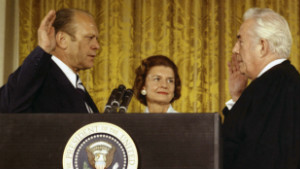 100 years of inaugurations in 2 minutes
Maybe it was her lunch.
But because there's no audio from the exchange, it's hard to tell what prompted the reaction that caught fire on the Internet.
We thought we'd leave it up to you. What do you think the first lady was thinking?
Let us know in the comment section below.
Lessons in style from Michelle Obama

Part of complete coverage on
2013 Presidential Inauguration
updated 9:53 AM EST, Tue January 22, 2013

It was a seemingly wistful moment at the halfway mark of his presidency, before the celebratory parade and the evening's galas.
updated 6:50 PM EST, Mon January 21, 2013

CNN contributors and analysts offered these assessments of the 44th's president's inauguration.
updated 5:18 PM EST, Mon January 21, 2013

Here's a look at the inauguration from your perspective, submitted via iReport.
updated 5:34 AM EST, Tue January 22, 2013

As the nation celebrated the start of another term for President Obama, Republican congressional leaders had a muted, bipartisan response to his second inaugural address.
updated 11:23 AM EST, Tue January 22, 2013

The alternating red and blue yard signs are long gone, and people here have gone back to familiar rhythms of life.
updated 10:00 AM EST, Tue January 22, 2013

President Obama began his second term with a "keeping it real" moment courtesy of youngest daughter Sasha.
updated 9:56 AM EST, Tue January 22, 2013

What a difference four years makes. It's a tale of two terms, marked by battles to come and tasks not yet completed from 4 years ago.
updated 10:11 AM EST, Tue January 22, 2013

Richard Blanco grew up a Cuban immigrant and gay, and says it speaks to America's strengths that he was chosen to read a poem to the nation.
updated 9:49 AM EST, Tue January 22, 2013

President Barack Obama and first lady Michelle Obama spent the evening at more intimate affairs: 30,000 guests at two inaugural balls.

President Barack Obama said Monday in his inaugural speech that the nation must come together to meet the challenges of the day, saying: "We are made for this moment, and we will seize it - so long as we seize it together."
updated 12:07 PM EST, Mon January 21, 2013

Hear President Obama recite the oath of office at his second inauguration.
updated 12:03 PM EST, Mon January 21, 2013

Vice President Joe Biden takes his public oath of office for a second term.
updated 1:48 PM EST, Tue January 22, 2013

An American flag waves at the U.S. Capitol building on Sunday, January 20, as Washington prepares for President Barack Obama's second inauguration. CNN brings you the best images from Washington.
updated 12:43 PM EST, Mon January 21, 2013

Watch presidents from the last 100 years take the oath of office on inauguration day.