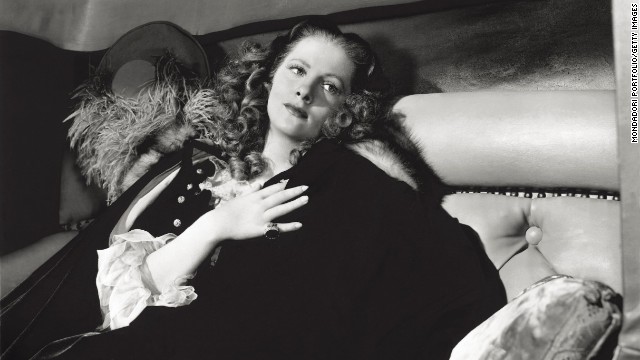 Joan Fontaine, seen here acting in the 1944 film "Frenchman's Creek" died Monday, December 16, according to longtime friend Noel Beutel. The Oscar-winning actress was 96.
Fontaine and Fred Astaire appear in a scene from the film "Damsel In Distress" in 1937.
Fontaine and Laurence Olivier embrace in "Rebecca," a 1940 film directed by Alfred Hitchcock. For her role in "Rebecca," Fontaine earned her first Academy Award nomination for Best Actress.
Fontaine, second from left, sits with producer David Selznick, Hitchcock and Hitchcock's wife, Alma, at the Academy Awards presentation dinner in 1941. "Rebecca" won Best Picture that year.
Fontaine won the Best Actress Oscar for her role in another Hitchcock film, "Suspicion," in 1941.
Fontaine holds her Oscar at the awards show in February 1942.
Orson Welles and Fontaine, in a publicity still for "Jane Eyre" in 1943.
Fontaine, left, plays cards with her sister, Olivia de Havilland, circa 1945. The two actresses, the only sisters to have won the Oscar for Best Actress, feuded for much of their lives and had to be seated on opposite ends of the stage during one Oscar winners' reunion in 1979.
Fontaine appears in a scene from "Ivy" with actor Richard Ney in 1947.
Burt Lancaster caresses Fontaine's head in the 1948 film "Kiss the Blood Off My Hands."
Fontaine and James Stewart work together in a scene from the 1948 movie "You Gotta Stay Happy."
Fontaine and Bing Crosby, cheek to cheek in a scene from the film "The Emperor Waltz" in 1948.
Fontaine and Joseph Cotten act out a romantic scene from the movie "September Affair" in 1950.
Robert Taylor and Fontaine appear in the 1952 film "Ivanhoe."
Jack Palance and Fontaine in "Flight to Tangier" in 1953.
Fontaine and Collier Young sit together at a restaurant table at the Biltmore Hotel in New York City in 1956.
Fontaine and Harry Belafonte appear in the 1957 film "Island In the Sun."
Fontaine, escorted by Charles Addams, arrives at the Rivoli Theater in 1963 for the world premiere of the film "Cleopatra" in New York.
Fontaine appears scared of the branch-like hand coming at her in a scene from the 1966 film "The Devil's Own."
Fontaine and George Oppenheimer attend a 1974 gala honoring Hitchcock in New York.
Remembering Joan Fontaine
Remembering Joan Fontaine
Remembering Joan Fontaine
Remembering Joan Fontaine
Remembering Joan Fontaine
Remembering Joan Fontaine
Remembering Joan Fontaine
Remembering Joan Fontaine
Remembering Joan Fontaine
Remembering Joan Fontaine
Remembering Joan Fontaine
Remembering Joan Fontaine
Remembering Joan Fontaine
Remembering Joan Fontaine
Remembering Joan Fontaine
Remembering Joan Fontaine
Remembering Joan Fontaine
Remembering Joan Fontaine
Remembering Joan Fontaine
Remembering Joan Fontaine