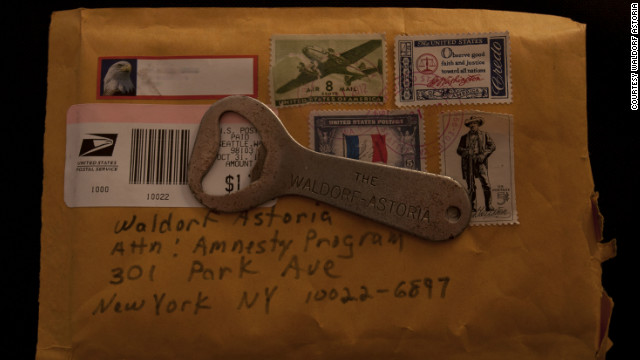 A steel bottle opener returned to the Waldorf Astoria by an anonymous donor. The famous hotel's amnesty program aims to reclaim items guests have taken with them over the years. Although the popular program officially ended in September last year, items continue to pour in.
A recurring theme from the amnesty has been the quirky tales behind the items, organizers say. This extensive collection of cutlery and kitchenware was returned by 51-year-old Joe Molick, whose mother was offered the items after her friend -- who worked at the hotel roughly 50 years ago -- said the Waldorf was clearing out old cutlery and kitchen items.
Another donation from Joe Molick, this oval shaped frying pan made of copper and stainless steel is engraved with unmistakeable Waldorf Astoria insignia on the handle, lid and underneath the pan.
This silver demitasse spoon dates from 1925, before the Waldorf Astoria moved to from its original spot on Fifth Avenue -- the site that now hosts the Empire State Building -- to its current location at 301 Park Avenue. Claude Phillipe, the hotel's former head of sales and banquets, claimed that 25,000 demitasse spoons were lost or stolen.
One of the more recent arrivals to the amnesty program, this ashtray is estimated to be from the 1970's or 80's.
These shell-shaped nut dishes were used at the Waldorf's Peacock Alley bar in the late 1950's, providing snacks to late-night guests. The donor's father is thought to have spirited the stylish utensils away with him after a brief stay in the hotel during this period.
A pair of silver knives believed to have been pilfered by the same guest at two separate Waldorf events in the 1950's, before being returned by relatives via the amnesty program.
A composite image of a pink teapot dated from 1937. The item was returned by Nathanael Mullener, who recalled it fondly from his time growing up in Queens, New York, but always felt a pang of guilt knowing it must have been stolen at some point.
One of the only items in the entire display that was purchased legitimately. This silver plate tray was snapped up by a wealthy New York banker in the 1940's when the original Waldorf closed down. His family returned it for the amnesty exhibition.
This unusual looking coffee pot is believed to have been taken by a newly married couple in the throes of their 1938 honeymoon. Having been passed down through the generations of family since, the item was returned by relatives in 2012.
A wine coaster thought to have been stolen from the Waldorf Astoria by a wealthy businessman in the 1950's. It is estimated the Waldorf served 60,000 bottles of wine a year during this period, with this metal device providing a valuable presentation service.
The Waldorf Astoria Amnesty Program
Cutlery call-back
Universally panned
25,000 spoons
Smokers' choice
Light snacks, light fingers
Knives out
Guilty pleasures
Silver service
Honeymoon hi-jinx
High-roller coaster