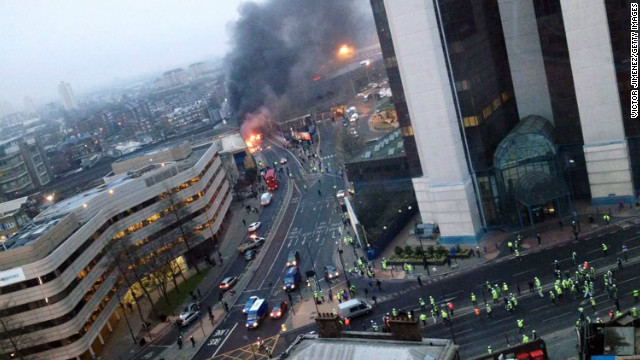 Smoke pours from the burning debris of a helicopter which crashed in the Vauxhall area. The helicopter appeared to hit a crane attached to the nearby St Georges Wharf Tower before plunging into the road below during the morning rush hour.
Londoner Christopher Jen was at Vauxhall Tube station en route to his marketing job when he spotted smoke rising from an area nearby. A helicopter had clipped a crane atop a building and plunged to the ground, killing two people and injuring several others, police later said. "We could hear all the sirens and you could smell the smoke as the train went past the site," he said. "The station announcers did tell us that there was a helicopter crash at Vauxhall and the engineers had to go check the tracks before we could leave."
Debris is pictured beside a fire fighting vehicle at the scene of a helicopter crash.
Emergency services at the scene after a helicopter reportedly collided with a crane attached to St Georges Wharf Tower in Vauxhall.
Emergency services at the scene after a helicopter reportedly collided with a crane attached to St Georges Wharf Tower in Vauxhall, on January 16 in London, England.
Fog surrounds a damaged crane attached to St Georges Wharf Tower after a helicopter reportedly collided with it.
Smoke billows over central London's Vauxhall Cross area after a helicopter crash on the morning of January 16.
Map shows the location of the crash.
CNN journalist Nick Thompson shot this and other images of the aftermath of a helicopter crash in Vauxhall, London, that has left two people dead.
Helicopter crashes in central London
Helicopter crashes in central London
Helicopter crashes in central London
Helicopter crashes in central London
Helicopter crashes in central London
Helicopter crashes in central London
Helicopter crashes in central London
Helicopter crashes in central London
Helicopter crashes in central London
STORY HIGHLIGHTS
Debris from a helicopter crash is scattered over surrounding rooftops, police say
A cordon remains in place as authorities seek to make the area safe
Prime Minister David Cameron says safety of helicopter flights will have to be reviewed
Two people killed in the crash are named as pilot Pete Barnes and pedestrian Matthew Wood
London (CNN) -- Questions have been raised over the safety of helicopter flights over London as authorities clean up Thursday from a horrific crash that left two people dead and sent fiery wreckage raining onto streets.
Dozens of people evacuated from their homes are waiting to see when they can return after the helicopter smashed into a crane atop a luxury high-rise development by the Thames on Wednesday morning.
Read more: 2 killed as helicopter crashes into crane in central London
Debris remains scattered across rooftops around the crash scene, police said.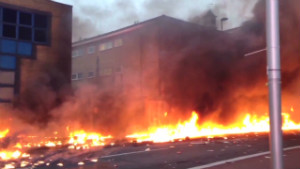 Ball of flames after London copter crash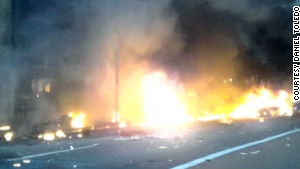 Witness: 'It was an enormous bang'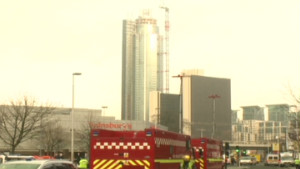 Witness: 'Not really fire, but smoke'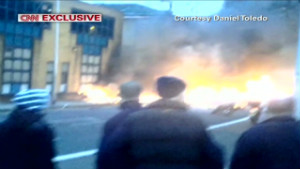 A 'miracle' copter crash wasn't worse
A cordon is in place, while authorities collect evidence and work to make the area safe. Transport is still disrupted, with several roads closed and bus services diverted.
Horrified onlookers watched as the helicopter hit the crane amid low cloud and fog near Vauxhall station, south of the river and not far from landmarks such as the London Eye and the Houses of Parliament, and came plunging to the ground.
The crash at the height of the rush hour sent thick smoke and flames billowing into the sky, with police saying it was a miracle there were not more casualties.
Helicopter pilot Pete Barnes was one of the two people killed. His employers, RotorMotion, paid tribute to the married father of two as "one of the most highly qualified and highly skilled helicopter pilots in the UK."
The other victim was a man on the ground, named by police as 39-year-old Matthew Wood.
The crash left part of the crane dangling precariously over the edge of the 52-story building, the landmark St. George Wharf Tower, also known as the Vauxhall Tower.
Flaming wreckage also landed on at least two vehicles on the ground. Ambulance workers said 12 people were injured, five of whom needed hospital care.
UK media reports said the crane operator had a lucky escape after arriving late for work.
The Air Accidents Investigation Branch, part of the UK Department for Transport, is investigating the crash, for which no cause has yet been given.
The accident has raised the issue of how to ensure helicopter flights over the capital are safe, particularly as high-rise developments mushroom near the Thames.
Speaking in Parliament on Wednesday, lawmaker Kate Hoey, who represents Vauxhall, asked whether "given London's changing skyline ... not today, but at some stage, we will need to look much more closely at where, how and why helicopters fly through our central city?"
Prime Minister David Cameron responded that the question of flights over the capital "is inevitably something that has to be carefully looked at" in light of the crash.
Helicopter pilots in central London are instructed to follow the Thames, to avoid flying over built-up areas as far as possible. There is a heliport just along the river from Vauxhall at Battersea.
But the surrounding area is set to be increasingly dominated by construction cranes.
A hitherto largely industrial area between Vauxhall and Battersea has been earmarked as a major riverside regeneration site, with plans to create 16,000 new homes. A new U.S. Embassy building is also to set to open there.
The Civil Aviation Authority said helicopters in London have only limited radar help and fly mostly using visual reference points on the ground.
Nearly 170 flights followed the central London route along the Thames in December, its figures show. About 250 flights arrived and departed from the heliport at Battersea in the same month.
Chris Yates, an aviation security expert, told CNN it was likely there would be questions about whether the helicopter that crashed should have been flying, given the poor visibility Wednesday morning.
Under safety regulations, tall buildings must have navigation lights on top to make them visible to low-flying aircraft, he said.
Helicopters are not supposed to fly within 500 feet of tall structures in central London, he said.