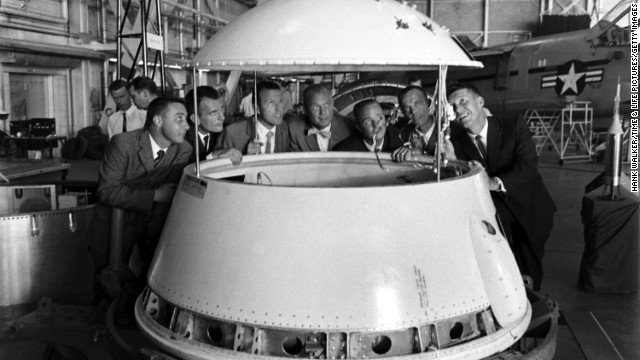 The original Mercury 7 astronauts inspect an early design of a space module. From left are Gus Grissom, Deke Slayton, Gordon Cooper, John Glenn, Scott Carpenter, Alan Shepard and Wally Schirra. In 1962, Glenn was the first American to orbit the Earth.
See more images at Life.com
Glenn does his astronaut homework in Florida in 1959. "We spent a lot of time testing and studying and re-testing systems we'd be dealing with on any craft that might eventually be sent into space," Glenn remembers. "We had never dealt with those systems before: They were invented just for this project."
Glenn and his family visit with Vice President Lyndon Johnson, far right, two days after his historic orbital flight aboard Friendship 7 in February 1962.
Glenn announces his candidacy for the U.S. Senate in 1964. "In his only previous contacts with high-level politicians of both parties," Life magazine wrote, "Glenn has been the object of admiration and affection; for the people in general he has been virtually above reproach. Now, suddenly, his hero's immunity is gone. He must stand still for hard looks and hard questions by men who have long studied all the answers."
Glenn is seen here with family members during his Senate campaign in 1964. He didn't win, but he ran again and was elected in 1974. He eventually served four terms.
Glenn is seen in 1964. In 1998, he again flew into space, this time aboard the Space Shuttle Discovery. His role in the mission was, in large part, to study the effects of space flight on the elderly. He was 77 at the time.
John Glenn: First American to orbit the Earth
John Glenn: First American to orbit the Earth
John Glenn: First American to orbit the Earth
John Glenn: First American to orbit the Earth
John Glenn: First American to orbit the Earth
John Glenn: First American to orbit the Earth
(CNN) -- Here is a look at the life of John Glenn, the first American to orbit the Earth.
Personal: Birth date: July 18, 1921
Birth place: Cambridge, Ohio
Birth name: John Herschel Glenn, Jr.
Father: John Glenn, Sr., a plumber
Mother: Clara (Sproat) Glenn
Marriage: Anna Margaret (Castor) Glenn (April 6, 1943-present)
Children: Carolyn Ann, March 19, 1947; John David, December 13, 1945
Education: Muskingum College, 1939-1942
Military service: U.S. Marine Corps, Colonel, 1943-1965
Other Facts: Flew a total of 149 missions during World War II and the Korean War and received multiple medals and decorations, including the Distinguished Flying Cross on six occasions.
Timeline: March 1942 - Enlists in the Naval Aviation Cadet Program and upon completing flight training in 1943, becomes a pilot for the U.S. Marines.
1944 - Flies 59 combat missions during his World War II service.
1953 - Flies a total of 90 combat missions in Korea, 63 missions with Marine Fighter Squadron 311 and 27 missions with the Fifth U.S. Air Force.
1954-1956 - After the Korean conflict, Glenn attends test pilot school at the Naval Air Test Center in Maryland.
1957 - Sets the speed record flying from Los Angeles to New York in three hours and 23 minutes.
April 1959 - NASA selects Glenn as one of seven astronauts for Project Mercury.
1961 - Glenn, the oldest member of the group, serves as backup pilot when fellow astronauts Alan B. Shepard, Jr., and Virgil I. Grissom each make suborbital flights.
February 20, 1962 - An Atlas rocket launches his space capsule, the Friendship 7. Glenn becomes the first American to orbit Earth, circling the globe three times in four hours and 56 minutes.
March 1, 1962 - The ticker-tape parade after Glenn's Mercury flight is considered the largest ever in New York, where an estimated 3,474 tons of confetti and ticker-tape fall along a seven-mile route.
January 1964 - Resigns from NASA's astronaut program.
1964 - Enters the Ohio Democratic primary to challenge the incumbent Democratic senator, Stephen M. Young but withdraws after being injured in a fall.
1965 - Retires from active service in the U.S. Marine Corps to enter the business world.
1965-1970 - He is vice president and then president of Royal Crown Cola.
1970 - Glenn enters the Democratic primary for the U.S. Senate but loses.
November 1974-1999 - Elected to the U.S. Senate and serves four consecutive terms (D-Ohio).
1978 - Chief author of the Nuclear Nonproliferation Act of 1978, prohibiting the sale of nuclear equipment to nations that currently have none.
1983-1984 - Runs unsuccessfully for the Democratic presidential nomination for the 1984 election. He drops out of the race after failing to win any early primaries or caucuses.
1987-1995 - Glenn is chairman of the Senate Governmental Affairs Committee, and sits on the Foreign Relations, Armed Services Committees and the Special Committee on Aging.
February 20, 1997 - Glenn announces on the 35th anniversary of his orbit around the earth that he will not run for re-election in the U.S. Senate.
1998 - NASA invites him to rejoin the space program as a member of the Space Shuttle Discovery Crew. Glenn serves as Payload Specialist 2 in the STS-95 crew aboard the Space Shuttle Discovery.
October 29, 1998 - A 77-year-old Glenn becomes the oldest person ever to venture into space.
February 2006 - NASA awards Glenn and 37 other astronauts the Ambassador of Exploration Award.
November 16, 2011 - Receives the Congressional Gold Medal for Distinguished Astronauts along with Neil Armstrong, Buzz Aldrin and Michael Collins.
May 29, 2012 - Receives the Presidential Medal of Freedom from President Barack Obama during an East Room White House ceremony.
July 18, 2012 - Celebrates 91st birthday with wife Annie visiting the John and Annie Glenn Historic Site, their former home on Main Street in New Concord, Ohio.
February 1, 2014 - Glenn and wife Annie were present as their daughter, Lyn, christened the Mobile Landing Platform (MLP) John Glenn, a U. S. Navy ship.