STORY HIGHLIGHTS
Napoli has won it's appeal against the two point deduction for match-fixing
Players Paolo Cannavaro and Gianluca Grava both have six-month bans overturned
Former goalkeeper Matteo Gianello admitted he attempted to fix the club's game with Sampdoria in 2010.
Club must pay $67,000 following decision of the court
(CNN) -- Napoli has had a two-point deduction for match-fixing overturned following a successful appeal.
The Serie A club was hit with the punishment following former goalkeeper Matteo Gianello's admission that he attempted to fix the club's game with Sampdoria in 2010.
The Italian Football Federation (FIGC) judged that Napoli were "objectively responsible" for Gianello's actions.
Napoli hit with match-fixing related points deduction
The FIGC also handed out six-month bans to defenders Paolo Cannavaro and Gianluca Grava for failing to report the approach, although both have had their suspensions lifted following the ruling.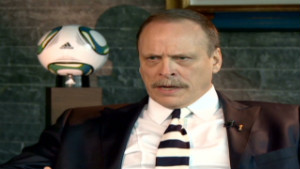 Eaton talks match fixing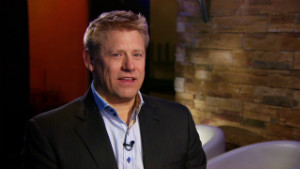 Schmeichel: Spain has best national team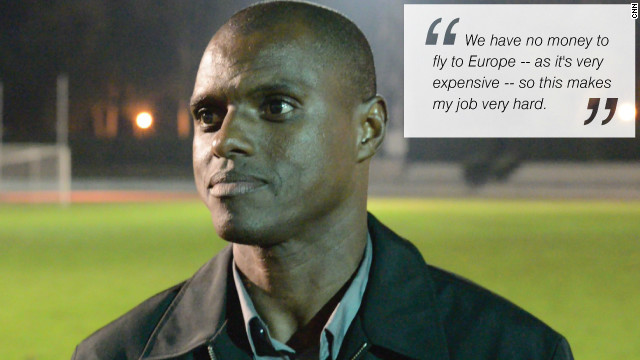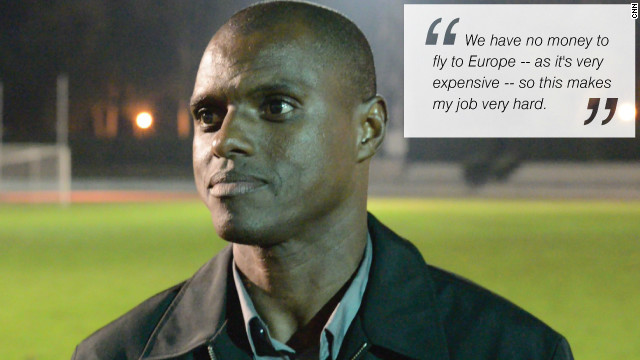 High flyer: Cape Verde's 'Special One'
Napoli will now pay a $67,000 fine, while Gianello has had his ban reduced from 39 months to 21.
The restoration of those two points also means Napoli are now joint second alongside Lazio in Serie A and just three points behind leaders Juventus.
A statement from the FIGC Thursday said: "The two-point penalty deduction has been annulled and Paolo Cannavaro and Gianluca Grava have been acquitted.
"Napoli will now pay a fine of 50,000 euros.
"There are acquittals for Paolo Cannavaro and Gianluca Grava, while the disqualification of Matteo Gianello has been reduced from three years and three months to one year and nine months.
"These are the decisions of the Federal Court of Justice following appeals against the judgments made by the Naples branch of the disciplinary committee on match-fixing."
Soccer players' union FIFPro to launch match-fixing hotline
The news came as a welcome relief for defender Cannavaro, who said he head been through "hell" since the original verdict was announced on December 18.
He told the club's official website: "It's an immense feeling of joy and I'm still crying with the emotion. It was a terrible month, hell. Now this is a release.
"I was in a really bad way. I won't be able to forget what I went through this month. I thank all those who were close to me.
"I want to thank the club for all that they did, the coach and my team-mates that have consoled me every day."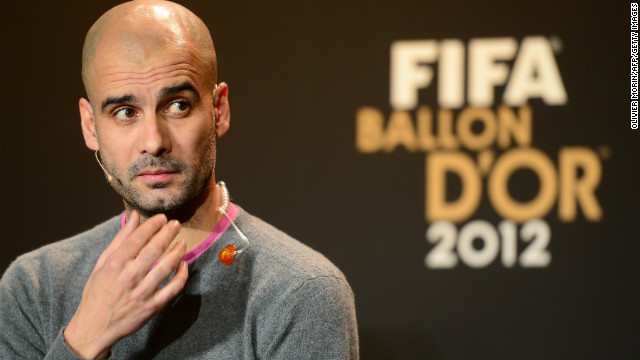 Pep Guardiola has been on a year-long sabbatical in the U.S. after stepping down as Barcelona coach, but he returned to Europe in January for the Ballon d'Or when he was shortlisted for FIFA's world coach of the year award.
When he confirmed he was to end his four-year reign as Barcelona coach, Guardiola gave an emotional press conference.
Guardiola announced his intent to quit at the end of last season just three days after the club's Champions League semifinal exit against Chelsea, drawing 2-2 at home and losing 3-2 on aggregate. He left a remarkable legacy.
He was massively popular at the Camp Nou after four trophy-laden seasons. Here he is thrown in the air by his players after winning the FIFA Club World Cup for the second time in December 2011, having been the first team from Spain to win it two years earlier.
Guardiola congratulates Barca players Cesc Fabregas and Javier Mascherano after winning the Spanish Supercup against Real Madrid at the start of the 2011-12 season.
Guardiola lifts the 2011Champions League trophy after Barca beat Manchester United at Wembley. The 41-year-old has earned a reputation as a coach who prepares meticulously for matches.
Guardiola won the FIFA Men's Football Coach of the Year award in January 2012. "I can't promise you silverware, but I can say that we'll keep on battling to the end and you'll be proud of us," he said after becoming coach four years ago.
In the 2009 calendar year, Guardiola won six trophies in total -- the Copa del Rey, La Liga, the European Champions League, the Spanish Supercup, the UEFA Supercup and the Club World Cup.
Former Barcelona president Joan Laporta shakes hands with Guardiola on June 5, 2008. The Catalan club's 15th coach arrived with the mission to end a two-season trophy drought -- he didn't disappoint.
As a player, Guardiola spent more than a decade in Barcelona's senior team, winning six Spanish titles and one European Cup. He captained Spain to a gold medal at the 1992 Barcelona Olympics and went to the 1994 World Cup.
He joined Barca's famed La Masia youth academy in 1984, and wore the No. 4 shirt until leaving for Italy in 2001.
He had two spells at Serie A side Brescia either side of a brief time at Roma, and is pictured playing against Perugia in 2002.
Guardiola left Europe to join Qatar's Al-Ahly from 2003 to 2005, then joined Mexico's Dorades de Sinaloa for a season before finally hanging up his boots.
Guardiola is pictured here with fellow Spaniard Jose Maria Olzabal at the Ryder Cup after Europe produced a remarkable comeback to win the tournament at Medinah in the U.S.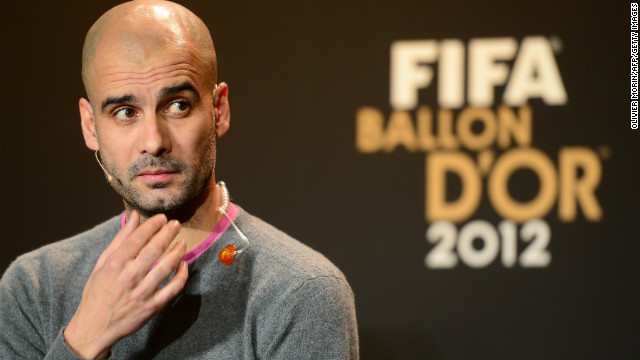 The end of an era: Josep Guardiola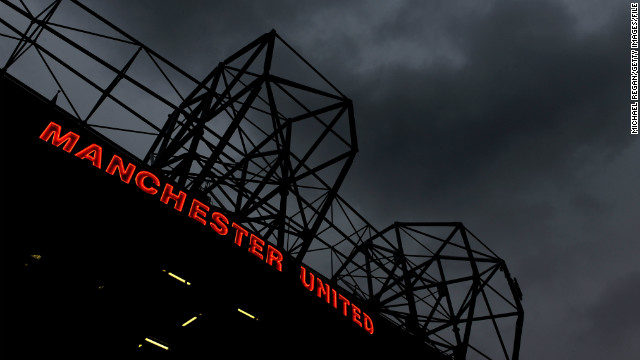 Today Manchester United has an aura of glamor and invincibility. But in 1931 and 10 years later the club's future was in peril.
James Gibson, a wealthy Manchester United supporter who had made his fortune in making uniforms for tram drivers, is credited with saving the club from extinction after taking over in 1931 and helping United navigate its financial troubles.
Old Trafford, home of Manchester United, was blitzed during a raid by the Luftwaffe on March 11 1941. The stadium was obliterated and left the club homeless. All of Gibson's hard work had been undone in a single night. United agreed a deal to play its home matches at Maine Road, home of rival Manchester City, until Old Trafford was rebuilt in 1949.
Gibson and his wife Lillian, had a train named after the football club. Gibson ensured supporters had a far smoother journey to Old Trafford after having steps built up from the local train station to the stadium, while he also had trains make unscheduled stops to help fans make it in time for kick off.
A statue of George Best, Denis Law and Bobby Charlton, which stands outside Old Trafford, depicts three of the club's greatest players. If it wasn't for Gibson, it is arguable the trio would never have pulled on the red of Manchester United.
Matt Busby, who was appointed by Gibson as manager, went on to win the 1968 European Cup, four league titles and two FA Cups. He survived the Munich Air Crash of 1958, where many of his players perished. After his recovery, he helped rebuild the team and lay foundations for the future.
Busby's success has been built on by current United manager Sir Alex Ferguson. It was under Ferguson that United won their19th English League overtaking Liverpool's record of 18.
United have established a buccaneering style of play, which this season has been epitomised by forward Robin van Persie, who is pictured here celebrating with Danny Welbeck. Since joining United from Arsenal in the summer, Van Persie has scored 16 English Premier League goals.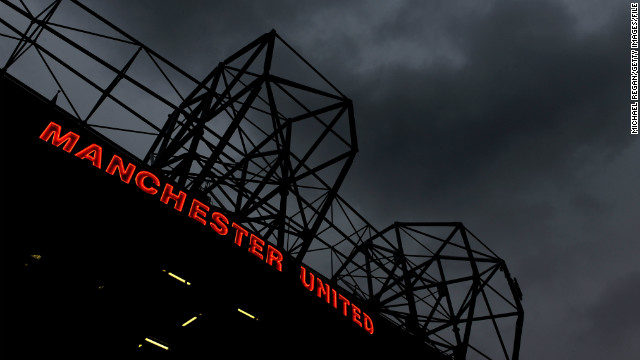 The man who saved Manchester United -- twice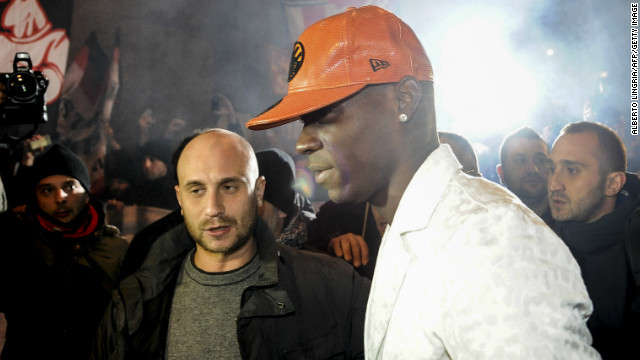 Mario Balotelli was mobbed by fans outside a restaurant as he returned home to Italy to complete his $30 million move from AC Milan to Manchester City.
His future at the English Premier League champions had been in doubt since his training ground bust-up with manager Roberto Mancini in early January, when coaching staff had to intervene to separate the pair. Mancini later downplayed the tussle, sparked by Balotelli's hostile tackle on a fellow player, as "nothing unusual."
Balotelli made his Inter Milan debut in 2007 after being signed by the club at the age of 15. He scored the first goals of his senior career in a Coppa Italia match against Reggina in December of that year.
Balotelli joined Manchester City from Italian club Inter Milan. His relationship with Inter coach Jose Mourinho endured numerous ups and downs. Disciplinary issues littered his time at the San Siro and the situation came to a head in March 2010, when Balotelli was left out of Inter's squad for a Champions League tie after an altercation with Mourinho.
Mancini was Balotelli's first coach at Inter Milan and the pair were reunited in 2010 when the striker joined Manchester City. The start of Balotelli's City career was disrupted by injury, but he finally scored his first Premier League goals in a 2-0 away win at West Bromwich Albion. His joy at netting a brace was short-lived, however, as he was sent off after picking up two yellow cards.
Balotelli became a hit with City's fans, as much for off-field antics as his goalscoring. His stock with the supporters was never higher than in October 2011, when he scored twice in City's 6-1 thumping of neighbors Manchester United at Old Trafford. After scoring the first goal in City's victory, he revealed a t-shirt stating "Why always me?" -- instantly creating one of the most iconic images of the Premier League era. City went to beat United to the English title on goal difference with a dramatic last-gasp victory over Queens Park Rangers on the final day of the season.
Balotelli reminded everyone of his undoubted talent during the 2012 European Championships. He scored three times as Italy reached the final, including both goals in the Azzurri's 2-1 semi win over Germany. Italy lost 4-0 to Spain in the final of the tournament co-hosted by Poland and Ukraine.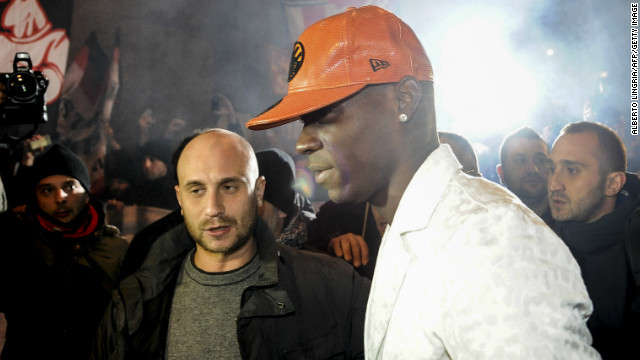 Being Balotelli: The life and times of Mario
Grava was also in an emotional state at a press conference following the announcement.
How can football tackle match fixing?
"When I heard from Paolo, we both started to cry with joy. It's the end of a nightmare," the 35-year-old said.
"It seemed like a nightmare from which I could not wake up. I'm feeling great joy and I am happy that justice has been done."
Head coach Walter Mazzarri felt the club had been vindicated for their stance and heaped praise on the duo.
He said: "First of all I am very happy for Paolo and Gianluca, two exceptionally honourable lads who were victims of a great injustice.
"I'm happy with the league table. We deserved those points because we earned them on the field. It would have been another great injustice if they had been stolen."
Juventus coach Conte has ban reduced to four months
The intense fight against match-fixing and illegal betting, which is known as 'Calcioscommesse', saw Siena deducted six points before the start of the season.
Former Siena coach Antonio Conte, now in charge of Juventus, was handed a six-month ban for his failure to report attempts to fix matches in Serie B during the 2010-11 season. The ban was subsequently reduced to four months on appeal.
.