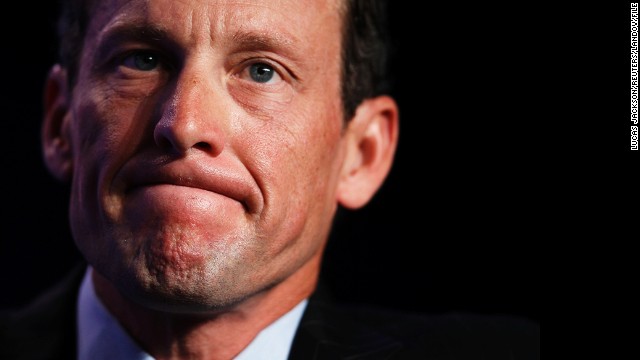 After denying the allegations for years, cyclist Lance Armstrong admitted to using performance-enhancing drugs. As a result, he was stripped of his seven Tour de France titles and an Olympic bronze medal. Click through the gallery for a look at his life and career.
Armstrong, 17, competes in the Jeep Triathlon Grand Prix in 1988. He became a professional triathlete at age 16 and joined the U.S. National Cycling Team two years later.
Armstrong wins the 18th stage of the Tour de France in 1995. He finished the race for the first time that year, ending in 36th place.
Armstrong rides at the Ikon Ride for the Roses to benefit the Lance Armstrong Foundation in May 1998. He established the foundation to benefit cancer research after he was diagnosed with testicular cancer in 1996. After treatment, he was declared cancer-free in February 1997.
Armstrong leads his teammates during the final stage of the 1999 Tour de France.
Armstrong takes his honor lap on the Champs-Élysées in Paris after winning the Tour de France for the first time in 1999.
After winning the 2000 Tour de France, Armstrong holds his son Luke on his shoulders.
Armstrong rides during the 18th stage of the 2001 Tour de France. He won the tour that year for the third consecutive time.
Armstrong celebrates winning the 10th stage of the Tour de France in 2001.
After winning the 2001 Tour de France, Armstrong presents President George W. Bush with a U.S. Postal Service yellow jersey and a replica of the bike he used to win the race.
Armstrong celebrates on the podium after winning the Tour de France by 61 seconds in 2003.
Jay Leno interviews Armstrong on "The Tonight Show" in 2003.
After his sixth consecutive Tour de France win, Armstrong attends a celebration in his honor in front of the Texas State Capitol in Austin.
Armstrong arrives at the 2005 American Music Awards in Los Angeles with then-fiancee Sheryl Crow. The couple never made it down the aisle, splitting up the following year.
Armstrong holds up a paper displaying the number seven at the start of the Tour de France in 2005. He went on to win his seventh consecutive Tour de France.
Armstrong testifies during a Senate hearing in 2008 on Capitol Hill. The hearing focused on finding a cure for cancer in the 21st century.
In 2009, Armstrong suffered a broken collarbone after falling during a race in Spain.
Young Armstrong fans write messages on the ground ahead of the 2009 Tour de France. He came in third place that year.
Armstrong launches the three-day Livestrong Global Cancer Summit in 2009 in Dublin, Ireland. The event was organized by his foundation.
In May 2010, Armstrong crashes during the Amgen Tour of California. That same day, he denied allegations of doping made by former teammate Floyd Landis.
Armstrong looks back as he rides during the 2010 Tour de France.
Armstrong's son Luke; his twin daughters, Isabelle and Grace; and his 1-year-old son, Max, stand outside the Radio Shack team bus on a rest day during the 2010 Tour de France.
Armstrong finished 23rd in the 2010 Tour de France. He announced his retirement from the world of professional cycling in February 2011. He said he wanted to devote more time to his family and the fight against cancer.
The frame of Armstrong's bike is engraved with the names of his four children at the time and the Spanish word for five, "cinco." His fifth child, Olivia, was born in October 2010.
Armstrong competes in the 70.3 Ironman Triathlon in Panama City, Florida, in February 2012. He went on to claim two Half Ironman triathlon titles by June of that year.
Armstrong addresses participants at the Livestrong Challenge Ride on October 21, 2012, days after he stepped down as chairman of his Livestrong cancer charity.
International Cycling Union President Pat McQuaid announces the decision to strip Armstrong of his seven Tour de France wins and ban him from the tournament for life on October 22, 2012. "Lance Armstrong has no place in cycling," he said.
In January 2013, Armstrong speaks with Oprah Winfrey about the controversy surrounding his cycling career. He admitted, unequivocally and for the first time, that he used performance-enhancing drugs while competing.
Lance Armstrong's rise and fall
Lance Armstrong's rise and fall
Lance Armstrong's rise and fall
Lance Armstrong's rise and fall
Lance Armstrong's rise and fall
Lance Armstrong's rise and fall
Lance Armstrong's rise and fall
Lance Armstrong's rise and fall
Lance Armstrong's rise and fall
Lance Armstrong's rise and fall
Lance Armstrong's rise and fall
Lance Armstrong's rise and fall
Lance Armstrong's rise and fall
Lance Armstrong's rise and fall
Lance Armstrong's rise and fall
Lance Armstrong's rise and fall
Lance Armstrong's rise and fall
Lance Armstrong's rise and fall
Lance Armstrong's rise and fall
Lance Armstrong's rise and fall
Lance Armstrong's rise and fall
Lance Armstrong's rise and fall
Lance Armstrong's rise and fall
Lance Armstrong's rise and fall
Lance Armstrong's rise and fall
Lance Armstrong's rise and fall
Lance Armstrong's rise and fall
Lance Armstrong's rise and fall
STORY HIGHLIGHTS
NEW: "This was a guy who used to be my friend, he decimated me," accuser says
NEW: Armstrong regrets fighting the USADA, when the agency claimed he had doped
After years of denials, he admits using performance-enhancing drugs and blood doping
"I will spend the rest of my life ... trying to earn back trust and apologize," Armstrong says
Share your thoughts on the downfall of Lance Armstrong at CNN iReport, Facebook or Twitter.
(CNN) -- Calling himself "deeply flawed," now-disgraced cyclist Lance Armstrong says he used an array of performance enhancing drugs to win seven Tour de France titles then followed that by years of often-angry denials.
"This is too late, it's too late for probably most people. And that's my fault," he said in an interview with Oprah Winfrey that aired Thursday night. "(This was) one big lie, that I repeated a lot of times."
Armstrong admitted using testosterone and human growth hormone, as well as EPO -- a hormone naturally produced by human kidneys to stimulate red blood cell production. It increases the amount of oxygen that can be delivered to muscles, improving recovery and endurance.
In addition to using drugs, the 2002 Sports Illustrated Sportsman of the Year admitted to Winfrey that he took blood transfusions to excel in the highly competitive, scandal-ridden world of professional cycling. Doping was as much a part of the sport as pumping up tires or having water in a bottle, Armstrong said, calling it "the scariest" that he didn't consider it cheating at the time.
12 telling quotes over the years from Armstrong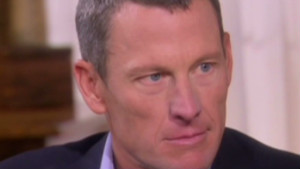 Armstrong: I doped for Tour de France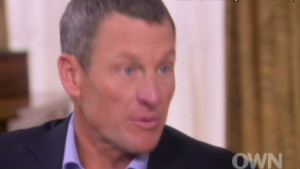 Winfrey to Armstrong: Why confess now?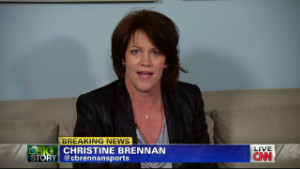 Brennan, Lance: "Gold medal for cheating"
The same man who insisted throughout and after his career that he'd passed each of the "hundreds and hundreds of tests I took" contended in the interview that he wouldn't have won without doing what he did. While Armstrong didn't invent the culture of doping in cycling, he said, he admitted not acting to prevent it either.
"I made my decisions," Armstrong said. "They are my mistakes."
Armstrong: I was "a bully"
The first installment in his interview, which was conducted earlier this week with the talk-show host, aired Thursday on the OWN cable network and on the Internet. The second installment will be broadcast Friday night.
Armstrong admitted he was "a bully ... in the sense that I tried to control the narrative," sometimes by spewing venom at ex-teammates he thought were "disloyal," as well as suing people and publications that accused him of cheating.
He described himself as "a fighter" whose story of a happy marriage, recovery from cancer and international sporting success "was so perfect for so long."
"I lost myself in all of that," he said, describing himself as both a "humanitarian" and a "jerk" who'd been "arrogant" for years. "I was used to controlling everything in my life."
iReport: Tell us your take on the first part of the interview
The scandal has tarred the cancer charity Livestrong that he founded, as well as tarnished his once-glowing reputation as a sports hero.
Those who spoke out against Armstrong at the height of his power and popularity not only felt his wrath but the wrath of an adoring public.
Now, with Armstrong stripped of endorsement deals and his titles, those who did speak out are feeling vindicated.
They include Betsy Andreu, wife of fellow cyclist Frankie Andreu, who said she overheard Armstrong acknowledge to a doctor treating him for cancer in 1996 that he had used performance-enhancing drugs. She later testified about the incident and began cooperating with a reporter working on a book about doping allegations against Armstrong.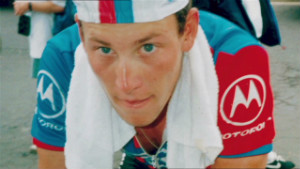 The world according to Lance Armstrong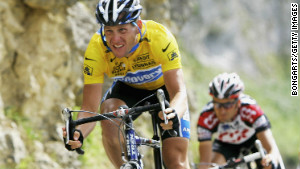 Armstrong's denials through the years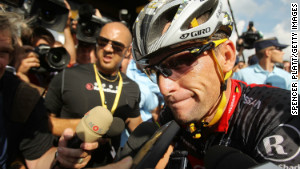 Armstrong could face more legal battles
Armstrong subsequently ripped her, among others. More recently, he said he'd reached out to her to apologize -- in what Andreu called "a very emotional phone call."
"This was a guy who used to be my friend, who decimated me," Andreu told CNN's Anderson Cooper on Thursday night. "He could have come clean. He owed it to me. He owes it to the sport that he destroyed."
In his interview with Winfrey, Armstrong said he understands why many might be upset that it took him so long to speak out, especially after going on the offensive for so long. He said he's reached out in recent days to several people, such as Andreu, who publicly accused him of doping and then were attacked -- and in some cases sued -- by him.
Bleacher Report: Twitter erupts Thursday night
And the former athletic icon also conceded he'd let down many fans "who believed in me and supported me" by being adamant, sometimes hurtful and consistently wrong in his doping denials.
"They have every right to feel betrayed, and it's my fault," he said. "I will spend the rest of my life ... trying to earn back trust and apologize to people."
Years of success and defiance, then a rapid fall
The Texas-born Armstrong grew up to become an established athlete, including winning several Tour de France stages. But his sporting career ground to a halt in 1996 when he was diagnosed with cancer. He was 25.
He returned to the cycling world, however. His breakthrough came in 1999, and he didn't stop as he reeled off seven straight wins in his sport's most prestigious race. Allegations of doping began during this time, as did Armstrong's defiance, including investigations and a lawsuit against the author of a book accusing him of taking performance enhancing drugs.
He left the sport after his last win, in 2005, only to return to the tour in 2009.
Armstrong insisted he was clean when he finished third that year, but that comeback led to his downfall.
"We wouldn't be sitting here if I didn't come back," he told Winfrey.
In 2011, Armstrong retired once more from cycling. But his fight to maintain his clean reputation wasn't over, including a criminal investigation launched by federal prosecutors.
That case was dropped in February. But in April, the U.S. Anti-Doping Agency notified Armstrong of an investigation into new doping charges. In response, the cyclist accused the organization of trying to "dredge up discredited" doping allegations and, a few months later, filed a lawsuit in federal court trying to halt the case.
In retrospect, Armstrong told Winfrey he "would do anything to go back to that day."
"Because I wouldn't fight, I wouldn't sue them, I'd listen," he said, offering to speak out about doping in the future.
The USADA found "overwhelming" evidence that Armstrong was involved in "the most sophisticated, professionalized and successful doping program."
In August, Armstrong said he wouldn't fight the charges, though he didn't admit guilt either.
And the hits kept on coming.
In October, the International Cycling Union stripped him of all his Tour de France titles. Even then, he remained publicly defiant, tweeting a photo of himself a few weeks later lying on a sofa in his lounge beneath the seven framed yellow jerseys from those victories.
Then the International Olympic Committee stripped him of the bronze medal he won in the men's individual time trial at the 2000 Olympic Games and asked him to return the award, an IOC spokesman said Thursday.
The USOC was notified Wednesday that the IOC wants the medal back, USOC spokesman Patrick Sandusky said.
"We will shortly be asking Mr. Armstrong to return his medal to us, so that we can return it to the IOC."
Livestrong: Tell the truth about doping
CNN's Carol Cratty, Joseph Netto and George Howell contributed to this report.