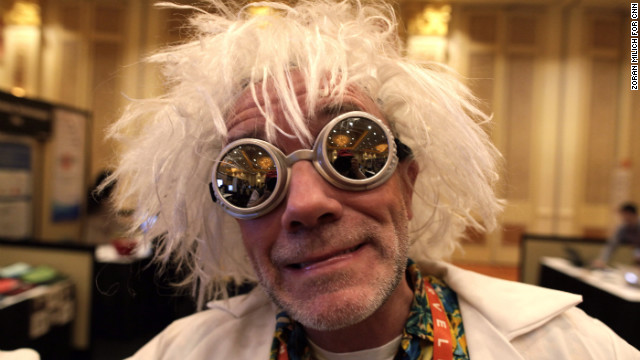 An exhibitor dressed as Doc Brown from the "Back to the Future" movies greets people at the Securifi booth at the Consumers Electronic Show in Las Vegas. The annual event is the largest gadget conference in the world. Check out photographer Zoran Milich's take on the action.
An attendee uses a water-based touch screen computer monitor created by Displair on January 10.
A massage robot rolls along a woman's back at the show on January 10.
A woman wears a hashtag T-shirt on the second day of the Consumers Electronic Show in Las Vegas, Nevada, on Wednesday, January 9.
Visitors enjoy the Las Vegas sun Wednesday.
A woman prepares to open the Innex Inc. booth, which is showing its Rock Candy game controllers at the second day of the Consumers Electronic Show on Wednesday.
A woman demonstrates Necomimi Brainwave cat ears Wednesday. According to the company, the ears read your brain waves to determine your mood and reflect it by wiggling, perking up or drooping down.
The Rhythm Touch booth, offering low-frequency acu-therapy, at CES, Wednesday.
A visitor chats with a woman using the Beam by Suitable Technologies on Wednesday. The device is mobile and controlled by the remote party via their computer.
The Dish Network team exhibits at the Consumers Electronic Show in Las Vegas on Tuesday, January 8.
Bags by the GFK marketing research firm wait to be given out at CES on Tuesday.
An attendee points out the back of a Hisense transparent 3-D TV on Tuesday.
Panasonic President and CEO Kazuhiro Tsuga delivers a keynote speech on Tuesday.
A game of Monopoly is displayed Tuesday on Lenovo's Horizon table PC.
Boss Audio converted an old Brinks truck to a demo vehicle, seen at CES on Tuesday.
A cyclist rides past the Las Vegas Convention Center late Sunday, January 6.
Samsung unveils its ultra-high-definition TV at the company's CES press event on Monday, January 7.
Members of the press take a peek at Fujifilm's new high-end compact cameras, the X100S and X20, on Monday.
A man talks to his phone with Sony Bravia W900 LED LCD HDTV televisions in the background during Press Day at the Consumers Electronic Show on Monday.
The Sony Xperia Z smartphone was announced at the the Consumer Electronic Show on Monday.
Journalists and photographers waited for hours to get into CES press conferences on Monday.
Disco lights flash at Sony's music lounge, showing off its X05 headphones, during Monday's press day.
A journalist photographs new LG products at the first CES press conference Monday morning.
A soccer game plays on a Sony Bravia X900A 4K Ultra HD television on Monday.
A man takes his bike down an escalator Monday at the Las Vegas Convention Center.
People await the announcement of Sony products on Monday.
Thousands of journalists reported from press day on Monday.
The end of a long line during press day at the Consumers Electronic Show on Monday.
The sights of CES 2013
The sights of CES 2013
The sights of CES 2013
The sights of CES 2013
The sights of CES 2013
The sights of CES 2013
The sights of CES 2013
The sights of CES 2013
The sights of CES 2013
The sights of CES 2013
The sights of CES 2013
The sights of CES 2013
The sights of CES 2013
The sights of CES 2013
The sights of CES 2013
The sights of CES 2013
The sights of CES 2013
The sights of CES 2013
The sights of CES 2013
The sights of CES 2013
The sights of CES 2013
The sights of CES 2013
The sights of CES 2013
The sights of CES 2013
The sights of CES 2013
The sights of CES 2013
The sights of CES 2013
The sights of CES 2013
STORY HIGHLIGHTS
20,000 new products were showcased at the Consumer Electronics Show
Helpful technology for seniors and emergencies was big on the show floor
Many companies planned Kickstarter funding campaigns for their products
The massive show wrapped up Friday in Las Vegas
Las Vegas (CNN) -- After six days, 3,250 booths and 20,000 new products, a few interesting trends bubbled up at last week's Consumer Electronics Show.
There were plenty of generic 5-inch smartphones, cheap tablets and ginormous televisions, as well as prototypes of fun, futuristic technology like the 20-inch 4K tablet from Panasonic or the self-driving car from Audi.
We also spotted plenty of odd gear, like the manicure machine that can print photos on your nails and the mind-controlled helicopter.
And we learned a few things about where consumer tech is going in 2013. Here are six trends that caught our eye.
Transportation for people who hate walking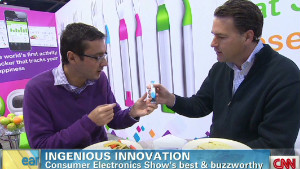 CES: Ingenious innovation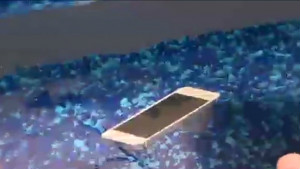 Product lets you take iPhone for a swim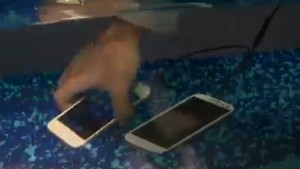 Water no longer your phone's worst enemy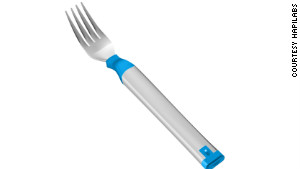 'Smart' fork tracks how fast you eat
Shiny, futuristic smart cars were on display from big companies such as Audi, Toyota and Ford. They showed off self-driving car prototypes and in-car displays for reading maps, playing music and even checking social networks.
But some of the more inventive transportation tech was smaller and geekier. There was the ZBoard, a motorized skateboard that senses your weight to propel you in the right direction, going up to 15 miles per hour. The eFlow E3 Nitro Electric bike will set lazy bikers back $4,000.
People wearing electric roller skates and strange two-wheeled boots zipped around the show floor at low speeds. The Solowheel electric unicycle actually looked like a lot of fun, but at $1,795, you might be better off catching a few cabs.
Overhyped pricey TVs
Televisions are the biggest product category at the Consumer Electronics Show, with major companies such as Samsung, Sharp, Sony and Panasonic using the occasion to launch their latest and greatest screens. The big hardware feature pushed at last week's show was the Ultra High-Definition 4K screen, which offers a crisper picture than traditional HD displays.
While the technology is closer to being available to consumers, it's still mostly just hype. The prices are sky-high for 4K TVs, and you'll notice the difference only if you're sitting close to the set or if you spring for a giant television measuring 60 inches or larger. Even if you can afford a 4K TV, there's not much in the way of content for the medium yet.
Crowdfunded gadgets
The crowd-funding and conference worlds merged nicely at this year's CES. Companies that got their start on Kickstarter or Indiegogo, like the people who made the Pebble smart watch, managed to parlay that early momentum into higher visibility at the show.
Crowdfunding sites also are proving to be more than just great ways to raise money; they're places where people with offbeat inventions can test the waters to see whether there's a market for their product.
And then there were the startups with protoypes that announced plans to raise money on crowdfunding sites in the coming months. One CES darling was the HAPIfork, a "smart" fork that tallies how many bites you take in order to help fast eaters slow down. The product has received a lot of press, both adoring and mocking, which should help it rake in money when it debuts on Kickstarter this spring.
Help for senior citizens
The elderly tend to get overlooked in the tech world, but this year's CES featured a surprising number of products aimed at the grandparent set. Connected smart-home devices make it possible to monitor family members from far away, which can be comforting to primary caregivers dealing with aging parents.
New sensors can text family members or a doctor if something is amiss in the senior's daily routine, such as not getting out of bed or skipping medication. If you're concerned about an elderly relative's safety, you can use smartphone apps to remotely control security systems, thermostats and even kitchen electronics.
For people in poor health, sensors and gadgets will monitor vital signs and send alerts if someone needs assistance right away.
In case of emergency
Whether inspired by Hurricane Sandy or "The Walking Dead," a number of intriguing gadgets promised to help users handle emergencies. The Luci inflatable lantern, for example, is both solar-powered and waterproof.
Also popular were mobile-charging devices that offer backup power on the go for smartphones and tablets. These battery packs can be pricey, though. The solar-powered Yeti 150 generator has enough juice to power a smartphone for 15 hours, but it will cost you $400.
The junk
CES is huge, spanning 1.92 million square feet. For every interesting gadget or prototype, there were dozens of small booths hawking digital detritus.
Though Apple doesn't have an official presence at CES, the iPhone accessory was a popular item on the show floor, There was a neverending supply of cheap cases, covers, Bluetooth keyboards, power packs and charging stations for iPhone and iPads.
Speakers and headphones were as omnipresent as flu germs. Some big companies introduced cool audio products, but the big trend continued to be celebrity-endorsed headphones. Beats by Dre has done so well that every earbud now clamors for some famous support, even from the likes of Motörhead frontman Lemmy Kilmister or, um, "The Jersey Shore's" Snooki.
Finally, there were the massagers. There wasn't anything terribly innovative or new in the massage field, but the booths demoing massage tech were always packed with stressed-out or weary attendees who needed a little back rub after wandering the show floor all day. The latest trend in this field? Little robot massagers that wander around on your back. We'll find out soon enough whether they catch on in the real world.