STORY HIGHLIGHTS
Supreme Court Justice Sonia Sotomayor has a new memoir, "My Beloved World"
She is the first Latina to sit on the high court
The 58-year-old was named to the court in 2009 after 17 years as a federal judge
"Yours is the life that I breathe, my inspiration is yours, yours is my thought, yours all feeling that blooms in my heart." --Excerpt from Jose Gautier Benítez's poem "To Puerto Rico (I Return)," quoted by Sonia Sotomayor in her memoir
Washington (CNN) -- With "candor comes a measure of vulnerability."
Sonia Sotomayor wants readers to know in the first pages of her new memoir that this will be different from other books by members of the Supreme Court.
The dynamic story of the first Latina to sit as a justice seeks to inspire by revealing often-painful chapters in her self-described "extraordinary journey": her father's early death from alcoholism; a complex, often distant relationship with her mother; growing up poor in the Bronx projects; self-doubts about her looks, brief failed marriage; and professional path.
But her strengths are celebrated, too: self-reliance to the point of giving herself insulin shots at age 7, after being diagnosed with diabetes; her loyalty to a large circle of friends; and vivid pride in her Puerto Rican heritage.
"Experience has taught me you cannot value dreams according to the odds of their coming true," she writes in "My Beloved World" (Knopf/Random House). "Their real value is in stirring within us the will to aspire. That will, wherever it finally leads, does at least move you forward."
She will speak this week in depth to CNN's Soledad O'Brien and CNN en Espanol's Juan Carlos Lopez.
____________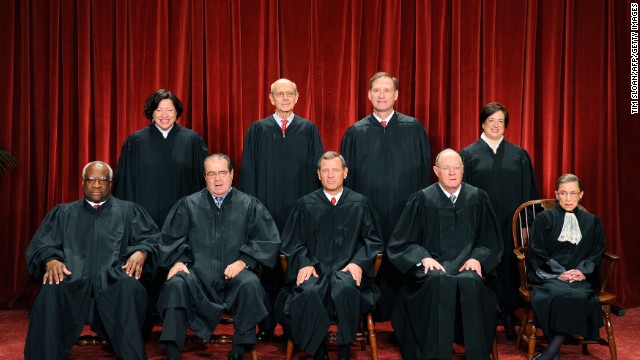 The justices of the U.S. Supreme Court sit for their official photograph on October 8, 2010, at the Supreme Court. Front row, from left: Clarence Thomas, Antonin Scalia, Chief Justice John G. Roberts, Anthony M. Kennedy and Ruth Bader Ginsburg. Back row, from left: Sonia Sotomayor, Stephen Breyer, Samuel Alito Jr. and Elena Kagan.
In 2005, Chief Justice John G. Roberts was nominated by President George W. Bush to succeed Justice Sandra Day O'Connor as an associate justice. After Chief Justice William Rehnquist died, however, Bush named Roberts to the chief justice post. The court has moved to the right during his tenure, although Roberts supplied the key vote to uphold President Barack Obama's Affordable Care Act.
Justice Antonin Scalia was appointed by President Ronald Reagan in 1986 to fill the seat vacated by Justice William Rehnquist when he was elevated to chief justice. A constitutional originalist -- and a colorful orator -- Scalia is a member of the court's conservative wing. He is currently the court's longest-serving justice.
Justice Anthony M. Kennedy was appointed to the court by President Ronald Reagan in 1988. He is a conservative justice but has provided crucial swing votes in many cases, writing the majority opinion, for example, in Lawrence v. Texas, which struck down that state's sodomy law.
Justice Clarence Thomas is the second African-American to serve on the court, succeeding Justice Thurgood Marshall when he was appointed by President George H. W. Bush in 1991. He is a conservative, a strict constructionist who supports states' rights.
Justice Ruth Bader Ginsburg is the second woman to serve on the Supreme Court. Appointed by President Bill Clinton in 1993, she is a strong voice in the court's liberal minority.
Justice Stephen G. Breyer was appointed to the court in 1994 by President Bill Clinton. He is considered a member of the court's liberal minority.
Justice Samuel A. Alito Jr. was appointed by President George W. Bush in 2006 and is known as one of the most conservative justices to serve on the court in modern times.
Justice Sonia Sotomayor is the court's first Hispanic and third female justice. She was appointed by President Barack Obama in 2009 and is regarded as a resolutely liberal member of the court.
Justice Elena Kagan is the fourth female justice and a member of the court's liberal wing. She was appointed in 2010, at the age of 50, by President Barack Obama and is the court's youngest member.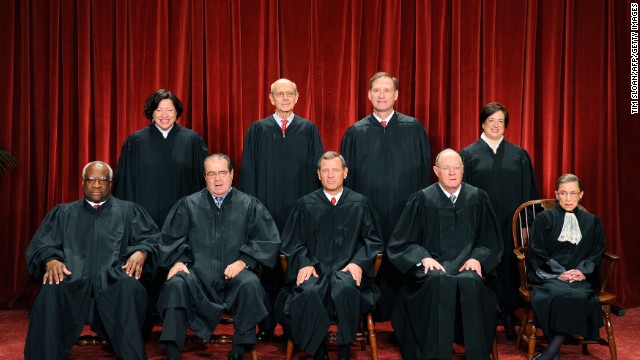 Photos: Today's Supreme Court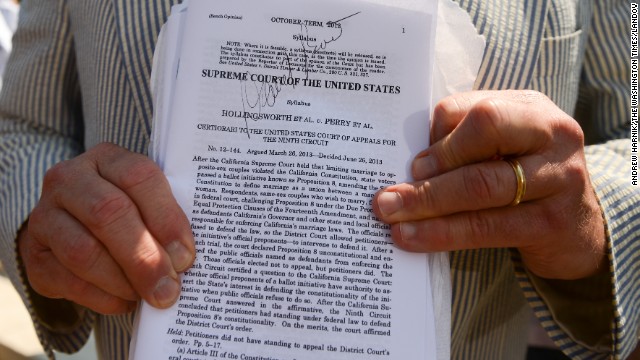 Hollingsworth v. Perry (2013): The Supreme Court dismissed an appeal over California's Proposition 8 on jurisdictional grounds. The voter-approved ballot measure barring same-sex marriage was not defended by state officials, but rather a private party. This ruling cleared the way for same-sex marriage in California to resume, but left open-ended the legal language of 35 other states barring same-sex marriage. Take a look at other important cases decided by the high court.
United States v. Windsor (2013): When her wife died in 2009, Edith Windsor, 84, was forced to pay hundreds of thousands of dollars in estate taxes because her marriage was not recognized by the federal government's Defense of Marriage Act of 1996. The Supreme Court struck down the part of the law which denied legally marriage same-sex couples the same federal benefits provided to heterosexual spouses.
National Federation of Independent Business v. Sebelius (2012): The Supreme Court upheld most of the Affordable Care Act, the Obama administration's health care reform law, on June 28, 2012. The decision determined how hundreds of millions of Americans will receive health care.
Citizens United v. Federal Election Commission (2010): Activists rally in February 2012 to urge the Supreme Court to overturn its decision that fundamentally changed campaign finance law by allowing corporations and unions to contribute unlimited funds to political action committees not affiliated with a candidate.
Texas v. Johnson (1989): The Supreme Court overturned the decision that convicted Gregory Lee Johnson of desecrating a venerated object after he set an American flag on fire during a protest. The court ruled that Johnson (at right with his lawyer, William Kunstler) was protected under the First Amendment right to freedom of speech.
United States v. Nixon (1974): When President Richard Nixon claimed executive privilege over taped conversations regarding the Watergate scandal, the Supreme Court ruled that he had to turn over the tapes and other documents. The ruling set a precedent limiting the power of the president of the United States.
Roe v. Wade (1973): Norma McCorvey, identified as "Jane Roe," sued Dallas County District Attorney Henry Wade over a law that made it a felony to have an abortion unless the life of the mother was in danger. The court agreed with Roe and overruled any laws that made abortion illegal in the first trimester. Here, McCorvey, left, stands with her attorney Gloria Allred in 1989.
Miranda v. Arizona (1966): Ernesto Miranda confessed to a crime without the police informing him of his right to an attorney or right against self-incrimination. His attorney argued in court that the confession should have been inadmissible, and in 1966, the Supreme Court agreed. The term "Miranda rights" has been used since.
Gideon v. Wainwright (1963): The Supreme Court overturned the burglary conviction of Clarence Earl Gideon after he wrote to the court from his prison cell, explaining he was denied the right to an attorney at his 1961 trial.
Mapp v. Ohio (1961): The Supreme Court overturned the conviction of Dollree Mapp because the evidence collected against her was obtained during an illegal search. The ruling re-evaluated the Fourth Amendment, which protects citizens against unreasonable searches and seizures.
Brown v. Board of Education (1954): Nathaniel Steward recites his lesson surrounded by white classmates at the Saint-Dominique School in Washington. In Brown v. Board of Education, the Supreme Court ruled that it was unconstitutional to separate students based on race.
Korematsu v. United States (1944): Fred Korematsu, a Japanese-American man, was arrested after authorities found out that he claimed to be a Mexican-American to avoid an internment camp during World War II. The court ruled that the rights of an individual were not as important as the need to protect the country during wartime. In 1998, President Bill Clinton awarded Korematsu the Presidential Medal of Freedom.
Plessy v. Ferguson (1896): Homer Plessy was arrested when he refused to leave a whites-only segregated train car, claiming he was 7/8 white and only 1/8 black. The Supreme Court ruled that "separate but equal" facilities for blacks were constitutional, which remained the rule until Brown v. Board of Education in 1954.
Dred Scott v. Sandford (1857): When Dred Scott asked a circuit court to reward him his freedom after moving to a free state, the Supreme Court ruled that Congress didn't have the right to prohibit slavery and, further, that those of African-American descent were not protected by the Constitution.
Gibbons v. Ogden (1824): This was the first case to establish Congress' power to regulate interstate commerce. The ruling signaled a shift in power from the states to the federal government. Aaron Ogden, seen here, was given exclusive permission from the state of New York to navigate the waters between New York and certain New Jersey ports. When Ogden brought a lawsuit against Thomas Gibbons for operating steamships in his waters, the Supreme Court sided with Gibbons.
McCulloch v. Maryland (1819): In response to the federal government's controversial decision to institute a national bank in the state, Maryland tried to tax the bank out of business. When a federal bank cashier, James W. McCulloch, refused to pay the taxes, the state of Maryland filed charges against him. In McCulloch v. Maryland, the Supreme Court ruled that chartering a bank was an implied power of the Constitution. The first national bank, pictured, was created by Congress in 1791 in Philadelphia.
Marbury v. Madison (1803): When Secretary of State James Madison, seen here, tried to stop Federal loyalists from being appointed to judicial positions, he was sued by William Marbury. Marbury was one of former President John Adams' appointees, and the court decided that although he had a right to the position, the court couldn't enforce his appointment. The case defined the boundaries of the executive and judicial branches of government.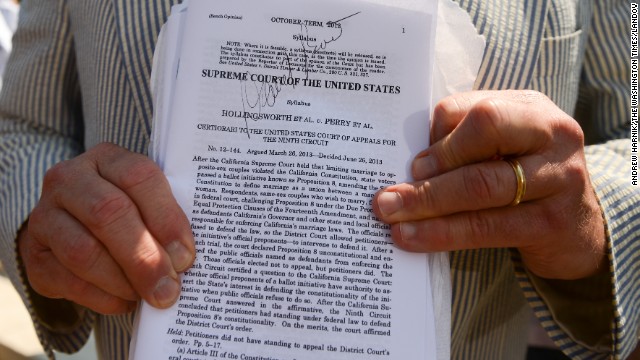 Photos: Supreme Court cases that changed America
The 58-year-old Sotomayor was named to the high court in 2009 after 17 years as a federal judge in New York.
Her autobiography ends as she takes the bench in 1992. The narrative is often hauntingly personal: no legal analyses here. Anyone seeking to glean her views of hot-button political issues like abortion, health care reform, or same-sex marriage will be disappointed.
Clarence Thomas speaks in court
Some of the most vivid recollections concern her Type 1 diabetes. Sotomayor recounts how she gave herself the shots of out necessity, with her mother gone much of the day at work, and her father's illness causing his hands to tremble.
And within her from that early age was a sense of destiny she has struggled at times to shape. When young Sonia was diagnosed in 1962, the prospects of living a full life past her 40s were not good.
"I've lived most of my life inescapably aware that it is precious and finite," she writes. "The reality of diabetes always lurked in the back of my mind, and early on I accepted the probability that I would die young."
In many ways she considers that decades-long awareness a "gift"-- to persevere, grasp life at its fullest every day. She now manages her illness with ease -- at public events she has been seen giving herself needle shots, with hardly anyone noticing.
Sotomayor deals candidly with death, especially her father Juan's spiral from drink, and the effect it had on Sonia's mother especially. The loving daughter recalls the bottles of booze the family later discovered hidden in "Papi's" bedroom, including under the mattress.
Her beloved cousin Nelson's early death from AIDS is chronicled. In one amazing scene, she unwittingly drives him in his last weeks to an "appointment."
"He asked me to wait, so I sat in the car, parked outside the rundown tenement in Hunts Point (a neighborhood in the Bronx)," she recalls. "Inside he'd been scoring heroin. I wanted to kick myself -- how could anyone, let alone an assistant district attorney who'd seen everything I'd seen, be so naive. I recited that essential lesson of Papi's, simplistic but true: Good people can do bad things, make bad choices. It doesn't make them bad people."
Even Sotomayor's long smoking habit -- puffing up to three and a half packs a day -- gets the full unvarnished treatment, especially the difficulties of her quitting.
___________
The other driving narrative in this memoir is her heritage, rich with stories of childhood visits to the island of her parents' birth. She intimately describes the sounds and smells of her Bronx neighborhood too, especially the weekly visits to her paternal grandmother Mercedes -- whom she called Abuelita -- where food, dancing, and poetry readings brought some of the happiest moments of her childhood.
The justice says an innate awareness of larger forces around her often-chaotic childhood helped ground her, leaving the girl more trusting of her own instincts than what her once-distant mother and Catholic school education could provide. Her motto when she was in doubt: "Listen carefully and observe until I figured things out."
Young Sonia's evident intelligence and self-determination were boosted by affirmative action, just getting a hold in American society in the early 1970s, when she began applying for college. Sotomayor admits not being fully aware of its impact in her own life at that age, but certain polar memories still leave a bad taste. A fellow Hispanic student criticized her for not being more militant about the discrimination Hispanics were facing, while a high school employee baldly questioned whether as an underprivileged minority she truly deserved to go to Princeton University.
"I felt like an alien landing in a different universe," she says of her early college days, relating an experience shared by many of her minority friends. "There were vultures circling, ready to dive when we stumbled. The pressure to succeed was relentless, even if self-imposed out of fear and insecurity."
She drove herself hard to overcome that doubt, determined to prove critics wrong.
"I had been admitted to the Ivy League through a special door, and I had more ground than most to make up before I was competing with my classmates on an equal footing," she writes. But "to doubt the worth of minority students' achievement when they succeed is really only to present another face of the prejudice that would deny them a chance even to try."
The young woman from the Bronx projects graduated with honors from Princeton and later Yale Law School.
____________
Sotomayor is unmarried, has no children, and her laser focus on her work as a prosecutor, private lawyer, and later justice -- she admits somewhat sadly -- has often been at the sacrifice of greater personal growth.
She concedes that her intensity and drive has initially turned off some people. Her longtime paralegal developed hives when dealing with the often-brusque new boss for the first time. Sotomayor also overheard a law firm colleague describe her as "one tough bitch" who would not be pushed around by adversaries.
"I was shaken to hear myself so harshly categorized," she recalls. "When I'm focused intensely on work, I become oblivious to social cues, or any cues for that matter."
Seeing Justice Sotomayor on the high court, zeroing in on a lawyer's presentation at oral argument, is to witness that blend of street-smart manner, combined with a steely intellect. She does not mess around.
But in private, her demeanor is another story. When talking with her in small, intimate settings, Sotomayor quickly, easily makes you the sole center of her attention, bringing a warm smile and understanding manner.
Being single has also allowed her time to embrace the many dozens of relatives and colleagues -- many of them mentors -- she holds close to her, her "familia."
"I've always turned the families of friends into family of my own," she writes proudly.
In her newest role, Sotomayor has become an international role model, something she admits can be affecting and overwhelming at the same time.
"My education continues on the Supreme Court as I reckon with the particular demands of the finality of review," in the decisions the justice and her eight colleagues issue. She ends her book, "My highest aspiration for my work on the Court is to grow in understanding beyond what I can foresee, beyond any borders visible from this vantage."