STORY HIGHLIGHTS
Swartz's family says federal prosecutors and MIT "contributed to his death"
Swartz, 26, was found Friday after he hung himself, ME's office and his family says
He helped pioneer the Internet's icons of RSS and Reddit at a young age
Swartz then became an aggressive Internet activist, landing him in legal trouble
Share your thoughts on CNN iReport.
(CNN) -- Aaron Swartz, an Internet savant who at a young age shaped the online era by co-developing RSS and Reddit and later became a digital activist, has committed suicide.
Swartz's body was found Friday evening in Brooklyn, said Ellen Borakove, a spokeswoman with the New York medical examiner's office. The 26-year-old had hanged himself in his apartment.
His family and partner said they were "in shock, and have not yet come to terms with his passing."
"Aaron's insatiable curiosity, creativity, and brilliance; his reflexive empathy and capacity for selfless, boundless love; his refusal to accept injustice as inevitable -- these gifts made the world, and our lives, far brighter," they said in a statement. "We're grateful for our time with him, to those who loved him and stood with him, and to all of those who continue his work for a better world."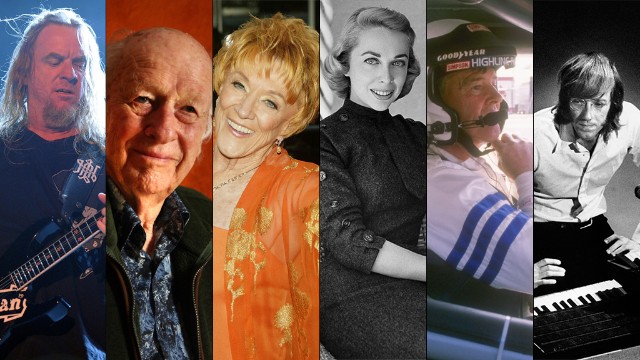 A look back at those we have lost in 2013.
Ray Manzarek, keyboardist and founding member of The Doors, passed away of cancer on Monday, May 20. He was 74.
NASCAR legend Dick Trickle died on May 16 of an apparent self-inflicted gunshot wound. He was 71.
Popular American psychologist and television personality Dr. Joyce Brothers died at 85, her daughter said on May 13. Brothers gained fame as a frequent guest on television talk shows and as an advice columnist for Good Housekeeping magazine and newspapers throughout the United States.
Jeanne Cooper, who played Katherine Chancellor, the "Dame of Genoa City," on "The Young and the Restless," died on May 8. She was 84.
Ray Harryhausen, the stop-motion animation and special-effects master whose work influenced such directors as Steven Spielberg, Peter Jackson and George Lucas, died on May 7 at age 92, according to the Facebook page of the Ray and Diana Harryhausen Foundation.
Grammy-winning guitarist Jeff Hanneman, a founding member of the heavy metal band Slayer, died on May 2 of liver failure. He was 49.
Chris Kelly, one-half of the 1990s rap duo Kris Kross, died on May 1 at an Atlanta hospital after being found unresponsive at his home, the Fulton County medical examiner's office told CNN. Kelly, right, and Chris Smith shot to stardom in 1992 with the hit "Jump."
George Jones, the country music legend whose graceful, evocative voice gave depth to some of the greatest songs in country music -- including "She Thinks I Still Care," "The Grand Tour" and "He Stopped Loving Her Today" -- died on April 26 at age 81, according to his public relations firm.
Actor Allan Arbus poses for a portrait with his daughter photographer Amy Arbus in 2007. Allan Arbus, who played psychiatrist Maj. Sidney Freedman in the M*A*S*H television series, died at age 95, his daughter's representative said April 23.
Folk singer Richie Havens, the opening act at the 1969 Woodstock music festival, died on April 22 of a heart attack, his publicist said. He was 72.
Australian rocker Chrissy Amphlett, the Divinyls lead singer whose group scored an international hit with the sexually charged "I Touch Myself" in the early 1990s, died on April 21 from breast cancer and multiple sclerosis, her husband said. She was 53.
Pat Summerall, the NFL football player turned legendary play-by-play announcer, was best known as a broadcaster who teamed up with former NFL coach John Madden. Summerall died April 16 at the age of 82.
Comedian Jonathan Winters died on April 11 at age 87. Known for his comic irreverence, he had a major influence on a generation of comedians. Here he appears on "The Jonathan Winters Show" in 1956.
Sir Robert Edwards, a "co-pioneer" of the in vitro fertilization technique and Nobel Prize winner, died April 10 in his sleep after a long illness, the University of Cambridge said. He was 87. He is pictured on July 25, 1978, holding the world's first "test-tube baby," Louise Joy Brown, alongside the midwife and Dr. Patrick Steptoe, who helped develop the fertility treatment.
Annette Funicello, one of the best-known members of the original 1950s "Mickey Mouse Club" and a star of 1960s "beach party" movies, died at age 70 on April 8. Pictured, Funicello performs with Jimmie Dodd on "The Mickey Mouse Club" in1957.
Former British Prime Minister Margaret Thatcher, a towering figure in postwar British and world politics and the only woman to become British prime minister, died at the age of 87 on Monday, April 8.
Designer Lilly Pulitzer, right, died on April 7 at age 81, according to her company's Facebook page. The Palm Beach socialite was known for making sleeveless dresses from bright floral prints that became known as the "Lilly" design.
Film critic Roger Ebert died on April 4, according to his employer, the Chicago Sun-Times. He was 70. Ebert had taken a leave of absence on April 2 after a hip fracture was revealed to be cancer.
Jane Nebel Henson, wife of the late Muppets creator Jim Henson and instrumental in the development of the world-famous puppets, died April 2 after a long battle with cancer. She was 78.
Shain Gandee, one of the stars of the MTV reality show "Buckwild," was found dead with two other people in Kanawha County, West Virginia, on April 1. He was 21.
Music producer and innovator Phil Ramone, right, with Paul Shaffer, left, and Billy Joel at the Song Writers Hall of Fame Awards in New York in 2001. Ramone died March 30 at the age of 72.
Writer/producer Don Payne, one of the creative minds behind "The Simpsons," died March 26 at his home in Los Angeles after losing a battle with bone cancer, reports say. He was 48.
Gordon Stoker, left, who as part of the vocal group the Jordanaires sang backup on hits by Elvis Presley, died March 27 at 88.
Deke Richards, center, died March 24 at age 68. Richards was a producer and songwriter who was part of the team responsible for Motown hits such as "I Want You Back" and "Maybe Tomorrow." He had been battling esophageal cancer.
Legendary publisher, promoter and weightlifter Joe Weider, who created the Mr. Olympia contest and brought California Gov. Arnold Schwarzenegger to the United States, died at age 93 on March 23.
Playboy magazine's 1962 "Playmate of the Year," Christa Speck Krofft, died March 22 of natural causes at the age of 70.
Rena Golden, who held top positions at CNN, died at age 51 after battling lymphoma for two years on March 21.
Harry Reems, the porn star best known for playing Dr. Young in the 1972 adult film classic "Deep Throat," died March 19, according to a spokeswoman at a Salt Lake City hospital. Reems, whose real name is Herbert Streicher, was 65.
Bobbie Smith, who as a member of the Spinners sang lead on such hits as "I'll Be Around" and "Could It Be I'm Falling in Love," died on March 16 at age 76. Pictured clockwise from left, Spinners band member Pervis Jackson, Billy Henderson, Jonathan Edwards, Bobbie Smith and Henry Fambrough, 1977.
Sweden's Princess Lilian, the Welsh-born model who lived with her lover Prince Bertil for 30 years before they were married, has died at the age of 97, the Swedish Royal Court said in a statement.
Alvin Lee, the speed-fingered British guitarist who lit up Woodstock with a monumental 11-minute version of his song "I'm Going Home," died on March 6, according to his website. He was 68.
Hugo Chavez, the polarizing president of Venezuela who cast himself as a "21st century socialist" and foe of the United States, died March 5, said Vice President Nicolas Maduro.
Bobby Rogers, one of the original members of Motown staple The Miracles, died on Sunday, March 3, at 73. From left: Bobby Rogers, Ronald White, Smokey Robinson and Pete Moore circa 1965.
Actress Bonnie Franklin, star of the TV show "One Day at a Time," died at the age of 69 on March 1 of complications from pancreatic cancer.
Actor Dale Robertson, who was popular for his western TV shows and movies, died at age 89 on Thursday, February 28.
Richard Street, former member of the Temptations, died at age 70 on February 27. Street, second from the left, poses for a portrait with fellow members of the Temptations circa 1973.
Van Cliburn, the legendary pianist honored with a New York ticker-tape parade for winning a major Moscow competition in 1958, died on February 27 after a battle with bone cancer, his publicist said. He was 78.
Former U.S. Surgeon General C. Everett Koop died on February 25. He was 96. Koop served as surgeon general from 1982 to 1989, under Presidents Ronald Reagan and George H.W. Bush.
Damon Harris, former member of the Motown group the Temptations, died at age 62 on February 18. Harris, center on the stool, poses for a portrait with fellow members of The Temptations circa 1974.
Lou Myers, a stage, film and TV actor who memorably portrayed Mr. Gaines on the comedy "A Different World," died on February 19 at the age of 75.
Los Angeles Laker owner Jerry Buss died February 18 at age 80. Buss, who had owned the Lakers since 1979, was credited with procuring the likes of Earvin "Magic" Johnson, James Worthy, Shaquille O'Neal and Kobe Bryant. The Lakers won 10 NBA championships and 16 Western Conference titles under Buss' ownership.
Country singer Mindy McCready was found dead on February 17 of a self-inflicted gunshot wound, authorities said. She was 37. During her career, McCready landed 14 songs and six albums on the Billboard country charts.
Ed Koch, the brash former New York mayor, died February 1 of congestive heart failure at 88, his spokesman said.
Patty Andrews, center, the last surviving member of the Andrews Sisters, died at her Northridge, California, home on January 30, her publicist Alan Eichler said. She was 94. Patty is seen in this 1948 photograph with her sisters Maxene, left, and Laverne.
Baseball Hall of Famer and St. Louis Cardinals great Stan Musial died on January 19, according to his former team. He was 92.
Baseball Hall of Fame manager Earl Sidney Weaver, who led the Baltimore Orioles to four pennants and a World Series title with a pugnacity toward umpires, died January 19 of an apparent heart attack at age 82, Major League Baseball said.
Pauline Phillips, better known to millions of newspaper readers as the original Dear Abby advice columnist, has died after a long battle with Alzheimer's Disease. She died January 16 in Minneapolis, Minnesota, at age 94.
Aaron Swartz, the Internet activist who co-wrote the initial specification for RSS, committed suicide, a relative told CNN on January 12. He was 26. Swartz also co-founded Demand Progress, a political action group that campaigns against Internet censorship.
Claude Nobs, the founder of the Montreux Jazz Festival, died aged 76 following a skiing accident.
Richard Ben Cramer, the Pulitzer Prize-winning writer whose 1992 book "What It Takes" remains one of the most detailed and passionate of all presidential campaign chronicles, died January 7, according to his longtime agent. He was 62.
Director and stuntman David R. Ellis died on January 7. He directed "Snakes on a Plane."
Tony Lip, who played mob figures in the hit cable show "The Sopranos" and several critically acclaimed movies, died January 4, a funeral home official said. Lip, whose real name was Frank Vallelonga, was 82.
Character actor Ned Wertimer, known to fans of "The Jeffersons" as the doorman Ralph Hart, died on January 2. He was 89.
Pop-country singer Patti Page died on January 1 in Encinitas, California. She was 85. Born Clara Ann Fowler, Page was the best-selling female artist of the 1950s and had 19 gold and 14 platinum singles.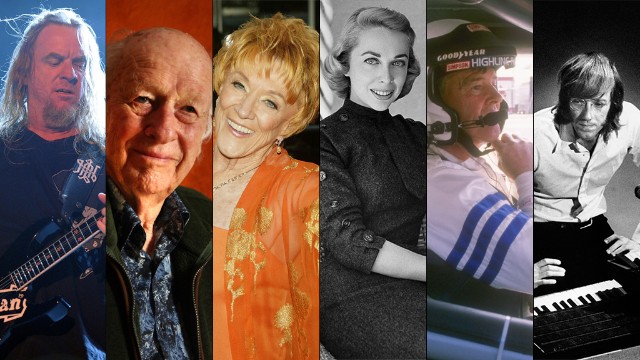 Photos: People we lost in 2013
A prodigy, Swartz was behind some of the Internet's defining moments, soaring to heights that many developers only dream of. At the same time, he was plagued by legal problems arising from his aggressive activism, and he was also known to suffer depression, a personal matter that he publicly revealed on his blog.
Technology activist Cory Doctorow met Swartz when he was 14 or 15, Doctorow said on his blog.
"In so many ways, he was an adult, even then, with a kind of intense, fast intellect that really made me feel like he was part and parcel of the Internet society," Doctorow wrote.
"But Aaron was also a person who'd had problems with depression for many years," Doctorow blogged. He added that "whatever problems Aaron was facing, killing himself didn't solve them. Whatever problems Aaron was facing, they will go unsolved forever."
At age 14, Swartz co-wrote the RSS specification.
He was later admitted to Stanford University, but dropped out after a year because, as he wrote in a blog post, "I didn't find it a very intellectual atmosphere, since most of the other kids seemed profoundly unconcerned with their studies."
What he did next was help develop Reddit, the social news website that was eventually bought by heavyweight publisher Conde Nast in 2006.
Swartz then engaged in Internet digital activism, co-founding Demand Progress, a political action group that campaigns against Internet censorship.
But he pushed the legal limits, allegedly putting him on the wrong side of the law.
In 2011, he was arrested in Boston for alleged computer fraud and illegally obtaining documents from protected computers. He was later indicted in an incident in which he allegedly stole millions of online documents from the Massachusetts Institute of Technology. He pleaded not guilty in September, according to MIT's "The Tech" newspaper.
Two years earlier, the FBI investigated him after he released millions of U.S. federal court documents online. The alleged hacking was significant because the documents came from the government-run Public Access to Court Electronic Records, or PACER, which typically charges a fee, which was 8 cents a page in 2009.
No charges were filed in that case, but on October 5, 2009, he posted online his FBI file that he apparently requested from the agency. He redacted the FBI agents' names and his personal information, he said.
In that file, the FBI said more than 18 million pages with a value of about $1.5 million were downloaded from PACER in September 2008 to Swartz's home in Highland Park, Illinois.
"As I hoped, it's truly delightful," he wrote of his FBI file.
Swartz's family and partner recalled his "commitment to social justice," and called his death "the product of a criminal justice system rife with intimidation and prosecutorial overreach." They criticized U.S. prosecutors for seeking "an exceptionally harsh array of charges (for) an alleged crime that had no victims," and MIT because it did not "stand up for Aaron."
"Decisions made by officials in the Massachusetts U.S. Attorney's office and at MIT contributed to his death," they said.
Christina DiIorio-Sterling, a spokeswoman for the U.S. Department of Justice, declined to comment on Swartz's case, citing respect for the family.
His funeral will be held Tuesday at a synagogue in Highland Park.
Swartz, who completed a fellowship at Harvard's Ethics Center Lab on Institutional Corruption, frequently blogged about his life, success and personal struggles. In some instances, he wrote about death.
"There is a moment, immediately before life becomes no longer worth living, when the world appears to slow down and all its myriad details suddenly become brightly, achingly apparent," he wrote in a 2007 post titled "A Moment Before Dying."
On November 27, 2007, he blogged about "depressed mood."
"Surely there have been times when you've been sad. Perhaps a loved one has abandoned you or a plan has gone horribly awry. Your face falls. Perhaps you cry. You feel worthless. You wonder whether it's worth going on," he wrote.
"Everything you think about seems bleak — the things you've done, the things you hope to do, the people around you. You want to lie in bed and keep the lights off. Depressed mood is like that, only it doesn't come for any reason and it doesn't go for any either.
"At best, you tell yourself that your thinking is irrational, that it is simply a mood disorder, that you should get on with your life. But sometimes that is worse. You feel as if streaks of pain are running through your head, you thrash your body, you search for some escape but find none. And this is one of the more moderate forms," he wrote.
People we've lost in 2013: The lives they lived
CNN's David Ariosto and Brittany Brady in New York contributed to this report.