Weigh in: Are you getting the flu vaccine?
Join the conversation
CNN iReport
updated 10:30 AM EST, Mon January 14, 2013
STORY HIGHLIGHTS
The flu has been reported in 47 states
Although the spread of the flu has slowed down, widespread activity is still reported
Will you be getting vaccinated? Tell us about it.
(CNN) -- With the threat of the flu spreading across 47 states, every cough or sneeze within hearing range echoes like a warning shot and feels like a threat.
It's not uncommon to see people leave the room, try to shield their faces, wash their hands or even stay home to avoid catching the flu.
Although the CDC believes that the spread of the flu has slowed in some areas, numerous states are still reporting high levels of symptoms and activity.
Because flu season is so unpredictable, officials won't know for another week or two if the outbreak has peaked.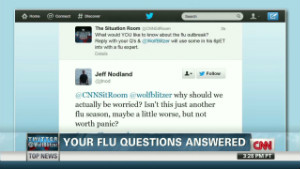 Your flu questions answered
Here on CNN.com, we've reported what to do if you have the flu, discussed the effectiveness of the vaccine, answered your top questions, addressed top flu vaccine myths and 3 things we still don't know about influenza, provided tips for avoiding the flu, offered ways to protect your children and how to protect others from your coughing or sneezing.
Did you get vaccinated? Tell us why, or why not, in the comments below.