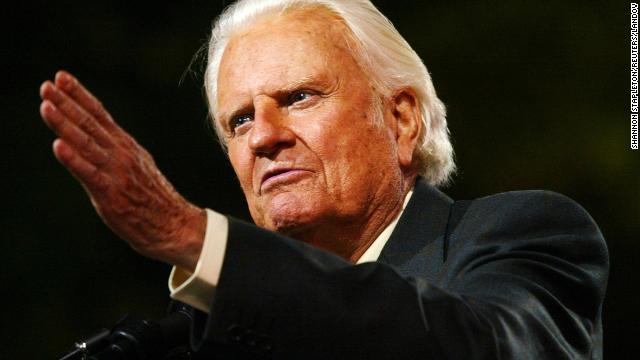 Billy Graham has reached tens of millions of people through his Christian rallies and developed a relationship with every U.S. president since Harry Truman. He celebrated his 95th birthday this year.
Graham poses for a school portrait at age 17 in June 1935. After high school Graham moved from Charlotte, North Carolina, to Tennessee to enroll in the conservative Christian school Bob Jones College. He then transferred to the Florida Bible Institute. He was ordained a Southern Baptist minister in 1939 and quickly gained a reputation as an evangelical preacher.
Graham preaches in the early 1950s. He became born again after hearing an evangelist preacher in 1934.
Graham reads on an airplane during a "Pulpit in the Sky" trip on January 15, 1953.
Graham addresses the crowd in Trafalgar Square in London on March 4, 1954.
Graham addresses a crowd of football supporters at Stamford Bridge, London, during half-time at a match between Chelsea and Newcastle United on April 24, 1954.
Graham holds a crusade in a tent circa 1955.
Graham embraces his family upon his return from his "Crusade for Christ" tour in the 1950s. Clockwise from left: wife Ruth, daughter Anne, Graham, daughter Ruth (Bunny), and daughter Virginia.
Graham speaks at Madison Square Garden in New York on May 15, 1957, opening his 16-week crusade for "A Spiritual Revolution in the City."
Supporters greet Graham upon his arrival in New York on June 30, 1959. Graham and his wife were returning from a six-month speaking tour, which included stops in Australia and Russia.
Graham visits with children during a trip to a village in Ghana in January 1960.
Graham sits in a jungle clearing a few miles from Ibadan, Nigeria, on February 1, 1960.
Graham gets a kiss from his wife, Ruth, upon arriving in New York on the ocean liner Queen Elizabeth on March 29, 1960. They spent 2½ months touring Africa and the Middle East.
Graham dictates a synopsis of his evening's sermon into a recorder in Fresno, California, on July 18, 1962. Secretaries would then type the synopsis for distribution to the press. Graham was conducting an eight-day crusade in Fresno.
Graham plays himself in the 1963 TV movie "The World's Greatest Showman: The Legend of Cecil B. DeMille."
Graham addresses the congregation at the opening of the 32-day Greater London Crusade at the Earls Court Convention Centre in London on June 1, 1966.
Graham preaches to a crowd of thousands at an open-air rally in Victoria Park as part of his Greater London Crusade on June 26, 1966.
Graham speaks to more than 5,000 U.S. troops at Long Binh, Vietnam, on December 23, 1966.
Graham addresses an audience in June 1967. He has been listed by Gallup as one of the "Ten Most Admired Men in the World" more than 50 times.
Graham rides a donkey in Jerusalem on March 28, 1969, during a visit to holy places in the city.
Graham speaks to a crowd of 18,000 on the closing night of the Southern Baptist Convention in Dallas on June 13, 1974. The theme of the convention was "Share His Love Now."
Graham speaks at Liberty Bowl Memorial Stadium in Memphis, Tennessee, on May 8, 1978. Inclement weather had forced the crusade to the nearby Mid-South Coliseum, but when the clouds lifted, Graham went to the stadium to speak to those who could not get into the Coliseum.
Graham and his wife, Ruth, visit her birthplace in Huaiyin, Jiangsu province, China, on April 19, 1988. They were married in 1943 and stayed together until her death on June 14, 2007.
In September 1991, Graham preaches in New York for the first time since 1970. The crowd gathered in Central Park was estimated at 200,000.
Pope John Paul II meets with Graham at the Vatican in 1993. Graham has been called the "Protestant Pope."
On May 2, 1996, U.S. Speaker of the House Newt Gingrich presents Graham with a Congressional Gold Medal during a ceremony on Capitol Hill as Ruth Graham watches.
Graham gestures during his message to the capacity crowd at Ericsson Stadium in Charlotte, North Carolina, on September 27, 1996.
On January 20, 1997, Graham gives the invocation at the inaugural ceremony for President Bill Clinton on Capitol Hill.
Graham greets Chinese President Jiang Zemin at a VIP luncheon in November 1997 in Beverly Hills, California.
Former U.S. first lady Nancy Reagan greets Graham at the gala dedication of the Ronald Reagan Building and International Trade Center in Washington on May 5, 1998.
Presidential candidate George W. Bush meets with Graham in Jacksonville, Florida, on November 5, 2000. Years earlier, a conversation with Graham had helped lead Bush to give up drinking.
Graham speaks to the crowd at Arrowhead Stadium in Kansas City, Missouri, on October 7, 2004. Over the course of his career, he has preached to more than 215 million people in more than 185 countries and territories.
Graham leads his "last crusade" at Flushing Meadows-Corona Park in New York on June 24, 2005, speaking to more than 230,000 people.
Graham prepares backstage before giving the final message of the Metro Maryland Festival on July 9, 2006, at Oriole Park in Baltimore. The three-day program was led by Graham's son Franklin.
Graham sits in his home in the mountains of Montreat, North Carolina, on July 25, 2006.
Republican presidential candidate Mitt Romney speaks with Graham and his son Franklin during a visit to the Grahams' cabin in Montreat on October 11, 2012.
Billy Graham: 'America's pastor'
Billy Graham: 'America's pastor'
Billy Graham: 'America's pastor'
Billy Graham: 'America's pastor'
Billy Graham: 'America's pastor'
Billy Graham: 'America's pastor'
Billy Graham: 'America's pastor'
Billy Graham: 'America's pastor'
Billy Graham: 'America's pastor'
Billy Graham: 'America's pastor'
Billy Graham: 'America's pastor'
Billy Graham: 'America's pastor'
Billy Graham: 'America's pastor'
Billy Graham: 'America's pastor'
Billy Graham: 'America's pastor'
Billy Graham: 'America's pastor'
Billy Graham: 'America's pastor'
Billy Graham: 'America's pastor'
Billy Graham: 'America's pastor'
Billy Graham: 'America's pastor'
Billy Graham: 'America's pastor'
Billy Graham: 'America's pastor'
Billy Graham: 'America's pastor'
Billy Graham: 'America's pastor'
Billy Graham: 'America's pastor'
Billy Graham: 'America's pastor'
Billy Graham: 'America's pastor'
Billy Graham: 'America's pastor'
Billy Graham: 'America's pastor'
Billy Graham: 'America's pastor'
Billy Graham: 'America's pastor'
Billy Graham: 'America's pastor'
Billy Graham: 'America's pastor'
Billy Graham: 'America's pastor'
Billy Graham: 'America's pastor'
Billy Graham: 'America's pastor'