Judge agrees to delay plea for theater shooting suspect
updated 6:10 PM EST, Fri January 11, 2013
STORY HIGHLIGHTS
NEW: Victim's father cries out, "Rot in hell, Holmes" at hearing
The judge allows more time for the theater shooting suspect's attorneys to prepare
James Holmes is next scheduled to appear March 12
(CNN) -- The judge overseeing the case against suspected Colorado movie theater gunman James Holmes agreed to delay arraignment in the case to allow defense lawyers more time to pore over 30,000 pages of evidence and hundreds of DVDs and CDs.
The arraignment -- a formal reading of charges by the court and, frequently, the entering of a plea by the defendant -- had been scheduled for Friday after Judge William Sylvester ruled Thursday that prosecutors had provided sufficient evidence in the preliminary hearing for the case to proceed to trial. The preliminary hearing ended Wednesday
Sylvester said he was concerned Holmes' case could be headed for appeal if he moved too quickly with the arraignment. That step is now scheduled March 12.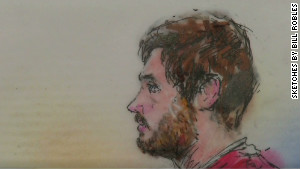 FBI details booby traps in suspect's home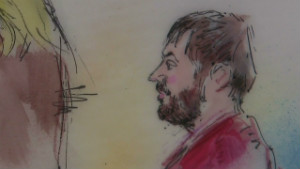 How James Holmes acted before massacre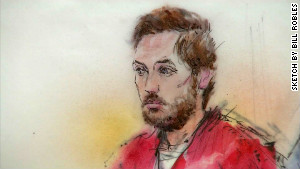 Police reveal new Aurora shooting info
Holmes is charged with a total of 166 counts of murder, attempted murder and other charges in the July 20 shooting rampage at an Aurora, Colorado, movie theater that left 12 people dead and scores injured.
Authorities say he booby-trapped his apartment with explosives, then traveled to the movie theater armed with four weapons, tear gas and body armor planning to kill audience members. At the preliminary hearing, police who responded described hellish scenes inside the theater and described finding Holmes, dressed in body armor, standing outside, seeming "detached from it all," according to Officer Jason Oviatt.
At the conclusion of Friday's brief hearing, the father of one of the victim's shouted out, "Rot in hell, Holmes."
Sylvester called everyone back into the courtroom, apologized to the man -- Steve Hernandez -- for the loss of daughter Rebecca Wingo and asked if he could count on no similar episodes from Hernandez in the future.
"I meant no disrespect to you or the court," Hernandez told the judge. "I can promise you no further outbursts."
When Holmes returns to court in March, the list of charges will be read to him and he will have an opportunity to enter a plea, Arapahoe County District Attorney George Brauchler told reporters.
"There are varying pleas available for him to enter on that date," Brauchler said.
During Holmes' preliminary hearing, defense attorneys had been expected to call some witnesses and introduce a defense claiming "diminished capacity" on Holmes' part. But defense attorney Daniel King told the judge attorneys had changed their mind and no longer wanted to put on a case during that hearing.
According to the Colorado Bar Association, "diminished capacity" relates to a person's ability or inability "to make adequately considered decisions" regarding his or her legal representation because of "mental impairment or for some other reason."
At the preliminary hearing, prosecutors presented evidence of what they said was considerable planning by Holmes prior to the shooting, including trips to the theater to photograph interior and exterior doorways and a complicated web of improvised explosives at his apartment.

Part of complete coverage on

Meet the victims involved in the Colorado theater massacre through shared photos and read the memories kept alive by their loved ones.
updated 9:59 AM EDT, Thu March 28, 2013

Colorado shooting suspect has offered to plead guilty and spend the rest of his life behind bars in exchange for avoiding the death penalty.
updated 10:36 AM EDT, Fri March 22, 2013

Back in the 1950s, Hollywood fell in love with the idea of truth serum. But it doesn't work the way the movies have made it seem.
updated 9:59 PM EST, Fri March 1, 2013

Lawyers for James Holmes, the Aurora, Colorado, mass shooting suspect, took aim against the state's insanity defense laws in court documents made public Friday.
updated 7:18 AM EST, Tue January 8, 2013

So much blood the theater floor had become slippery. Bodies with horrific injuries. The eerie sound of cell phones ringing, over and over again.
updated 11:34 AM EST, Thu January 3, 2013

Relatives of nine people killed said an invitation to attend an event on the eve of the remodeled complex's reopening is "disgusting."
updated 11:30 AM EDT, Tue July 31, 2012

Colorado movie shooting suspect James Holmes was charged Monday with 24 counts of first-degree murder -- two counts for each of the 12 people killed in the shooting.
updated 6:06 PM EDT, Wed July 25, 2012

From the silver lining of welcoming a newborn into the world on Tuesday to promising to live life to the fullest, survivors are looking forward.
updated 10:46 AM EDT, Sun July 22, 2012

James E. Holmes is described by those who know him as a quiet, clean-cut doctoral student.
updated 10:35 AM EDT, Fri July 20, 2012

A heavily armed gunman opened fire at a movie theater on July 20, killing at least 12 and wounding 38. Here are some of the worst U.S. mass shootings since World War II.
updated 2:59 PM EDT, Wed July 25, 2012

Photos of the scene in Aurora after the shooting took place.
updated 9:59 PM EDT, Fri July 20, 2012

A heavily armed gunman sprayed the audience with gunfire during an early morning screening of the new Batman movie, killing 12 and wounding 38 others, authorities said.

Are you a friend or family member of one of the victims? Share your tributes here.