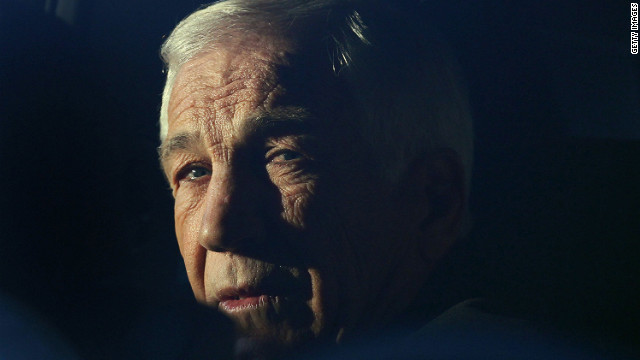 Ex-Penn State defensive coordinator Jerry Sandusky was arrested in November 2011 on charges that he preyed on boys he met through The Second Mile charity. In June 2012, he was convicted of 45 counts involving 10 young victims, and in October, he was sentenced to 30 to 60 years in prison. In July 2012, the NCAA imposed sanctions against Penn State, including a $60 million fine, scholarship reductions, the vacating of 112 wins, five years' probation and a bowl ban for four years. Click through the gallery for other notable NCAA scandals.
Penn State University head football coach Joe Paterno on the sidelines during a 2004 game. Paterno's legacy was tarnished in the wake of the Jerry Sandusky child abuse scandal. The fallout included NCAA sanctions in July 2012 that struck 111 of Paterno's 409 wins from the record book. The stripped victories stretched back to 1998 and removed Paterno's crown as winningest college football coach in history. He died of cancer in January.
Head coach Jim Tressel with his Ohio State Buckeyes at the 2011 Sugar Bowl. Tressel admitted he knew several star players were trading memorabilia for cash and tattoos in violation of NCAA rules. The NCAA banned the Buckeyes from postseason play for the upcoming season, and OSU voluntarily vacated all 2010 wins. Tressel "resigned" in May 2011, a move OSU later deemed a retirement.
University of Miami quarterback Jacory Harris throws a pass during a 2011game. Harris was one of 13 Hurricanes initially ruled ineligible after the NCAA began investigating allegations by Nevin Shapiro, an imprisoned former booster, that he for eight years provided 72 athletes with benefits that violated NCAA rules. Shapiro is incarcerated for running a $930 million Ponzi scheme. After Miami petitioned for the players' reinstatements, one player was vindicated, while the other 12, including Harris, were reinstated after serving suspensions and/or paying restitution. The investigation into the Shapiro scandal is ongoing.
Reggie Bush of the University of Southern California carries the ball past Fresno State's Matt Davis in 2005. The NCAA announced sanctions in June 2010 against USC, finding that Bush and basketball star O.J. Mayo had received lavish gifts. Bush voluntarily forfeited his Heisman Trophy, while USC was given four years' probation, stripped of 30 scholarships and had to vacate 14 wins, including a national championship.
Members of the Duke men's lacrosse team listen to the national anthem at their season opener in 2007. In 2006, members of the team hired stripper Crystal Mangum for a party, and she accused three players of raping her. The scandal forced the cancellation of the men's lacrosse season that year and the resignation of team coach Mike Pressler. The allegations later proved to be false, and prosecutor Mike Nifong was disbarred for ethics violations.
The NCAA has found the University of Alabama football program in violation of its rules at least three times in the last two decades. The most notable incident came in 2000 when a booster paid a high school coach to steer a recruit to the Crimson Tide. An investigation found numerous other violations, and Alabama was placed on five years' probation, among other sanctions. In 1995, the NCAA forced Alabama to vacate wins after it learned coaches were aware one of the school's All-Americans had secretly signed with an agent, and in 2009 the university was sanctioned for misuse of its textbook distribution program by 16 athletic programs, including football.
Jim Harrick Sr., then head coach of the University of Georgia Bulldogs, yells from the sidelines during the 2002 NCAA Division I men's basketball tournament. Harrick resigned as UGA's head basketball coach in 2003 after his son, Jim Harrick Jr., was accused of giving an A to three basketball players who didn't attend class and paying a phone bill for one of them. The NCAA punished UGA with four years' probation, and the school was forced to vacate 30 wins from 2001-2003.
Baylor University basketball player Carlton Dotson reaches for the ball against Montana State in a 2002 game. In June 2003, Baylor's Patrick Dennehy went missing. Dotson confessed to killing him and was sentenced to 35 years in prison. The NCAA later determined that Coach Dave Bliss had instructed his players to lie to investigators and tell them that Dennehy dealt drugs to cover up the coach paying thousands of dollars of Dennehy's tuition. The NCAA put the school on probation until June 2010. It also was banned from playing nonconference games for a season.
Chris Webber strolls upcourt during a home game in 1993. Webber pleaded guilty in 2003 to being paid by a University of Michigan booster to launder money from an illegal gambling operation. The NCAA put the program on four years' probation and banned the team from postseason play for the 2003-04 season. Charged with lying to federal investigators, Webber pleaded guilty to misdemeanor criminal contempt and paid a $100,000 fine.
The Southern Methodist University football team warms up in 1988, two years after a scandal broke that SMU boosters had been giving football players thousands of dollars from a slush fund with university officials' knowledge. In what was the first and last time it gave the "death penalty" to a football program, the NCAA suspended SMU from playing its 1987 season and banned it from recruiting. The school also was not allowed to play at home in the 1988 season and lost dozens of scholarships.
Bill Musselman watches court action during a 1990 NBA game as head coach of the Minnesota Timberwolves. In 1975, Musselman left as head coach of the University of Minnesota Golden Gophers. The NCAA later found 127 violations from his four-year tenure at the school, including direct payment to players for rent and transportation.
Kentucky celebrates the 2012 national championship in April. Sixty years earlier, the NCAA opened an investigation into the University of Kentucky Wildcats basketball program, following a national championship season in which three players had been arrested in a point-shaving scandal. The subsequent probe revealed that 10 players had received impermissible financial aid. The NCAA banned the school's entire athletic program from playing for a year -- in effect, marking the advent of the so-called "death penalty," even though the penalty wasn't given the nickname until the 1980s.
Notable NCAA scandals
Notable NCAA scandals
Notable NCAA scandals
Notable NCAA scandals
Notable NCAA scandals
Notable NCAA scandals
Notable NCAA scandals
Notable NCAA scandals
Notable NCAA scandals
Notable NCAA scandals
Notable NCAA scandals
Notable NCAA scandals
Notable NCAA scandals
STORY HIGHLIGHTS
NEW: Sandusky's attorneys filed a motion for a new trial
NEW: The judge has not yet ruled on the motion
Sandusky, 68, was convicted on 45 counts of sexually abusing 10 boys over 15 years
If the motion fails, defense lawyers may appeal the case
(CNN) -- Lawyers for former Penn State assistant coach Jerry Sandusky, who was convicted on multiple counts of child sex abuse, argued a motion for a new trial Thursday.
Judge John Cleland, who presided over Sandusky's conviction and sentencing, heard arguments Thursday at Centre County court in Bellefonte, Pennsylvania, but did not rule immediately. A motion for a new trial asks the trial court to re-examine issues it already ruled on in an earlier judgment.
In October, Cleland sentenced Sandusky to no less than 30 years and no more than 60 years in prison for abusing 10 boys during a 15-year period. Sandusky, 68, had faced the possibility of up to a 400-year prison term.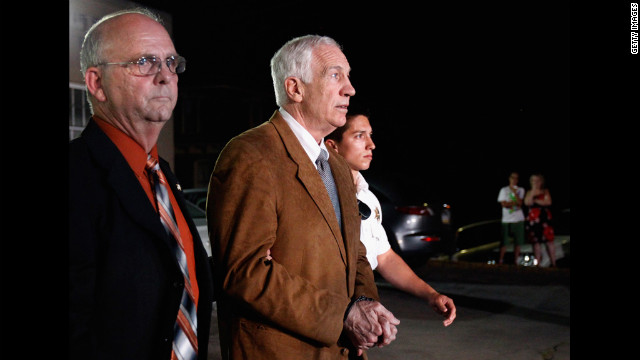 Former Penn State assistant football coach Jerry Sandusky leaves the Centre County Courthouse in handcuffs after a jury found him guilty in his sex abuse trial on Friday, June 22.
Sandusky is escorted in handuffs to a police car at the Centre County Courthouse under the glare of TV lights. The jury found Sandusky guilty on 45 of 48 counts.
Defense attorney Joe Amendola talks to the media after the trial.
Dottie Sandusky, who has been married to Sandusky for 46 years, walks with her husband while jurors deliberate. She testified that she did not witness any sexual abuse.
Matt Sandusky, one of Jerry Sandusky's six adopted children, said Thursday through his attorney that he also was sexually abused and was prepared to testify.
Shadows of the media are seen outside the courthouse during the second day of deliberations. Jurors took 21 hours over two days to convict Sandusky on 45 of 48 charges against him.
Sandusky's attorney Joe Amendola arrives at the courthouse Friday. After the conviction, Amendola announced plans to appeal despite the mountain of convictions against his client.
Judge John Cleland walks into the courthouse. Once the jury reached its decision, he revoked Sandusky's bail and ordered his arrest.
Prosecutor Joseph E. McGettigan III, second from left, and the rest of his prosecution team arrive at the courthouse Friday.
A crowd gathers outside the Centre County Courthouse in Bellefonte, Pennsylvania, to await the Sandusky verdict.
Sandusky faces the cameras as he is led to a sheriff's vehicle in handcuffs after the reading of the verdict.
Sandusky is put into a police car.
Sandusky was booked into the Centre County Correctional Facility.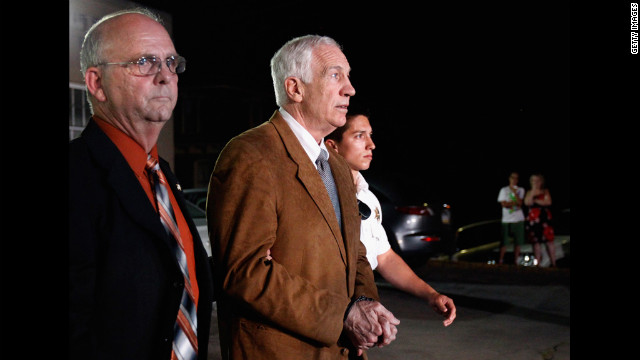 Photos: Jerry Sandusky convicted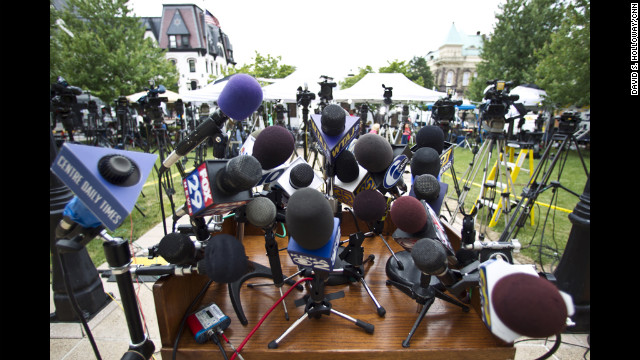 The podium stand outside of Jerry Sandusky's trial on its first day is covered in mics, hinting at the massive media coverage of the event.
Several news vans pile up outside of the Sandusky trial. The network satellite vans are all parked in front of the Centre County Courthouse and the vans parked in back are live trucks from the regional news outlets.
Every day Sandusky arrived in the passenger seat of his attorney Joe Amendola's black BMW SUV.
This sign posted on a road near the town of Bellefonte, Pennsylvania, shows support for former Penn State head football coach Joe Paterno.
Mic cords abound as the media took over the courthouse lawn to cover the Jerry Sandusky trial.
The grave of Joe Paterno is at Spring Creek Presbyterian Cemetery in State College, Pennsylvania.
Reporters wait with microphones outside of the Sandusky trial.
Several photographers and videographers staked out spots behind the police's green barriers in the back of the courthouse where Sandusky's trial was taking place.
Live vans from regional news outlets fill the lot behind the Centre County Courthouse where the Sandusky trial is taking place.
Judge John M. Cleland is presiding over Sandusky's trial at the Centre County Courthouse in Bellefonte, Pennsylvania
A business advertises Joe Paterno items within view of the courthouse where assistant coach Sandusky is on trial.
The gate to the practice football field is locked at the Mildred and Louis Lasch Football Building at Penn State University in State College, Pennsylvania
Mics and cameras surround the podium ouside the courthouse where Jerry Sandusky is on trial.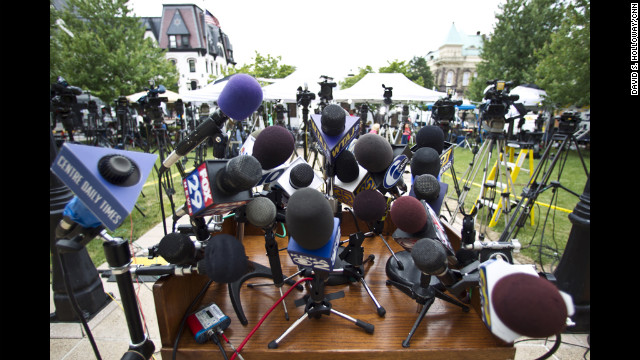 Photos: Sandusky trial coverage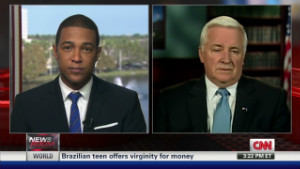 Pennsylvania sues NCAA over sanctions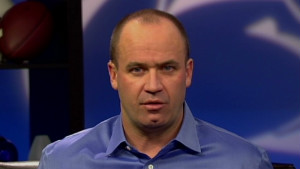 O'Brien: 'I'm not here to judge anyone'
Sandusky's lawyers have argued that there was insufficient evidence to convict him, and that the court didn't allow them enough time to prepare for trial after the prosecution flooded them with documentation.
Defense attorney Joe Amendola testified Thursday that he had been unprepared for the trial. But he also conceded that after reviewing the documents post-trial, he didn't see anything he would have done differently in defending Sandusky.
Sandusky's legal team has also argued that certain counts against their client were too broad and should therefore have been dismissed.
Opinion: Pennsylvania's suit against NCAA is absurd
Cleland could easily rule that evidence presented at the criminal trial was so overwhelming -- the victims' testimony, for instance -- that the defense's concerns would not have changed the end result, said Karl Rominger, one of Sandusky's lawyers.
The eight victims who testified, now young men, said that they were boys when Sandusky forced them to engage in sexual acts with him. The acts occurred, they said, in showers in Penn State's athletic facilities; hotel rooms; and the basement of Sandusky's home, among other places.
Testimony was often emotional and graphic. Jurors convicted Sandusky on 45 out of 48 sexual abuse counts.
This first attempt to overturn the conviction based on ineffective counsel, a common tactic, will be tough, his lawyers acknowledged before the hearing.
They said that if the court rejects it, they may launch appeals based on other arguments.
"If you win on one of the appeal issues, everything probably falls," Amendola has said. "All we have to do is convince an appellate court that one of the issues we will raise is worthy of a reversal."
Amendola and Rominger have also filed a motion to have Sandusky's sentence reconsidered.
The lawyers had attempted to withdraw from the case before the trial, telling Cleland the day before jury selection began that they did not feel adequately prepared and that it would be "unethical" for them to move forward. Cleland denied their request.
The sex abuse scandal led to the firing of head football coach Joe Paterno and the ouster of the university's longtime president, Graham Spanier. Paterno died in 2012 of lung cancer.
The NCAA slapped Penn State with fines and sanctions over the case, but Pennsylvania's governor announced a lawsuit last week against the collegiate athletic board, saying Sandusky's actions were a criminal matter and not a violation of NCAA rules.
CNN's Sara Ganim, Josh Levs, Mallory Simon, Ben Brumfield and Marina Carver contributed to this report