STORY HIGHLIGHTS
John Cornyn: Obama's defense secretary nominee, Chuck Hagel, is wrong for the job
His actions show he doesn't grasp the magnitude of Iran's threat, Cornyn says
Cornyn says Hagel opposed Iran sanctions, urged Bush to hold talks
Cornyn: With Hagel pick, Obama has sent the worst message to allies and foes
Editor's note: John Cornyn, a Republican, is the senior United States Senator from Texas.
(CNN) -- To the surprise of many, including me, President Barack Obama has nominated former Nebraska Sen. Chuck Hagel to be his next defense secretary. Like many Texans, I am grateful for Hagel's courageous military service, but I fear he is the wrong man to lead the Pentagon.
One of the biggest foreign-policy challenges of Obama's second term is preventing Iran from acquiring nuclear weapons -- which means we need a defense secretary who understands the nature and magnitude of the Iranian threat. Based on his record, Hagel does not.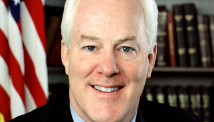 John Cornyn
In July 2001, 96 U.S. senators voted to extend sanctions against Iran. Chuck Hagel was one of only two senators who voted against sanctions. A year later, he urged the Bush administration to support Iranian membership in the World Trade Organization.
Even more disturbing, Hagel voted against a 2007 measure that called for the Iranian Revolutionary Guard Corps (IRGC) to be designated a terrorist group. (At the time, the IRGC was aiding and equipping Shiite militias that were murdering U.S. troops in Iraq.) A few weeks after this vote, Hagel sent a letter to President George W. Bush asking him to launch "direct, unconditional, and comprehensive talks" with the Iranian government, which the State Department has labeled a state sponsor of terrorism every year since 1984.
In July 2008, Hagel recommended that Washington go beyond direct talks and establish a U.S. diplomatic mission in Tehran. Later that month, in a Senate Banking Committee vote, he was one of only two senators to oppose the Comprehensive Iran Sanctions, Accountability and Divestment Act. (Obama signed a subsequent version of this bill in July 2010.)
Finally, in his 2008 book, "America: Our Next Chapter," Hagel appeared to suggest that the United States could live with a nuclear Iran, writing that "the genie of nuclear armaments is already out of the bottle, no matter what Iran does."
These comments and actions indicate that he does not fully appreciate the dangers of a nuclear Iran or the character of the Iranian regime. It is a regime that has effectively been at war with the United States since 1979 -- a regime whose proxies (such as the terrorist group Hezbollah) have killed Americans in Lebanon, Afghanistan, Iraq, and elsewhere. For that matter, Tehran was recently implicated in a plot to blow up a restaurant (and the Saudi ambassador) in our nation's capital.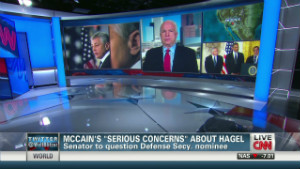 McCain's 'serious concerns' about Hagel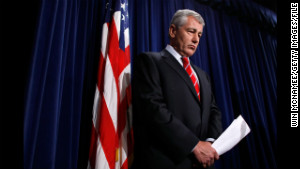 Iran cheers Hagel nomination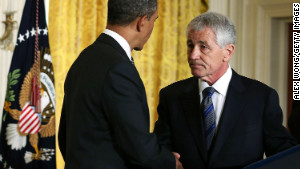 Zakaria: Hagel a 'brave nomination'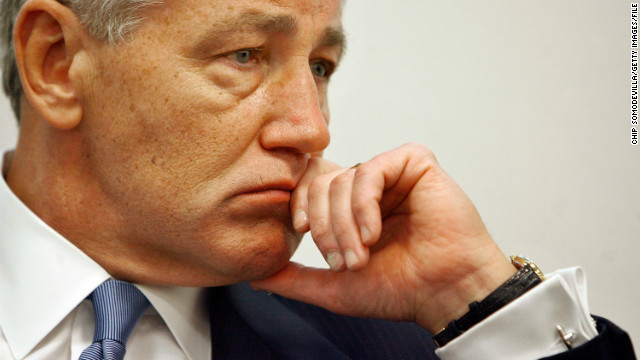 President Barack Obama is nominating Chuck Hagel, a former U.S. senator from Nebraska, to succeed Defense Secretary Leon Panetta. Hagel served in the military during the Vietnam War, leading him later to tell a biographer, "I will do all I can to prevent war." After coming home from Vietnam, Hagel worked briefly as a newscaster, then had a career in business, before entering public service as a Republican senator for 12 years. Here's a look at his military and government career:
Hagel, pictured in uniform in 1968, volunteered for the U.S. Army, serving a yearlong tour.
Hagel, right, perched on top of a M113 armored personnel carrier in 1968.
Hagel was a Republican senator from Nebraska from 1997 to 2009. Here, he testifies before the Senate Commerce Committee during a September 2000 hearing on the marketing of violence to children.
Hagel discusses the McCain-Feingold campaign finance reform bill with then-Sen. Russ Feingold on NBC's ''Meet the Press'' in March 2001.
Joe Biden, left, then a U.S. senator from Delaware, walks with Sen. Richard Lugar, second from right, and Hagel, center, at a hotel in Baghdad in June 2003. The congressional delegation was on a tour of the Iraqi capital the year the Iraq War began.
Hagel chats with Alan Greenspan, then-Federal Reserve chairman, before the start of a Senate Banking, Housing and Urban Affairs Committee hearing in April 2005.
Hagel questions then-U.S. Secretary of State Condoleezza Rice during her February 2006 testimony on Iran before the Senate Foreign Relations Committee.
Hagel comments on a New York Times article during a Senate Foreign Relations Committee's consideration of a resolution on the Iraq War in January 2007. The GOP senator opposed the troop surge in Iraq.
Hagel holds a September 2007 news conference to reintroduce an amendment to the Defense Authorization Bill.
Gen. David Petraeus, center, flies with then-presidential candidate Barack Obama and Hagel on a July 2008 tour in Baghdad. Hagel joined Obama that year on his tour of parts of the Middle East.
Candidate Obama and Hagel tour Jordan's historic Amman Citadel in July 2008.
Hagel presents former President Bill Clinton with the Atlantic Council's Distinguished International Leadership Award in Washington in April 2010.
Hagel, from left, Veterans Affairs Secretary Eric Shinseki and Defense Secretary Leon Panetta attend a Memorial Day event at the Vietnam Veterans Memorial in Washington in May 2012.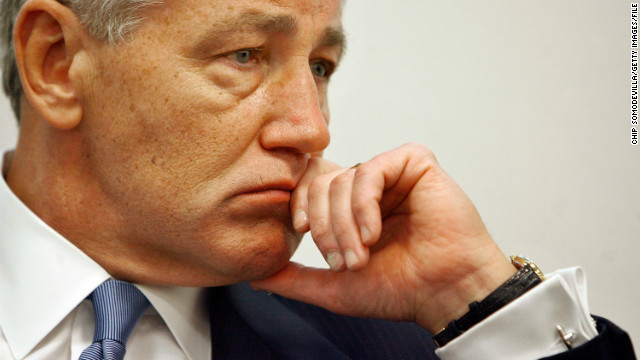 Photos: Chuck Hagel's military, government career
This is not a government that calculates self-interest the way America does. It is a messianic theocracy intent on exporting its violent Islamist revolution. And if Tehran gets the bomb, we might soon have a nuclear arms race in one of the world's most volatile regions.
It is no exaggeration to say that a nuclear Iran represents an existential threat to Israel. And yet, while Hagel wants us to be softer on the Iranians, he thinks we should be tougher on the Israelis. In October 2000, at the beginning of the second Palestinian intifada, he was one of only four senators who refused to sign a letter to President Bill Clinton affirming U.S. solidarity with Israel. More recently, in January 2009, Hagel signed a letter advising Obama to spearhead direct, unconditional talks with Hamas, a terrorist group that had just fired hundreds of rockets into Israel.
Lest we forget, Hamas is an Iranian proxy whose senior leaders openly pray for genocidal violence against both Israelis and Americans. Last year, for example, a Hamas official named Ahmad Bahr, who serves as deputy speaker of the Palestinian Legislative Council, declared in a sermon, "Oh Allah, destroy the Jews and their supporters. Oh Allah, destroy the Americans and their supporters. Oh Allah, count them one by one, and kill them all, without leaving a single one."
Thus, by nominating Hagel for defense secretary, the president has sent the worst possible message to our closest Middle Eastern ally and our greatest Middle Eastern enemy.
Follow @CNNOpinion on Twitter
Join us at Facebook/CNNOpinion
The opinions expressed in this commentary are solely those of John Cornyn.