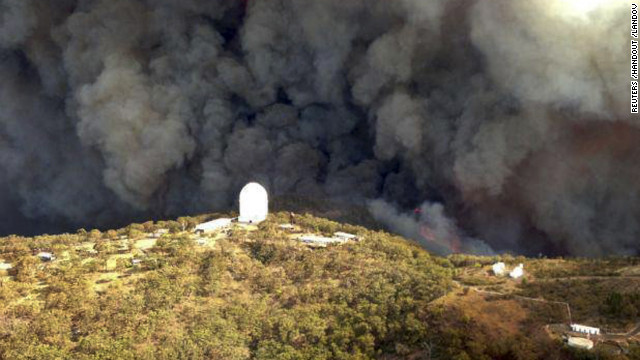 The Wambelong Fire burns near the Siding Spring Observatory near Coonabarabran, Australia, on Monday, January 14.
The Redbank North Fire burns close to the Newell Highway near Coonabarabran on Monday.
A water-bombing helicopter returns from a fire area to the town of Yass, in the southern part of New South Wales state, on Friday, January 11.
A scrub fire burns up a hillside south of Bookham near Yass on Friday.
Fire leaves a tree and paddock blackened near Bookham on Thursday, January 10.
Firefighters attack a fire from the ground on Wednesday, January 9, in Bungendore, Australia. A "catastrophic warning" was lifted, but the fire risk was still considered "severe" in the northeastern part of New South Wales. The threat has eased as temperatures have fallen in the southern Australian state, but authorities warn the danger isn't over yet.
Burned sheep lie in a paddock near Bookham in New South Wales on Wednesday. An estimated 10,000 sheep have died in the New South Wales bushfires.
A firefighter douses trees from the Deans Gap fire near Nowra on New South Wales' southern coast on January 9.
Trees smolder near Nowra on January 9.
A chopper carries out water-bombing operations on a fire at Sandhills in Bungendore on January 9.
Smoke rises from a wildfire in Nimmitabel, a town in New South Wales, on Tuesday, January 8.
A firefighter battles the flames of the Dean's Gully fire at a property near the town of Wandandian in New South Wales, on January 8.
A fire danger rating sign set to catastrophic stands near fire trucks as smoke billows into the sky on the outskirts of Wandandian on January 8. On Tuesday afternoon, more than 130 fires were burning throughout NSW, according to the NSW Rural Fire Service.
Firefighters continue to hose around a tree that survived a fire in Oura in New South Wales on Tuesday.
Burned out cars lie abandoned at the jetty on the Tasman Peninsula in Boomer Bay, Tasmania, on Tuesday.
Smoke is seen billowing over the closed Hume Highway near Tarcutta in New South Wales on Tuesday.
A kangaroo hops through a field burned by recent fires in Sunbury north of Melbourne on January 8.
Australian Prime Minister Julia Gillard inspects the destroyed remains of the Dunalley school in southeast Tasmania, Australia, on Monday, January 7.
Buildings lie in ruins on Saturday, January 5, from bush fires that hit Dunalley, a town on the Australian island state of Tasmania.
Sgt. Matthew Drumm, a police rescue helicopter crewman, surveys devastation in Dunalley after bush fires swept through this part of Tasmania.
Fires threaten parts of Australia
Fires threaten parts of Australia
Fires threaten parts of Australia
Fires threaten parts of Australia
Fires threaten parts of Australia
Fires threaten parts of Australia
Fires threaten parts of Australia
Fires threaten parts of Australia
Fires threaten parts of Australia
Fires threaten parts of Australia
Fires threaten parts of Australia
Fires threaten parts of Australia
Fires threaten parts of Australia
Fires threaten parts of Australia
Fires threaten parts of Australia
Fires threaten parts of Australia
Fires threaten parts of Australia
Fires threaten parts of Australia
Fires threaten parts of Australia
Fires threaten parts of Australia