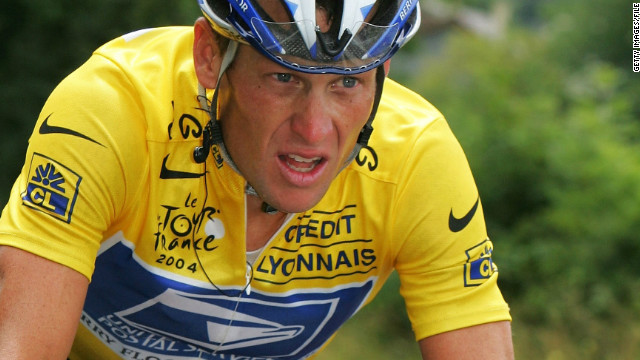 After conquering cancer and winning seven Tour de France titles, Lance Armstrong became an American icon. However, after years of doping allegations, which the cyclist steadfastly denied, the sport's governing body stripped him of his titles and banned him for life.
Barry Bonds is baseball's all-time home run leader, but some commentators say there should be an asterisk by his record. Though he's said he never knowingly used steroids, two San Francisco reporters wrote a book alleging he used performance-enhancing drugs. He was indicted on charges of perjury and obstructing justice for allegedly lying to a grand jury investigating steroids, and convicted of obstruction of justice.
Lyle Alzado was known as one of the most vicious lineman to ever play the game, and he chalked up more than 100 sacks and almost 1,000 tackles. Before his death from brain cancer at age 43, he told Sports Illustrated he began using steroids in 1969 and that, "On some teams between 75 and 90% of all athletes use steroids."
Known as "Rocket" for his aggressive pitching style, Roger Clemens played pro ball for more than two decades, racking up seven Cy Youngs. He left Major League Baseball under a cloud of steroid allegations, despite a court finding him not guilty of perjury when he told Congress he never used the drugs.
At 6-foot-5 and 260 pounds, Alistair Overeem is known for putting mixed martial arts star Brock Lesnar into early retirement. Ahead of a heavyweight title match against UFC champion Junior dos Santos in May, Overeem tested positive for elevated levels of testosterone and was yanked from the card.
An early and chief accuser of Armstrong, Floyd Landis was himself stripped of his 2006 Tour de France title after testing positive for performance-enhancing drugs. He admitted doping in 2010, the same year he accused many other riders of doping as well.
As the most decorated Olympian ever, with 22 medals, Michael Phelps is known as a fish in human's clothing, but for a brief period in 2009, after a photo of him smoking a bong was made public, he also was known as a pothead. Despite losing sponsors, he quickly became known for swimming again, securing six medals in the 2012 Games.
Marion Jones was a world champion track and field athlete who won several titles in the 1990s and five medals during the 2000 Olympic Games in Sydney, Australia. After admitting in 2007 that she had taken performance-enhancing drugs, she was stripped of the gold medals and other honors won after the 2000 Games.
Known as "Lights Out" after knocking out four players in a high school game, Shawne Merriman entered the NFL with fanfare, earning 2005 Rookie of the Year honors. His 2006 suspension for steroid use prompted the "Merriman Rule," prohibiting any player who tests positive for steroids from going to the Pro Bowl that year.
After his former Texas Rangers teammate Jose Canseco accused him of using steroids, Rafael Palmeiro appeared before Congress to deny the allegations. Later that year, he was suspended from baseball for testing positive for steroids. He maintains to this day he has never knowingly taken performance enhancers.
Few NBA players have tested positive for steroids, not only because the sport relies less on raw strength and speed than other sports but also because the league didn't begin testing until 1999. Miami Heat forward Don MacLean became the first to fail a test in 2000, and he was suspended for five games.
After racking up awards in college football, Ricky Williams was picked in the first round of the pro football draft in 1999. After testing positive for marijuana in 2004 as a Miami Dolphin, Williams retired and studied holistic medicine in California. He returned to the Dolphins the following year, only to have more run-ins with the NFL drug policy. He retired again in 2011.
Bill Romanowski was known for hard hits on the gridiron, but he also violently attacked teammate Marcus Williams during a scrimmage while playing for the Oakland Raiders. In a lawsuit, Williams blamed the attack on Romanowski's "roid rage." Romanowski settled the suit and in 2005 admitted to "60 Minutes" that he used steroids.
Sprinter Tim Montgomery set the world record in the 100-meter dash in 2002, but the time was scratched after he was found to have used performance-enhancing drugs. Since his retirement, he has had other legal troubles including arrests for money laundering and heroin offenses. He was sentenced to jail time for both.
An Olympian and renowned longball hitter, Mark McGwire spent his entire career with the Oakland A's and St. Louis Cardinals, breaking the single-season home run record in 1998. In 2010, he admitted using steroids over the course of a decade but told Bob Costas in an interview he took them only for health reasons.
Ross Rebagliati won a gold medal during the first year of snowboarding at the 1988 Olympics. He was stripped of the medal after testing positive for the active ingredient in marijuana. It became fodder for late-night talk show jokes, but Rebagliati eventually got his medal back after it was determined marijuana was not a banned substance.
A winner of eight Grand Slam events, Andre Agassi was considered one of the most dominant tennis players of the 1990s. In 2009, the tennis pro acknowledged in his autobiography that he had failed a drug test for methamphetamine in 1997 but skirted punishment by blaming an assistant.
Regarded as the best soccer player after Pele, Diego Maradona was known for his deft footwork and knack for finding the net. In 1991, he was suspended for 15 months after testing positive for cocaine. He would later admit he was addicted to the drug for about 20 years and began using when he was playing for Barcelona in the 1980s.
A prolific sprinter in the 1980s, Canadian Ben Johnson routinely bested American Carl Lewis in the 100-meter dash. After winning the gold at Seoul in 1988, Johnson tested positive for a steroid. His coach said Johnson took the drugs to keep up with other athletes and later wrote a book saying all top athletes were using in those days.
Drug scandals in sports
Drug scandals in sports
Drug scandals in sports
Drug scandals in sports
Drug scandals in sports
Drug scandals in sports
Drug scandals in sports
Drug scandals in sports
Drug scandals in sports
Drug scandals in sports
Drug scandals in sports
Drug scandals in sports
Drug scandals in sports
Drug scandals in sports
Drug scandals in sports
Drug scandals in sports
Drug scandals in sports
Drug scandals in sports
Drug scandals in sports
STORY HIGHLIGHTS
NEW: Armstrong's attorney says the cyclist never tried to make such a donation
USADA chief says donation offer was a conflict of interest
Lance Armstrong has agreed to 90-minute interview, Oprah Winfrey's network announces
Release says Armstrong is expected to talk about doping allegations
(CNN) -- A Lance Armstrong representative tried to make a donation of about $250,000 to the U.S. Anti-Doping Agency before the agency launched the investigation that led to the cyclist being stripped of his Tour de France titles, the chief of the USADA said.
"I was stunned," Travis Tygart, the head of the anti-doping agency told "60 Minutes Sports'' about the alleged 2004 offer. ''It was a clear conflict of interest for USADA. We had no hesitation in rejecting that offer.''
Armstrong attorney Tim Herman said there's no truth to the story.
"He never made any such contribution or suggestion," Herman said in a statement e-mailed to CNN Wednesday.
Annie Skinner, a spokeswoman for the USADA, told CNN that Tygart's quotes, released by "60 Minutes Sports,'' were accurate.
The new accusation is another chapter in the twisting tale of Armstrong, a one-time hero to many who has now fallen in disgrace.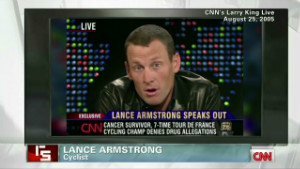 What's the truth with Lance Armstrong?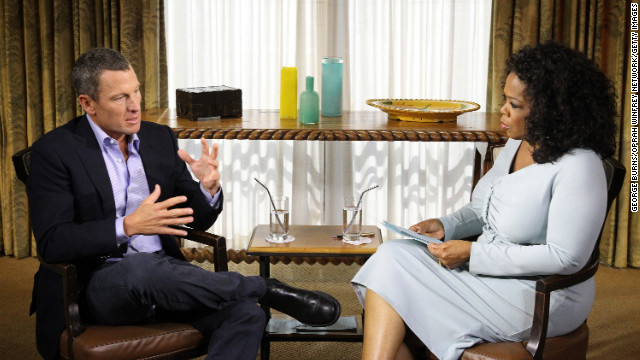 Oprah Winfrey speaks with Lance Armstrong during an interview on the controversy surrounding his cycling career on Monday, January 14, in Austin, Texas. Oprah Winfrey's exclusive no-holds-barred interview with Lance Armstrong, "Oprah and Lance Armstrong: The Worldwide Exclusive," has expanded to air as a two-night event on OWN: Oprah Winfrey Network. The interview airs Thursday, January 17, and Friday, January 18.
Cyclist Lance Armstrong has been stripped of his seven Tour de France wins and banned from the tournament for life, the International Cycling Union announced Monday, October 22. Pictured, Armstrong addresses participants at The Livestrong Challenge Ride on Sunday. He stepped down as chairman of his Livestrong cancer charity on Wednesday, October 17.
Armstrong leads his teammates during the final stage of the 1999 Tour de France.
Armstrong, 17, competes in the Jeep Triathlon Grand Prix in 1988. He became a professional triathlete at age 16 and joined the U.S. National Cycling Team two years later.
In 1995, Armstrong wins the 18th stage of the Tour de France. He finished 36th overall and finished the race for the first time that year.
Armstrong rides for charity in May 1998 at the Ikon Ride for the Roses to benefit the Lance Armstrong Foundation. He established the foundation to benefit cancer research after being diagnosed with testicular cancer in 1996. After treatment, he was declared cancer-free in February 1997.
Armstrong takes his honor lap on the Champs-Élysées in Paris after winning the Tour de France for the first time in 1999.
After winning the 2000 Tour de France, Armstrong holds his son Luke on his shoulders.
Armstrong rides during the 18th stage of the 2001 Tour de France. He won the tour that year for the third consecutive time.
Armstrong celebrates winning the 10th stage of the Tour de France in 2001.
After winning the 2001 Tour de France, Armstrong presents President George W. Bush with a U.S. Postal Service yellow jersey and a replica of the bike he used to win the race.
Armstrong celebrates on the podium after winning the Tour de France by 61 seconds in 2003. It was his fifth consecutive win.
Jay Leno interviews Armstrong on "The Tonight Show" in 2003.
After his six consecutive Tour de France win in 2004, Armstrong attends a celebration in his honor in front of the Texas State Capitol in Austin.
Armstrong arrives at the 2005 American Music Awards in Los Angeles with his then-fiancee Sheryl Crow. The couple never made it down the aisle, splitting up the following year.
Armstrong holds up a paper displaying the number seven at the start of the Tour de France in 2005. He went on to win his seventh consecutive victory.
As a cancer survivor, Armstrong testifies during a Senate hearing in 2008 on Capitol Hill. The hearing focused on finding a cure for cancer in the 21st century.
In 2009, Armstrong suffers a broken collarbone after falling during a race in Spain along with more than a dozen other riders.
Young Armstrong fans write messages on the ground using yellow chalk ahead of the 2009 Tour de France. He came in third place that year.
Armstrong launches the three-day Livestrong Global Cancer Summit in 2009 in Dublin, Ireland. The event was organized by his foundation.
In May 2010, Armstrong crashes during the Amgen Tour of California and is taken to the hospital. That same day, he denied allegations of doping made by former teammate Floyd Landis.
Ahead of what he said would be his last Tour de France, Armstrong gears up for the start of the race in 2010.
Lance Armstrong looks back as he rides in a breakaway during the 2010 Tour de France.
Armstrong finishes 23rd in the 2010 Tour de France. He announced his retirement from the world of professional cycling in February 2011. He said he wants to devote more time to his family and the fight against cancer.
Armstrong's son Luke; twin daughters, Isabelle and Grace; and 1-year-old son, Max, stand outside the Radioshack team bus on a rest day during the 2010 Tour de France.
The frame of Armstrong's bike is engraved with the names of his four children at the time and the Spanish word for five, "cinco." His fifth child, Olivia, was born in October 2010.
In February 2012, Armstrong competes in the 70.3 Ironman Triathlon in Panama City. He went on to claim two Half Ironman triathlon titles by June. He got back into the sport after retiring from professional cycling.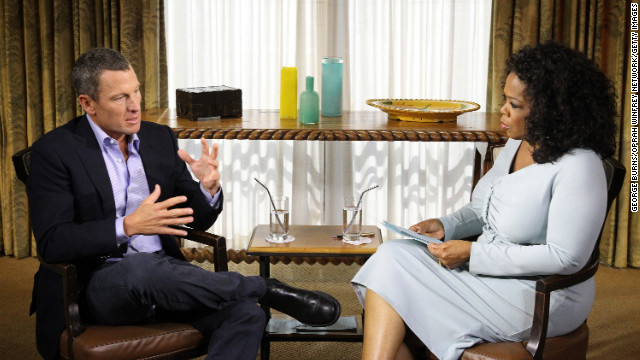 Photos: Lance Armstrong over the years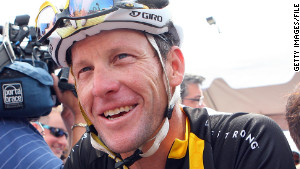 New York Times: Armstrong might confess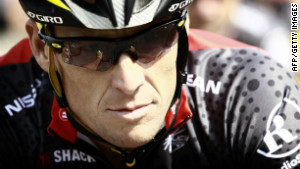 Journalist's crusade to expose Armstrong
Armstrong will give his first television interview since being stripped of his Tour de France titles to Oprah Winfrey, her network announced Tuesday.
A news release from the Oprah Winfrey Network said the 90-minute "no-holds-barred" interview will air at 9 p.m. ET January 17 and will be simulcast on Oprah.com.
Winfrey will ask the cyclist to address the U.S. Anti-Doping Agency's report, which said there was overwhelming evidence Armstrong was directly involved in a sophisticated doping program, the statement said.
The International Cycling Union, which chose not to appeal the USADA's lifetime ban, stripped Armstrong of his record seven Tour victories in October.
Armstrong's lawyer: No talks with anti-doping agencies
The World Anti-Doping Agency also agreed with the sanctions, which means Armstrong may not compete in sports governed by WADA code.
Before the ban, he was competing in Ironman triathlons and had won two of the five events he had entered. Since the ban he has entered two non-sanctioned events.
According to his Twitter feed, Armstrong has been biking, running and swimming in Hawaii. The Winfrey interview will take place at Armstrong's home in Austin, Texas.
The New York Times reported last week that Armstrong, 41, was contemplating publicly admitting he used illegal performance-enhancing drugs. Such an admission might lead toward Armstrong regaining his eligibility.
One of his attorneys denied Armstrong was in discussion with the two anti-doping agencies.
Dan Wuori, a writer at cycling publication Velo Magazine, said Armstrong may reveal a lot during the Oprah interview.
"I think what we are seeing here is the beginning of Lance's effort at redemption," Wuori said. "More and more continues to come out about Armstrong. This seems like an effort of Armstrong to get ahead of the story and control the narrative."
The gain game: Why do sports stars cheat?
Armstrong has repeatedly and vehemently denied that he used banned performance-enhancing drugs as well as illegal blood transfusions during his cycling career.
Armstrong has been an icon for his cycling feats and celebrity, bringing more status to a sport wildly popular in some nations but lacking big-name recognition, big money and mass appeal in the United States.
He fought back from testicular cancer to win the Tour from 1999 to 2005. He raised millions via his Lance Armstrong Foundation to help cancer victims and survivors, an effort illustrated by trendy yellow "LiveSTRONG" wristbands that helped bring in the money.
But Armstrong has long been dogged by doping allegations, with compatriot Floyd Landis -- who was stripped of his 2006 Tour de France title after failing a drug test -- making a series of claims in 2011.
Armstrong sued the USADA last year to stop its investigation of him, arguing it did not have the right to prosecute him. But after a federal judge dismissed the case, Armstrong said he would no longer participate in the investigation.
In October 2012, Armstrong was stripped of his titles and banned from cycling. Weeks later, he stepped down from the board of his foundation, Livestrong.
It is unclear whether Armstrong would face criminal prosecution for perjury should he confess. Armstrong was involved in several cases where he gave sworn testimony that he never used banned drugs.
Silence falls awaiting Armstrong's 'last word'
CNN's Jillian Martin contributed to this report.