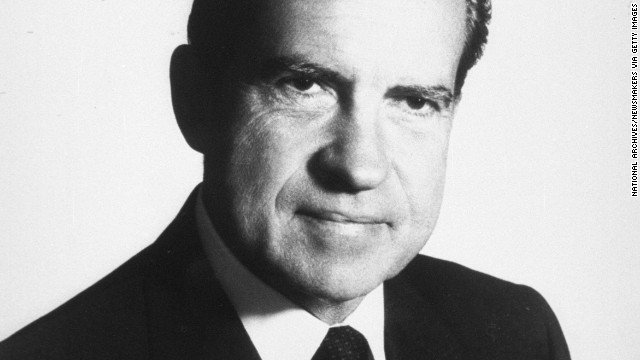 President Richard Nixon was in the White House from 1969 to 1974, when he became the first president to resign from office. He died at 81 in 1994.
Nixon was born in California on January 9, 1913. He is pictured at age 4.
As a teenager, Nixon poses for a portrait with a violin in 1927.
Nixon, No. 12, and his football teammates at Whittier College pose for a picture in the 1930s. After graduating from Whittier, he attended law school at Duke University.
During World War II, Nixon served as a lieutenant commander in the Navy.
Nixon, far right, stands next to John F. Kennedy and other freshmen members of Congress in 1947.
Republican presidential nominee Dwight D. Eisenhower and his running mate, Richard Nixon, with their wives at the Republican National Convention in Chicago on July 12, 1952. The Eisenhower-Nixon ticket won the election that year.
Vice President Nixon, right, and Soviet Premier Nikita Khrushchev, center, share a laugh during Nixon's visit to the Soviet Union in 1959. The two leaders engaged in an informal debate about the merits of capitalism versus communism at the opening of the American National Exhibition in Moscow.
Nixon poses for a portrait with his wife, Pat, and their daughters, Tricia and Julie, circa 1958.
Vice President Nixon and Sen. John F. Kennedy take part in a televised debate during their 1960 presidential campaign. Kennedy won the election that year.
Republican presidential candidate Nixon campaigns in New York in 1960.
Nixon addresses supporters after winning his party's nomination again in 1968. He went on to defeat the Democratic nominee, incumbent Vice President Hubert Humphrey.
First lady Pat Nixon, center, watches as her husband is sworn in as the 37th president of the United States by Supreme Court Chief Justice Earl Warren on January 20, 1969.
Apollo 11 astronauts Neil Armstrong, Michael Collins and Buzz Aldrin laugh with President Nixon aboard the USS Hornet on July 24, 1969. The president was on hand to greet the astronauts after their splashdown in the Pacific.
In 1970, Nixon announces the invasion of Cambodia to the American public.
Chinese Premier Zhou Enlai toasts with Nixon during his trip to China in February 1972.
President Nixon, left, briefs the Congressional leadership in 1973 before his televised announcement of the ceasefire in the Vietnam War. From left are Senate Minority Leader Hugh Scott, House Majority Leader Tip O'Neill, Speaker of the House Carl Albert, Senate Majority Leader Mike Mansfield, House Minority Leader Gerald Ford, Vice President Spiro Agnew and Secretary of State Henry Kissinger.
In 1972, Nixon ran a successful re-election campaign. Gerald Ford, right, became his vice president when Spiro Agnew resigned in 1973.
Surrounded by family members, Nixon delivers his resignation speech on August 9, 1974. He stepped down after the Watergate scandal, which stemmed from a break-in at the Democratic National Committee offices during the 1972 campaign.
Nixon leaves the White House after his resignation over the Watergate scandal in 1974.
Former President Nixon is wired for a microphone on April 9, 1988, before the taping of the NBC television show "Meet the Press." It was his first appearance on the show since 1968.
Days after suffering a stroke, Nixon died in New York on April 22, 1994. A military honor guard carries Nixon's casket at the Stewart Air Force Base before the flight back to his hometown of Yorba Linda, California. His body was put on the same Boeing 707 that flew him home after his resignation.
Nixon through the years
Nixon through the years
Nixon through the years
Nixon through the years
Nixon through the years
Nixon through the years
Nixon through the years
Nixon through the years
Nixon through the years
Nixon through the years
Nixon through the years
Nixon through the years
Nixon through the years
Nixon through the years
Nixon through the years
Nixon through the years
Nixon through the years
Nixon through the years
Nixon through the years
Nixon through the years
Nixon through the years
Nixon through the years