PGA Tour season opener ruined by winds
updated 8:20 AM EST, Mon January 7, 2013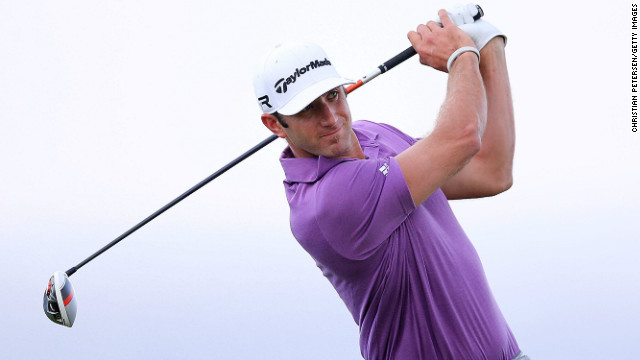 Dustin Johnson won the Tournament of Champions in Hawaii after finishing 16-under-par at the reduced three-round event on Monday. Play was abandoned the previous three days due to high winds.
Masters champion Bubba Watson pretends to tee off as his caddy Ted Scott holds a finger on the ball to keep it from blowing away during Sunday's delayed opening round of the Tournament of Champions.
Charlie Beljan leans into the wind after taking a rehit on a tee shot on Sunday, when play was called off for the third day in a row in the PGA Tour's season-opening event.
Winds reached almost 50 miles per hour at the Plantation Course in Kapalua, Hawaii.
Scott Stallings shields himself from the wind and rain as he attempts to putt on the second hole green on Friday.
The $5.7 million tournament, which features 30 winners from the 2012 season, has been put back to a Tuesday finish with only 54 of the 72 holes potentially to be played.
Joy for Johnson
Blowing Bubba
Beljan's battle
Wind up
A long weekend
Tuesday finish
STORY HIGHLIGHTS
Season-opening PGA Tour event at Kapalua has been decimated by bad weather
The elite 30-man field has yet to complete a round after three days of trying
The schedule has been put back to Tuesday, with only 54 holes now being possible
Tour official says the weather forecast is improving and the winds are due to drop
(CNN) -- Charlie Beljan ended 2012 on an incredible high after a fairytale first victory on the PGA Tour, but his hopes of capitalizing on that breakthrough win have been blown away in the season-opener in Hawaii.
The U.S. golfer overcame a debilitating panic attack in Florida to qualify for the 30-man Tournament of Champions, returning to the course at Disney World after being taken to hospital.
However, the traditional curtain-raiser for the elite U.S. circuit has yet to get going, with high winds and rain causing play to be canceled on Friday, Saturday and Sunday.
The $5.7 million event has been reduced from four rounds to three, with 36 holes to be played on Monday and the final 18 on Tuesday.
Beljan: I thought I was going to die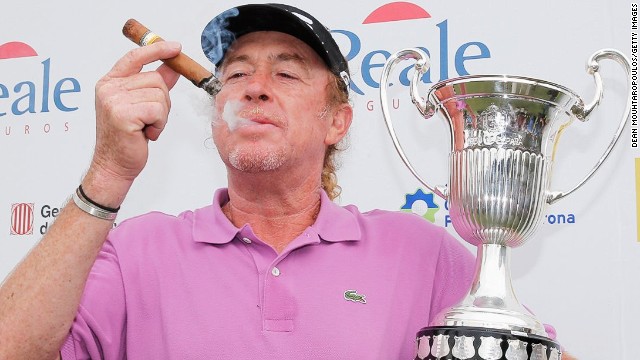 With his trademark victory cigar in one hand, Miguel Angel Jimenez poses with the trophy in the other after winning his home Spanish Open for the first time on May 18, 2014. Having passed 50, he is the European Tour's oldest victor.
Jimenez spent the first four months of 2013 in the gym undergoing a rehabilitation program after suffering a broken leg in a skiing accident. The Spaniard underwent surgery after breaking the tibia at the top of his right leg.
Food and drink are just two of Jimenez's passions in life -- along with his trusty cigar.
Another love of Jimenez's is his Ferrari -- he might be laid back but the need for speed still gives him a thrill.
Jimenez celebrates with a glass of red wine and a cigar after claiming victory at the 2012 Hong Kong Open. He would return a year later to successfully defend his title -- his fourth success at the tournament.
Jimenez and Ryder Cup teammate Lee Westwood toast Europe's victory in the 2010 event at Celtic Manor in Newport, Wales.
Jimenez sprays Jose Manuel Lara of Spain with champagne after his compatriot wins the 2010 Austrian Open.
Jimenez, puffing that trademark cigar, celebrates after winning the French Open in July 2010.
2010 was a big year for Jimenez, who won the first of three titles that season at the Dubai Desert Classic in February.
Jimenez with ex-wife Monserrat after winning the European Tour's flagship PGA Championship event in 2008.
Jimenez won five tournaments in 2004, the last of which was the BMW International Open in Munich, Germany.
In 1997 Jimenez was assistant to team captain Seve Ballesteros as Europe retained the Ryder Cup at Spain's Valderrama Golf Club -- the first time it had been played outside of the U.S. and the UK.
His 1994 triumph at the Dutch Open was his second of 21 titles so far on the European Tour, having won his first in Belgium two years earlier.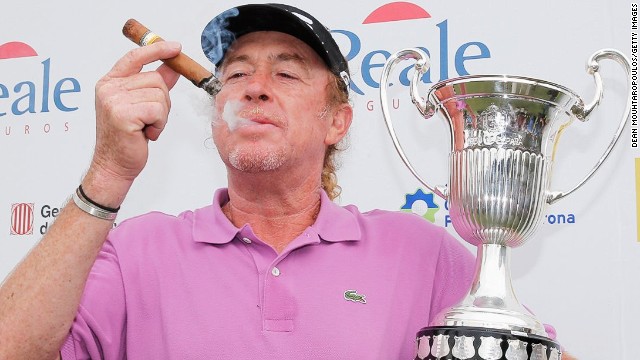 Jimenez: Golf's great celebrater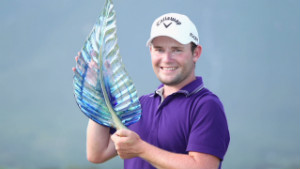 Branden Grace on remarkable wins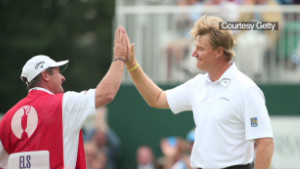 Expert: How to improve your putting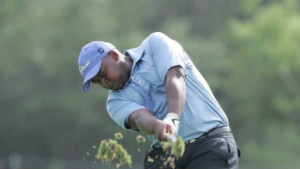 The rise of South Africa's black golfers
If the wind continues to blow, even that is looking unlikely. Organizers face the prospect of it being reduced to "unofficial" status if only two rounds are possible -- while a cut to 18 holes would mean none of the purse counts for the 2013 money list.
PGA Tour chief of operations Andy Pazder said the forecast is improving, with winds due to drop from nearly 50 miles per hour (80 kph) to 25-30 mph (40-50 kph).
"It's the gusts that creep up above 40 that have knocked us out. We had registered gusts up to 48 mph right before we suspended play today," Pazder told the PGA Tour website on Sunday.
"Somewhere in the low 40s is what puts us out of business."
While players actually got out on the course on Saturday and Sunday, they were left frustrated as balls blew off their tees and disappeared off putting greens after being placed.
"They have not mowed the greens in two days and the wind is still blowing balls off the green," Beljan wrote on Twitter.
"Brutal been in Hawaii for a week and still have not played a competitive round of golf."
English golf star Ian Poulter also took to Twitter after being accused of taking too long over a putt by NBC commentator Johnny Miller.
"Oh that was why I was taking a while. Ben Curtis had a 40ft putt then it blows 15ft off the green into the rough. Then 4 putts that hole," the 2012 Ryder Cup winner wrote.