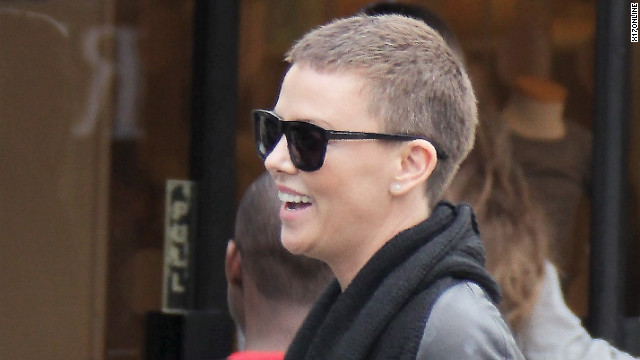 Charlize Theron may have
finished shooting the "Mad Max"
role that required her to buzz her 'do, but she's sporting the (nearly) bald and beautiful look. See more leading ladies who have sported ultrashort locks.
told The Insider
she "felt a certain sense of strength and power" from the cut.
Demi Moore went hard core and buzzed away her long locks in 1997 for her role as the first woman to train for the Navy SEALS, in the film "G.I. Jane." Looking back on the role, Moore
was the most stressful thing about the experience,"
she told USA Today
.
Natalie Portman was pretty stunning when she lost her locks for a role in "V for Vendetta" in 2006. The shaving was done on camera and there was only one chance to get it right. "That
Mena Suvari totally worked it in 2007 after she shaved her head for a role in the film adaptation of "The Garden of Eden."
She went on "The Oprah Winfrey" show
to say she felt liberated by the cut.
Solange Knowles, Beyonce's baby sister, caused quite the stir in 2009 when she ditched the extensions and went for a supershort natural.
Sinead O'Connor burst onto the scene in a black turtleneck and buzz cut in the "Nothing Compares 2 U" video. More than 20 years later, she's still rocking the look.
actress told Kelly Ripa on "Live With Kelly,"
"but I have to shave it every day! It's got kind of a 5 o'clock shadow, and you don't want to go on with that."
Cynthia Nixon committed for her role as a cancer patient in the Broadway play "Wit." "I thought it was kind of gonna be no muss-no fuss," the
The actress said
it took her 30 minutes to muster the courage to look in a mirror after her haircut.
Anne Hathaway didn't just have to shed weight to portray the tragic Fantine in "Les Miserables."
No list of buzz cuts would be complete without this now iconic image of a 2007 Britney Spears shaving her head. Thankfully those days are gone.
Charlize Theron
Demi Moore
Natalie Portman
Mena Suvari
Solange Knowles
Sinead O' Connor
Cynthia Nixon
Amber Rose
Anne Hathaway
Britney Spears