Syria's grim toll continues into 2013
updated 7:30 PM EST, Tue January 1, 2013
STORY HIGHLIGHTS
NEW: Airport in Aleppo closed after explosion, anti-government group says
NEW: 136 killed Tuesday, opposition group says
U.N. envoy: 2013 may look worse, as the rate of killing is on the rise
46,068 have died violently in the civil war, according to opposition group
(CNN) -- The new year brought Syrians the same intense carnage they'd been living through for the last 21 months -- and a reminder of just how bloody the past year was.
Of all people killed in the civil war, 85% of them -- 39,520 -- died in 2012, the opposition Syrian Observatory for Human Rights said Tuesday.
In 2011, 6,548 lost their lives, representing 14% of the total 46,068 deaths.
And 2013 could bode worse, said U.N.-Arab League envoy Lakhdar Brahimi.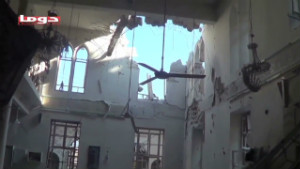 Intense fighting reported in Damascus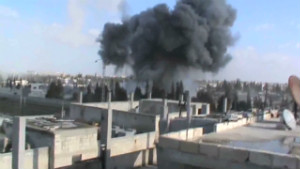 Where things stand in Syria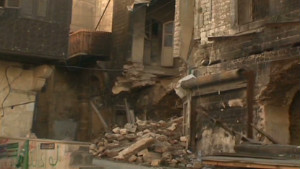 Syria civilians struggle to survive
"Do not expect just 25,000 people to die next year -- maybe 100,000 will die," he told reporters Sunday in Cairo. "The pace is increasing."
At least 136 people were found dead on Tuesday, the opposition Local Coordination Committees said. CNN cannot independently confirm casualties and other reports as Syria's government has severely restricted access to the country.
In the early hours of 2013, clashes and shelling raged in eight Syrian provinces, the Observatory reported. The heaviest fighting befell the flashpoints of Damascus and its suburbs, as well as Aleppo, a city already in ruins.
An Observatory official said the international airport in Aleppo was closed after an explosion occurred at the facility Sunday. Rami Abdulrahman said the group was still trying to determine whether there were casualties and what caused the explosion.
In Syria, marriage destroyed by war
Syria follows the Western calendar and usually celebrates the new year. January 1 is a national holiday.
In Damascus, a Christian Mass marked the day at the Mariamite Greek Orthodox Cathedral, Syria's SANA state news agency reported.
Across the border at a refugee camp in Turkey, Syrians have one unified wish for 2013 -- the fall of the Assad government and an end to the war.
A refugee uprooted herbs by the side of the road, collecting them for a meal.
"Bashar al-Assad made us refugees," she said. "He killed two of my children. They destroyed our homes."
With her life in ruins, all she wants now is to be able to return to her homeland.

Part of complete coverage on
Syrian crisis

There's more to the Syrian civil war than rebels versus the regime. Syria's neighbors in the Middle East also have a stake in the conflict.
updated 5:13 PM EDT, Thu May 9, 2013

Israel is taking steps to defend itself against threatened retaliation from Syria after claims it launched airstrikes on Damascus.
updated 12:36 PM EDT, Tue May 14, 2013

Domestic political will is a necessary for intervention and polls show Americans are reluctant to support military interventions in Syria.
updated 1:38 PM EDT, Mon May 6, 2013

Syria's claim that Israel launched airstrikes presents a dangerous escalation of Israel's involvement in Syria's war, writes Fawaz Gerges.
updated 5:41 AM EDT, Tue May 7, 2013

The U.N. says a Syrian rebel group may have used a nerve agent -- it would not be the first time the al-Qaeda-affiliated group used chemical weapons.
updated 2:00 PM EDT, Wed May 1, 2013

Having willfully avoided direct military involvement in Syria for the past two years, Obama may not be so lucky anymore, writes Aaron David Miller.
updated 5:44 AM EDT, Fri May 10, 2013

What began as a protest movement became an uprising that metastasized into a war, a vicious whirlpool dragging a whole region toward it.

A devout man prays. A fighter weeps over a slain comrade. These are a few faces of the Syrian conflict captured by photographer LeeHarper.
updated 4:59 AM EDT, Thu April 25, 2013

A group of pro-Syrian regime hackers that has targeted major news organizations but its cyber attacks can have real-life impact.
updated 6:24 PM EST, Thu March 7, 2013

The role of women in Syrian uprising is little reported, but many have played a key part as activists and medics since the bloodshed began.

Are you in Syria? Share your stories, videos and photos with the world on CNN iReport, but please stay safe.