Same-sex Maryland couples ring in new year with wedding bells
updated 12:13 PM EST, Wed January 2, 2013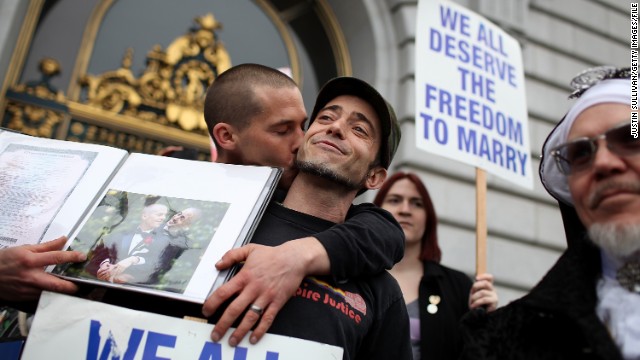 The
U.S. Supreme Court
is scheduled to hear two same-sex marriage cases next week. Above, Frank Capley-Alfano and Joe Capley-Alfano celebrate outside of San Francisco City Hall in February after a federal appeals court blocked the law.
Washington Gov. Chris Gregoire celebrates after signing marriage equality legislation into law earlier this year. Voters there approved same-sex marriage on Election Day.
In 2010, television reporter Roby Chavez, right, shares a moment with gay rights activist Frank Kameny during Chavez' and Chris Roe's wedding ceremony in the nation's capital.
Phyllis Siegel, 76, kisses her wife, Connie Kopelov, 84, after exchanging vows at the Manhattan City Clerk's office last year.
Michael Miller, left, and Ross Zachs marry on the West Hartford Town Hall steps after same-sex marriages became legal in Connecticut in 2008. A shift in beliefs was captured in a recent Pew Center poll that found 48% of Americans now favor same-sex marriage. Just four years ago, only 39% felt that way.
Maryland Gov. Martin O'Malley, center, shakes hands with Senate President Thomas V. Mike Miller after signing a same-sex marriage bill. The law was challenged, but voters approved marriage equality in a November referendum.
Lara Ramsey, left, and her partner of eight years, Jane Lohmann, play with their 7-month-old son, Wyatt Ramsey-Lohmann. The two wed in 2004 after Massachusetts approved same-sex marriage.
Beth Robinson of the Vermont Freedom to Marry Task Force was among those who fought for marriage equality in Vermont in 2009.
Amy Klein-Matheny, left, and her wife Jennifer were married in 2009 in Iowa after same-sex couples were allowed to marry there.
Same-sex marriage amendments in U.S.
Same-sex marriage amendments in the U.S.
Same-sex marriage amendments in the U.S.
Same-sex marriage amendments in the U.S.
Same-sex marriage amendments in the U.S.
Same-sex marriage amendments in the U.S.
Same-sex marriage amendments in the U.S.
Same-sex marriage amendments in the U.S.
Same-sex marriage amendments in the U.S.
STORY HIGHLIGHTS
Maryland's new same-sex marriage law went into effect Tuesday
Baltimore City Hall is opened after midnight so ceremonies can be performed
Seven couples wed Tuesday morning
(CNN) -- Jim Scales and William Tasker have been a couple for 35 years, but only on Tuesday were they able to legally marry, thanks to Maryland's new same-sex marriage law, which went into effect with the new year.
Maryland was among three states this past November where voters approved laws allowing same-sex marriages.
At Baltimore City Hall, a celebration erupted with the first official marriage ceremonies just after midnight, similar to celebrations when laws went into effect in Washington and Maine in December.
Scales and Tasker made up the first couple in Baltimore to marry under the new law.
"Jim and I met in 1977 and at that time I just didn't really believe that gay people would ever see the day when they could marry," Tasker told CNN affiliate WBAL.
Amid fanfare, same-sex couples exchange marriage vows in Seattle
Scales agreed: "This is as happy as I've ever been, to be able to spend the rest of my life with Bill -- legally -- and to show the rest of the gay community that this can be done."
Seven couples exchanged vows in Baltimore in the first hours of the new year.
Baltimore Mayor Stephanie Rawlings-Blake opened City Hall for the couples, and officiated the ceremonies herself.
"It's a very emotional night, an incredibly meaningful night," she said. "There's so many people who have a chance now to have the life they have wanted for themselves and for their family, and I'm so proud of Maryland, that we chose equality over hate."
Gay couple ties knot in Maine for first time
Same-sex marriage rights have been denied in many states in the past, but last month, voters in Maine, Washington and Maryland decided to go the other way.
Newly married same-sex couples in these three states have expressed hope that the U.S. Supreme Court will issue rulings favorable to their marriages.
Last month, the justices said they would hear two constitutional challenges to state and federal laws connected to legal marriages for gay and lesbian couples.
Oral arguments will probably be held in March, with a ruling by late June.
One of the appeals involves the federal Defense of Marriage Act, or DOMA, which denies federal benefits to same-sex couples legally married in their own states.
The second is a challenge to California's Proposition 8, a voter-approved measure that took away a right of same-sex marriage that had been approved by the state's courts.
High court and gay marriage: A 'major event in American history'