The recent loves of Hugh Hefner
updated 3:22 PM EST, Tue January 1, 2013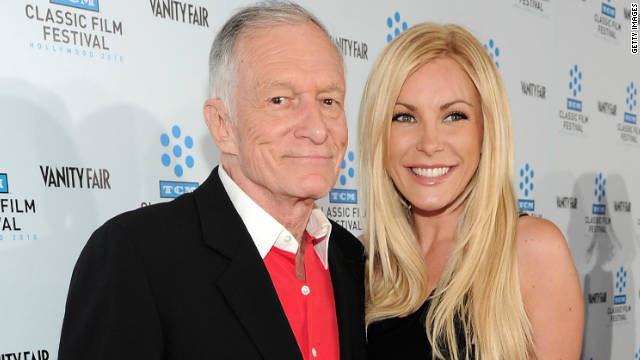 After a much
publicized break-up
and reconciliation, Crystal Harris, 26, finally got her man when she married Playboy founder Hugh Hefner, 86, on New Year's Eve. But she's not the first blonde to capture his heart in recent years.
Holly Madison was very open about the fact that she wanted to marry Hef from the time they met in 2001but, alas, the pair split in 2008. As of December 2012 she was expecting her first child with boyfriend Pasquale Rotella.
Kendra Wilkinson joined Holly Madison on the E! reality show "The Girls Next Door" along with Bridget Marquardt. In 2009 she married NFL player Hank Baskett and they are the parents of a young son, Hank, Jr.
The twins Kristina and Karissa Shannon moved in as new girlfriends along with Hefner's now wife Crystal Harris for the final season of "The Girls Next Door." They went on to appear as finalists on "Celebrity Big Brother 2012" in Britain.
Kimberly Conrad Hefner was the last Mrs. Hefner as they married in 1989. The couple had two sons before separating in 1998. Hef didn't file for divorce until 2009.
Hugh Hefner and Crystal Harris
Holly Madison
Kendra Wilkinson
Bridget Marquardt
Kristina and Karissa Shannon
Kimberly Conrad Hefner