Kim Kardashian and Kanye West's cutest PDA moments
updated 2:58 PM EST, Mon December 31, 2012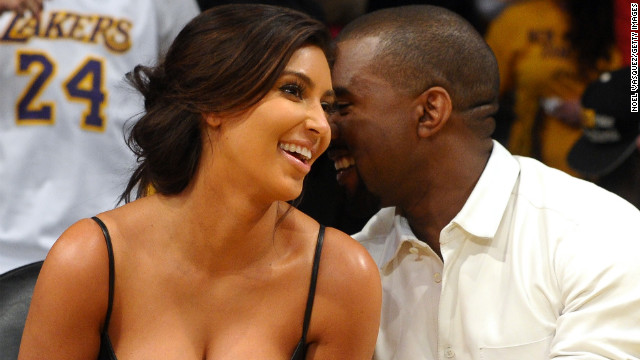 We shouldn't be surprised that Kim Kardashian and Kanye West are expecting their first child together -- the pair have apparently been smitten with each other for quite a while. From Kanye rapping about Kim, to Kim exclaiming that she "can't even think about being with anyone else," it seemed like just a matter of time. Here's a look back at some caught-on-camera PDA.
In March, a month
before Kanye told the world he "fell in love with Kim" in a new song
, the pair were seen embracing at his Fall/Winter 2012 fashion show in Paris.
In April the pair were seen hitting the streets of New York, eating ice cream and laughing with one another.
Suspicions that the two were an item were going strong in April after Kanye's song went viral, and their snuggling at a Lakers game in May seemed to confirm the reports.
In July 2012, Kim and Kanye kept one another close as they exited the Valentino Haute-Couture Show during Paris Fashion Week.
Kim and Kanye cozy up in Miami in October.
Cameras revealed just how close they were getting in Miami.
We'd love to know what Kanye was whispering in Kim's ear as they clung to one another at the Angel Ball 2012 in New York City on October 22.
Kim and Kanye were all smiles as they cuddled up courtside at the Denver Nuggets and Los Angeles Clippers game on December 25. By the following Sunday, Kanye spilled the beans that they're expecting.
Kim and Kanye's cutest PDA moments
At Kanye's ready-to-wear show in Paris
Strolling through New York
At a Lakers game
At another fashion show
Walking in the rain ...
... in Miami
At the 2012 Angel Ball
At game, just before the big news