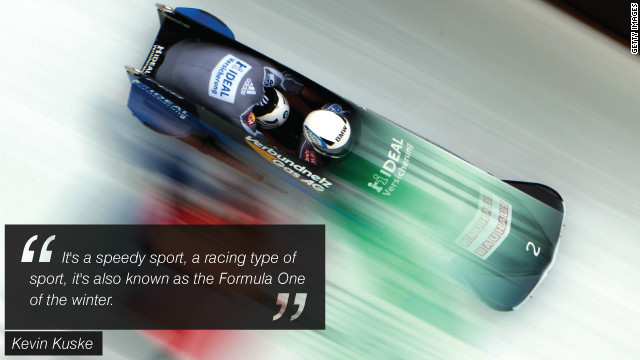 Speed kings
New partnership
Start crucial
Grueling training
Aiming high
Golden boy
Team work
Emotional high
STORY HIGHLIGHTS
Kevin Kuske and Thomas Florschutz represent Germany at two-man bobsleigh
Kuske has won four Olympic gold medals and a silver
His speed off the mark is legendary and matches the great Usain Bolt
Florschutz is seeking his first gold at world and Olympic level
Editor's note:
(CNN) -- He can legitimately claim to be the fastest man on ice, and Kevin Kuske could even give Usain Bolt a run for his money in a foot race over 30 meters.
The German bobsleigh superstar already has an imposing tally of four Olympic gold medals and seven world championship titles -- and he's looking for more.
Kuske and his two-man teammate Thomas Florschutz can reach speeds of up to 155 kilometers per hour (96 mph), as they hurtle down the high-speed turns and straights.
"It's a speedy sport, a racing type of sport, it's also known as the Formula One of the winter," the 33-year-old Kuske told CNN's Human to Hero series.
"There are accidents, I've crashed before and it's definitely dangerous. Sometimes you crash really quickly and get serious injuries.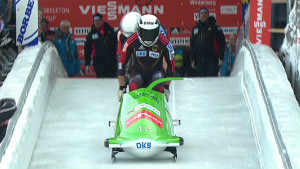 German 'ice men' master bobsleigh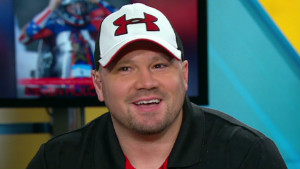 Champion bobsledder on regaining sight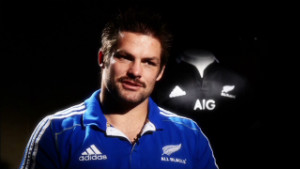 Human to Hero: Richie McCaw
"Up to now, I've been lucky in my crashes although I've crashed pretty fast and had minor head injuries afterwards."
Kuske is called the brakeman, but it's a misleading title, because he only applies the brake to pull the sled up after the finish.
His main job is to push-start the bobsled in the first crucial moments, building momentum before jumping in and allowing the 34-year-old Florschutz to do the steering.
His explosive speed off the mark has seen him timed at 3.69 seconds for those opening 30 meters. By comparison, Jamaican sprint hero Bolt was clocked at 3.78 for the same distance on his way to gold in a record-breaking 100 meters time at the 2008 Beijing Olympics.
Sprinting prowess is one of the key ingredients in a successful bobsleigh team, which is why Jamaica famously dabbled in the sport at the 1988 Winter Games in Calgary, inspiring the 1993 hit film "Cool Runnings."
Kuske actually started his sporting life as a track and field athlete of some note, claiming a bronze in Germany's 4x100m relay squad at the 1998 world junior championships in Annecy in France.
His sheer bulk -- weighing in at 120 kg as against 94 kg for Bolt -- was always going to be a barrier on the track, and he was persuaded to try a new challenge by Germany's national bobsled team coach Gerd Leopold.
It proved to be an inspired selection, and Kuske won his first Olympic gold medal at Salt Lake in 2002 as part of the victorious German four-man team.
Double gold followed in the two and four-man teams in Turin four years later, with his fourth gold in the two-man in the 2010 Winter Games in Vancouver and a silver in the four-man.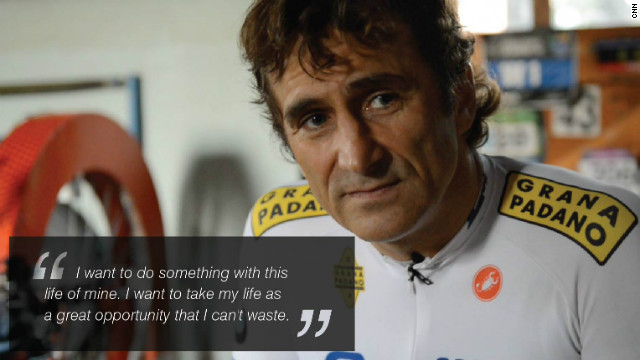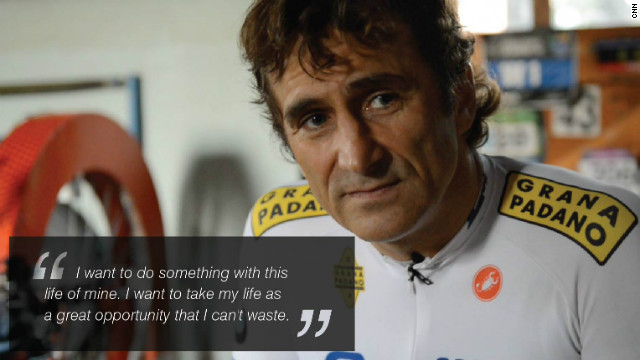 Alex Zanardi's road back to victory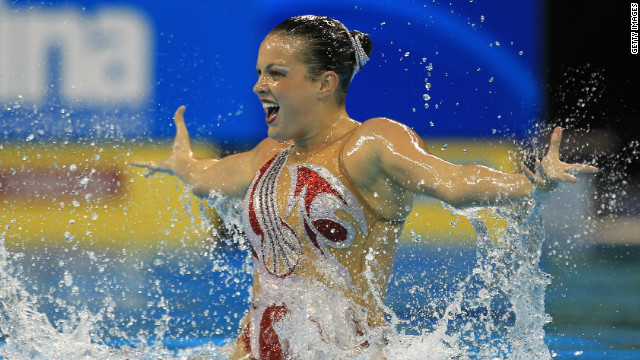 Mary Killman will be the youngest member of the U.S. synchronized swimming team at the London 2012 Olympics.
The 21-year-old will compete in the duet discipline with swimming partner Mariya Koroleva, having booked their places at the Olympic qualification event in London in April.
Killman and Koroleva (right) on the podium of the 2011 Pan American Games, where they won the silver medal behind the Canadian pair in the duet competition.
Killman and Koroleva (right) have been performing together since last year.
Killman on her way to fourth place in the solo event at the 2007 United States Championships at Indiana State University. She was still a junior.
She is inspired by fellow Native American Jim Thorpe, who won two gold medals in track and field at the 1912 Olympics and is one of the greatest all-round athletes in sporting history.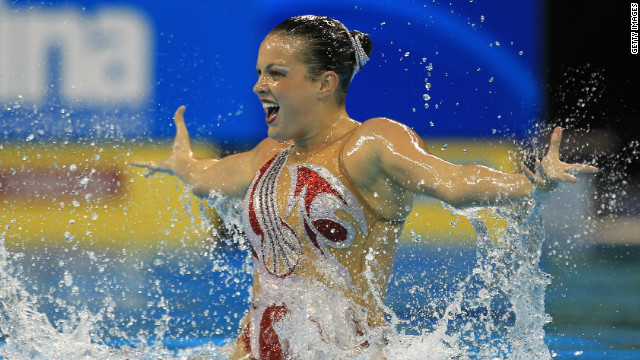 Human to Hero: Mary Killman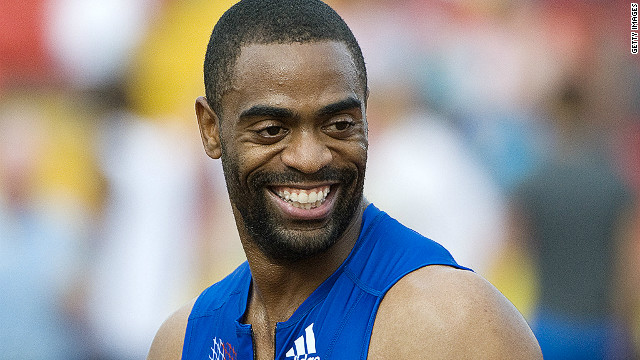 American sprinter Tyson Gay says he's in his prime and fit and ready for the London Olympics.
Gay will be hoping to repeat his performance at the 2007 IAAF World Athletic Championships in Osaka, Japan where he crossed the line first in the 200m ahead of Usain Bolt.
But Gay stormed to gold in the 100m, beating Derrick Atkins of the Bahamas (left) and Jamaica's Asafa Powell in a time of 9.85 seconds.
Gay also won gold as part of the U.S. 4x100m relay team.
Two years later in Berlin though, triple Olympic champion Bolt won gold in the 100m and 200m, setting world record times in both. Gay had to settle for silver in the 100m.
Prior to the Beijing Olympics, Gay was troubled by a hamstring injury which meant he arrived at the Games in less than perfect shape and he failed to win a medal. Here Gay (far left) finishes fifth in the 100m semifinal to miss out on the final, won by Bolt in record time.
Gay counts America's retired sprinter Maurice Greene as both a hero and a mentor. The former Olympic 100m champion's advice and support "really means a lot to me," says Gay.
Gay's first outing at the World Championships at Helsinki's Olympic Stadium in 2005 ended without a medal. Here he can be seen (second from left) finishing fourth in the 200m final.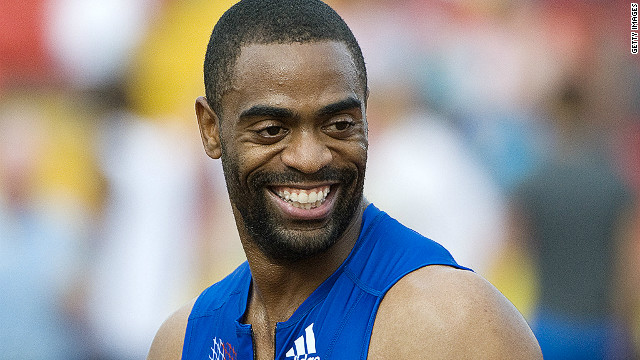 Human to Hero: Tyson Gay
Florschutz was a driver in the Germany II pair that took silver in the two-man in Canada and has now teamed up with Kuske to focus on going one better at the world championships next year in St. Moritz in Switzerland in January and the 2014 Winter Olympics in Sochi, Russia.
Punishing training
Despite their advancing years, the pair have a punishing regime, particularly in their "off" season.
"We're winter sportsmen, who were made in summer. We have to sweat in the summer while others are lying down in the sun," Florschutz said.
They train twice a day, six days a week, totaling about seven hours per day.
"Sunday is more laidback, just a bit of upper body strength. And we've got one unit that lasts three to four hours," said Kuske.
The four-time Olympic champion concentrates on a mixture of strength training with weights and sprint training, often pulling a weight behind him for extra resistance.
Florschutz also has to play his part as they charge down the course, pushing a sled weighing 170 kg, so his training is along similar lines, but as the pilot or driver he has the responsibility to capitalize on the blistering start.
"The pilot is always the first one sitting in there," he said, "so that you can get to the steering cords quickly and to be able to react quickly, too."
Formula One feeling
Lightning-fast reflexes are indeed a prerequisite of the driver's role, as the sled hurtles down an icy chute with the speed increasing all the time.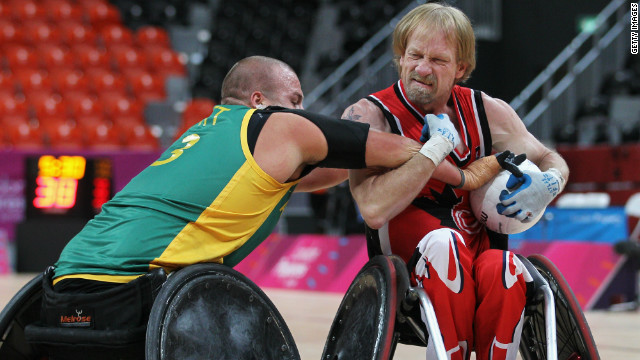 Garret Hickling, right, wrestles with an opponent during Canada's losing clash to eventual winners Australia at the Paralympic test event in London.
Hickling won a silver medal at the 2004 Paralympics in Athens, with Canada beating the United States in the semifinals.
The final did not go so well, with Canada losing to New Zealand. It was the second time "murderball" had been a fully-fledged sport at the Paralympics.
Hickling says Canada's rivalry with the U.S. is no longer guaranteed to feature in the medal matches.
The Americans won the sport's first Paralympic gold medal at Sydney 2000, beating Australia in the final.
The sport is spreading around the world. Here Joseph Delagrave of the U.S. (left) collides with Colombia's Cristian Torres during the 2011 Pan American championships in Bogota.
Sweden's Per-Johan Uhlmann (left) battles with Britain's Aaron Phipps during a London 2012 test event on April 18.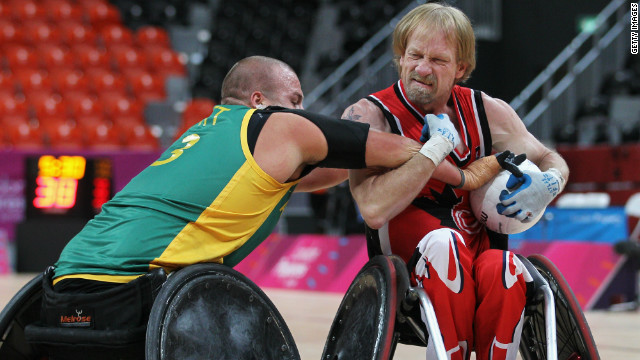 Hickling focused on Paralympic gold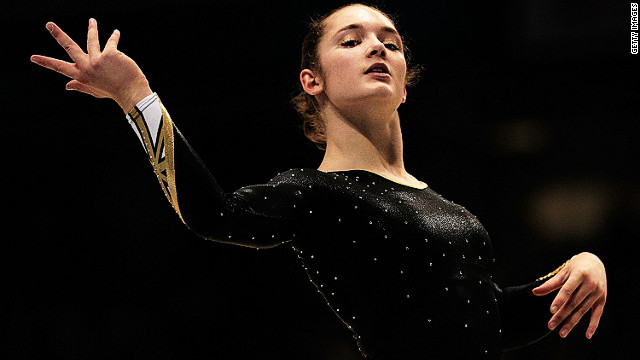 Jennifer Pinches is a British gymnast hoping to make her first Olympics appearance this summer.
Pinches, who turns 18 in May, helped the Great Britain come fifth in the 2011 World Artistic Gymnastics Championships -- the team's highest finish so far.
Pinches trains at the same club as Beth Tweddle. She admitted to being "a bit starstruck" when she first met the three-time world champion.
Pinches' best performance at an international meeting was winning a bronze medal at a World Cup event in Scotland in 2010 in her favorite floor event.
Pinches also looks up to world champion Russian gymnast Aliya Mustafina, a fellow 17-year-old who she describes as "incredible."
Pinches trains for seven hours a day. She says it would be the "biggest honor" to represent Great Britain at the London 2012 Olympics.
Pinches took up gymnastics when she was six and became an English champion in 2007 at the age of 13.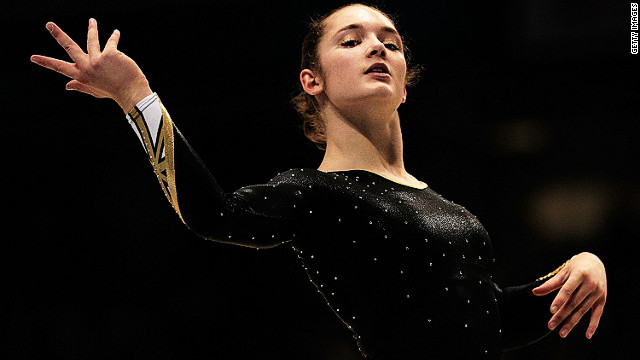 Human to Hero: Jennifer Pinches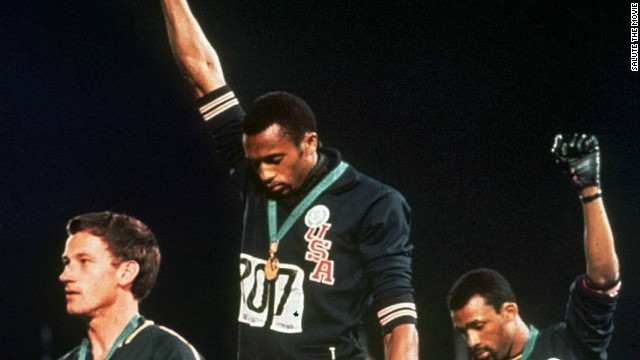 This salute made Smith and Carlos famous. But what of sprinter Peter Norman, who finished second?
The 1968 Mexico Olympics began in controversial fashion. Revolution -- from Cuba to China -- was spreading across the world.
Mexico was rocked by huge student protests just before the opening ceremony. What followed was one of the most shameful incidents in Olympic history. Hundreds of young people were gunned down. The evidence was quickly cleaned up before the athletes arrived. To this day protesters mark the anniversary of the massacre.
Race riots had spread across the U.S. following the assassination of Martin Luther King Junior. The Vietnam War was raging, and in the same year Robert Kennedy was also assassinated.
The U.S. track and field team arrived in Mexico eager to show their support to the civil rights movement back home. The world was watching to see what the team's black athletes, many of whom had received death threats, would do.
Smith won the 200 meters but Carlos (center) was beaten by Norman (far left) on the line. Norman's time of 20 seconds flat would have won gold at the 2000 Sydney Olympics.
Norman wore a pro-human rights pin badge. It was his suggestion that the two U.S. runners wore a glove each after Carlos realized he had forgotten his pair.
The American athletes were sent home and given life Olympic bans. Smith returned to poverty and Carlos struggled to find work. Eventually he was hired, and later fired, as a car washer. Such was the pressure on his return, his wife committed suicide.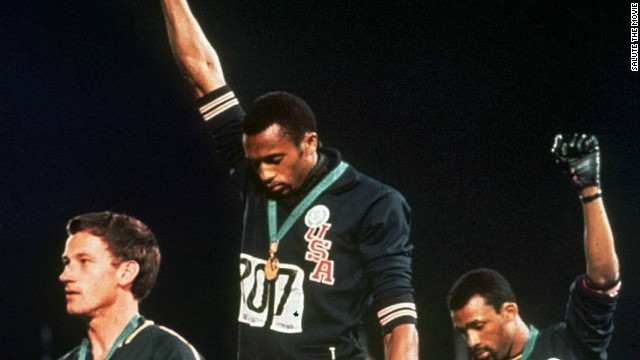 The forgotten Black Power hero
"I just try to drive straight down the track, but you really have to work together," said Florschutz.
For Kuske's part, his job is curl up into an aerodynamic position, not easy given his bulk, then flow with the rhythm going through the corners, supporting the driver with his weight -- rather like a motorcycle pillion passenger.
"And of course braking at the right time, so as not to let the pilot get too terrified!" he said -- unlike the "Cool Runnings" team who suffer a comical crash in the film after failing to stop at the end of the run.
The F1 comparison begins and ends with the speed comparison, because unlike a Sebastian Vettel or Lewis Hamilton, the pair have to repair and "fine tune" their own bobsled rather than having a massive team of mechanics to assist them.
And despite being at the top of their sport, both have trained for other professions -- Florschutz is a policeman while Kuske is in the German Federal Defense Force (the "Bundeswehr.")
German domination
They are seeking to continue the level of domination achieved by the German men's bobsleigh teams in world and Olympic championships.
Since Kuske's first Winter Games in 2002, German two-man teams have won three straight golds, achieving a 1-2 finish at Vancouver 2010.
In the four-man event, two gold medals were followed by a silver behind the U. S. quartet -- which, strangely given his winning record, Kuske rates as his most memorable achievement.
"The best was the silver medal in Vancouver. We had the best start times but we almost fell on our side on one run," he said.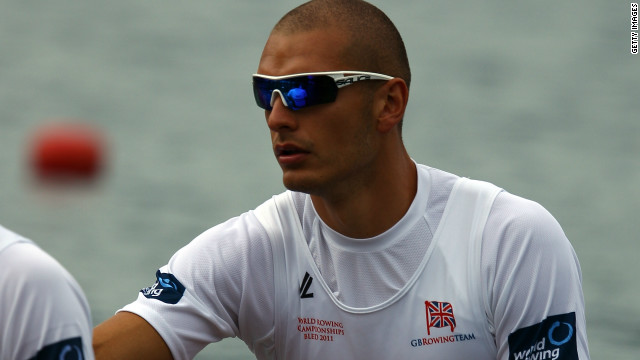 Mohamed Sbihi -- nicknamed Moe -- was born near London and is of Moroccan descent. He was discovered by the British team's talent identification programme while at school in 2003.
Sbihi and his eights crew claimed silver behind Germany at the World Cup event in Munich last year. They also had to settle for silver behind the dominant Germans at the 2011 World Championships in Slovenia.
Sbihi still makes regular trips to visit his family in Tangiers, Morocco. He speaks fluent Arabic and is a practicing Muslim.
At six foot eight inches (2.03 meters), Sbihi's height was hard for British selectors to miss. He was part of the British four that won bronze at the 2007 Under-23 World Championships.
Sbihi was in the men's pair at the 2006 World Junior Championships. He has rowed in the pair, the four and the eight -- and looks set to be in the largest boat at the 2012 Olympics.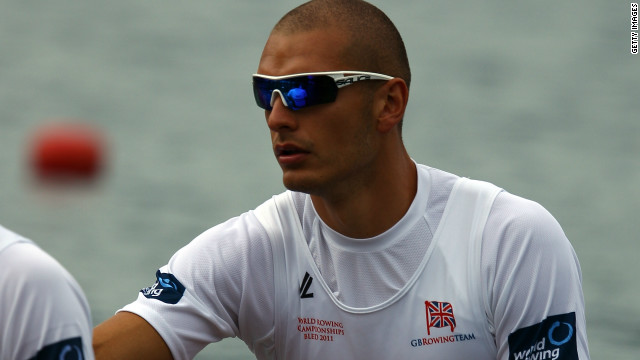 British rower's Olympic dilemma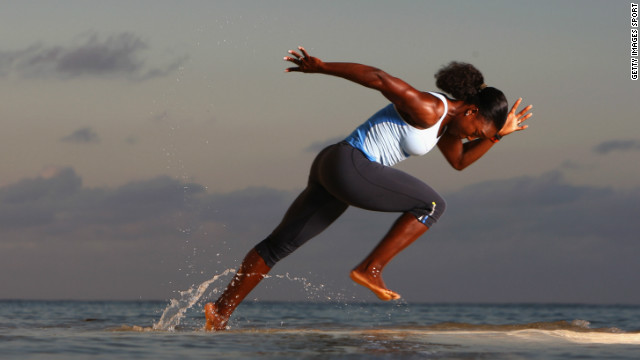 Jamaican sprinter Veronica Campbell-Brown is seeking to make history by aiming to win a third consecutive 200 meters gold medal at the London 2012 Olympics.
Campbell-Brown, who has won three Olympic golds in total, also has a charitable foundation aimed at empowering Jamaican girls through sport.
Her birthplace, Trelawny, has produced many Olympic medal winners, including Usain Bolt, U.S. 400-meter runner Sanya Richards-Ross and the disgraced Canadian sprinter Ben Johnson. Campbell Brown puts the phenomenon down to the local yams, which are packed with carbohydrates.
London 2012 will be Campbell-Brown's fourth Olympics. She won her first 200 meter gold medal at Athens in 2004 at the age of 22.
She capped an incredible competition in Greece by also taking the Jamaican 4x100m relay team over the finishing line in first place.
Her inspirational performances in Athens meant that she was asked to carry the flag for the Jamaican team at the opening ceremony for Beijing 2008.
Campbell-Brown, who successfully defended her 200m title in China, will still only be 30 by the time London 2012 begins.
Last year she ran the 100 meters in 10.76 seconds, the second fastest time in history, raising the prospect that she could contend in London for both sprint events.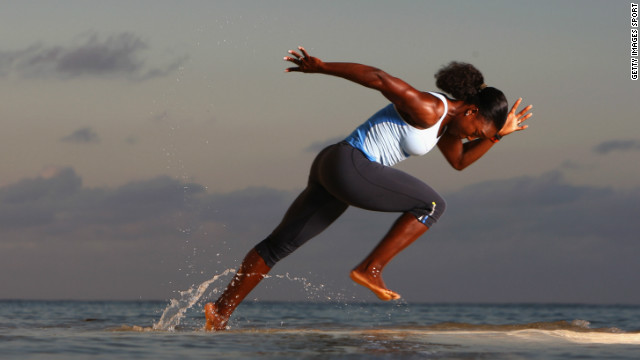 The fastest woman on earth?
"To pull that back and win the silver by one-hundredth (of a second, from Canada) was for me an emotional eruption, as it was truly hard earned."
Kuske came from a strong sporting background -- both his parents were in the German national track and field team -- and they encouraged him to go one better.
"We had a family dream to go to the Olympics. When you're sitting in front of the TV and watching the Olympic Games, and you have sporty parents, that's naturally a big dream for you, because the Olympics are the biggest event there is," he said.
"Naturally it became more than a dream, at the first Olympics with the gold medal, and that was really my greatest goal, which I fulfilled pretty quickly, but it didn't stop there."
Golden focus
His longevity and medal haul have seen him earn celebrity status in Germany, while Florschutz has won three world championship silvers and Olympic silver in Vancouver.
He is hoping his partnership with Kuske, formed after the great German driver Andre Lange retired, will see him earn that elusive gold.
"Our biggest aim is to become the world champions and to become Olympic champions. We're a strong team. We've got every chance to be the best in the world with this team."