STORY HIGHLIGHTS
Australia captain Michael Clarke sets new record for runs scored in calendar year
Clarke hits 106 against Sri Lanka to pass Ricky Ponting's national milestone of 1,544
Home side reach 440-8 on day two, with Mitchell Johnson on 73, for overall lead of 284
Clarke scores his first Test century in Melbourne, while Shane Watson makes 83
(CNN) -- Michael Clarke has big cricketing shoes to fill following the retirement of Ricky Ponting, but the Australia captain has already wiped out one of his predecessor's records.
Clarke beat Ponting's leading mark of 1,544 runs scored in a calendar year by an Australian batsman, set in 2003, as he made 106 on day two of the second Test against Sri Lanka.
The 31-year-old posted his 22nd Test century -- still 19 behind Ponting -- and his first in Melbourne as the home team reached 440-8 at stumps on Thursday for a lead of 284.
"It is nice to get that monkey off my back and get my first hundred here," Clarke, who overcame a hamstring injury to start the match, told reporters after taking his total for 2012 to 1,595.
"In regards to beating Ricky, in my eyes he was the greatest batsman I was lucky enough to play with, so to beat any record that Ricky holds is very special."
Read: Sangakkara equals Test record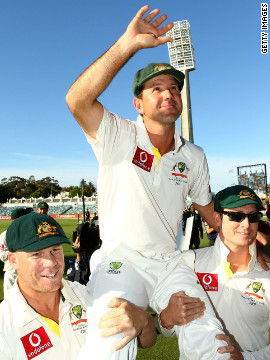 Ricky Ponting is carried from the field by David Warner, left, and Michael Clarke, his successor as Australia captain, after his 168th and final Test match.
Ponting holds daughter Matisse (R), as his wife Riannna carries daughter Emmy (L), following Australia's defeat in the third and final Test of the series against South Africa at the WACA ground in Perth.
The 37-year-old was given a guard of honor by his opponents when he went out to bat on day four. South Africa captain Graeme Smith later described Ponting as "the player I respect the most" following a record-breaking career.
Ponting, one of only three players to have scored more than 13,000 Test runs, managed a trademark early boundary as Australia chased a huge target of 623 to win.
However, he fell for just eight runs and the home side went on to lose by 309 for a 1-0 series defeat as South Africa retained the top Test ranking.
He was given a standing ovation by the 7,000-strong crowd, having matched Steve Waugh's record of Test appearances for Australia.
A fan shows his appreciation for Ponting, who won a record 48 Tests as captain and was involved in 108 victories overall.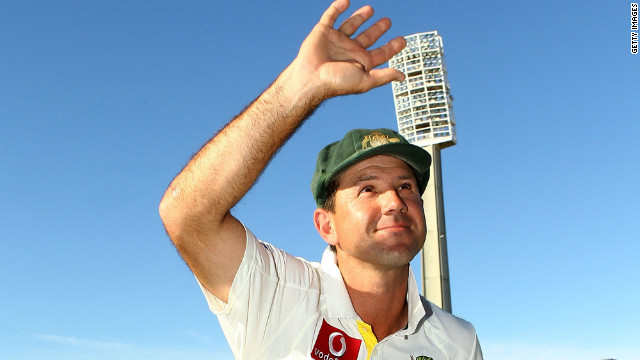 Ricky Ponting ends cricket career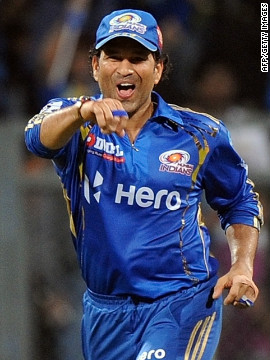 Cricket legend Sachin Tendulkar's nomination to the Indian parliament has drawn mixed reactions across the country. The Times of India said it makes "little sense," while many lawmakers welcomed the celebrated batsman to their ranks.
Tendulkar cemented his place in history when in March he became the first cricketer to score 100 international centuries. The 39-year-old insists cricket will remain his priority, adding: "I have been nominated because I am a sportsman and not a politician."
Tendulkar's supporters held a hunger strike on April 24, demanding the government award him India's highest civilian award. Chairperson Justice Markandey Katju hit back, arguing that giving the Bharat Ratna to cricketers and film stars who have "no social relevance" makes a mockery of the prize.
Tendulkar, pictured with his wife Anjali, was honored at the "Real Heroes Awards" ceremony in Mumbai in March, run by the Reliance Foundation and CNN affiliate broadcaster CNN-IBN.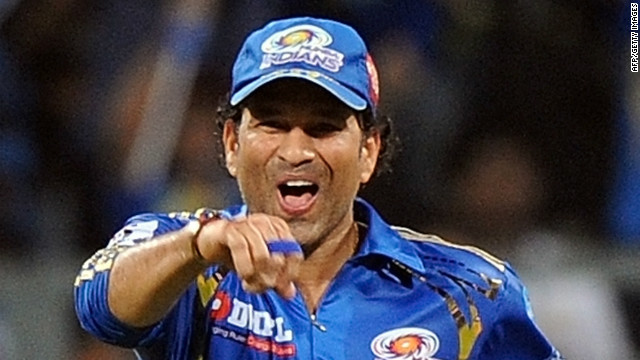 Tendulkar: From cricket to politics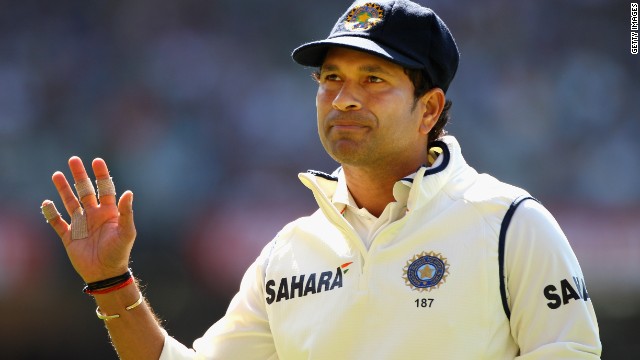 Sachin Tendulkar will end his record-breaking cricket career following his 200th Test match, against the West Indies in his home city of Mumbai.
A face-painter with a queue of spectators outside Mumbai's Wankhede Stadium. The match is not being covered by the world's leading photo agencies due to a dispute with Indian cricket's ruling body, which dates back to 2012.
Security was tight around the ground, which could have been sold out 10 times according to local reports.
Tendulkar helped his Indian Premier League side Mumbai Indians to win the Twenty20 limited-overs tournament earlier this year.
Indian painter Jagjot Singh Rubal touches up his painting commemorating Tendulkar's famous cricketing milestone.
Tendulkar became the first man in cricket history to score 100 international hundreds when he made 114 in a limited-overs match against Bangladesh on March 16, 2012.
Tendulkar visited the residence of Bangladesh's Prime Minister Sheikh Hasina Wazed, right, to mark his achievement.
He had been stuck on 99 since the 2011 World Cup, when he closed to within one of the milestone with a ton against South Africa. Tendulkar helped India win the final against co-hosts Sri Lanka in his home city of Mumbai on April 2. He scored only 18 in that match, but was India's top runscorer as his country won the 50-over tournament for the first time.
Cricket fans had been waiting for the milestone, which came 33 innings after the South Africa game. Tendulkar went close during India's disappointing tour of Australia -- against whom he has scored 20 tons, more than any other nation.
Tendulkar is the first and only player in cricket history to score 15,000 Test match runs, achieving the feat in November 2011.
Having scored a triple century as a schoolboy, and then passing 100 on his first-class debut in 1988, Tendulkar made his international debut the following year at the age of 16 against Pakistan.
Tendulkar scored his first international century in the five-day format the following year on India's tour of England, hitting 119 not out in the second Test at Old Trafford.
Debate still rages as to whether Tendulkar can be considered greater than Australian legend Donald Bradman, whose Test career ended in 1948 with an incredible average of 99.94, scoring 6,996 runs in 52 matches.
England's players applaud after Tendulkar scores 193 in Leeds in 2002, passing Bradman's record of 29 Test centuries. He has now played 188 Tests, notching 51 hundreds.
Tendulkar, left, became Test cricket's highst runscorer in October 2008 when he passed Brian Lara's previous record of 11,953 during a home series against Australia.
Tendulkar became the first batsman to score 17,000 runs in one-day internationals with a knock of 175 against Australia in Hyderabad on November 5, 2009.
Tendulkar's next foray into three figures saw him become the first batsman to score 200 in a 50-over international -- against South Africa on February 25, 2010. Indian schoolchildren in Amritsar celebrated their national hero's landmark feat.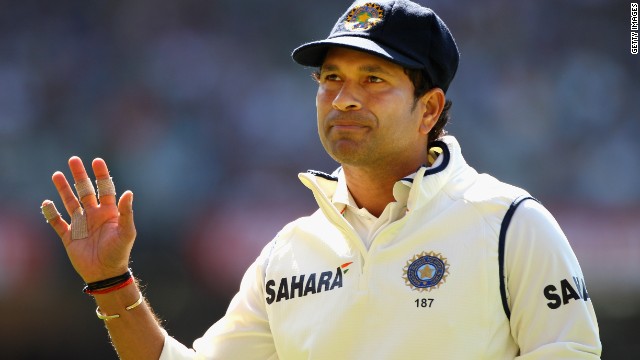 Sachin Tendulkar retires from cricket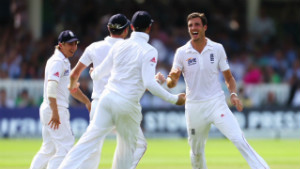 Anderson: Kevin Pietersen welcome back
Ponting retired at the start of this month following the series defeat by South Africa, being Australia's leading runscorer in all forms of cricket and the world's second highest behind Sachin Tendulkar of India.
In a calendar year, only Pakistan's Mohammad Yousuf (1,788), West Indian Viv Richards (1,710) and South Africa's Graeme Smith (1,656) have scored more Test runs than Clarke.
He might not get a second chance to bat in this match, with Australia in control.
All-rounder Mitchell Johnson will seek to get the 27 runs he needs for his second Test century when he resumes his innings on day three.
Clarke and Shane Watson had put on 194 for the fourth wicket as Sri Lanka lost pace bowler Chanaka Welegedara to a hamstring injury early in the day, before a mini-collapse saw the Australians slump to 315-6.
Watson was among those to fall, being caught in the deep for 83 -- meaning he has not passed three figures in the five-day game since October 2010, despite registering 19 fifties in his 38 Test appearances.
Read: Pakistan's historic victory in India
"If he continues to play the way he played today and shows that patience and that discipline I have no doubt at all that he will score plenty of hundreds for Australia," Clarke said.
"He showed a lot of discipline in his shot selection and even the ball he got out on, as his captain, I am not disappointed with. Nine times out of 10 that will go for four or six."
Johnson steadied the innings as he added 61 for the seventh wicket with Mike Hussey (34) and 58 for the eighth with Peter Siddle (13) before seeing out the day with Nathan Lyon (0).
Sri Lanka need to win the match to have any chance of winning the three-match series, having lost the opener by 137 runs.
The tourists, who made just 156 in Wednesday's first innings after winning the toss and deciding to bat, were left to rue dropping Clarke on the opening day and then giving Watson two lives on Thursday.
Read: Tendulkar quits one-day internationals
"We let them off the hook yesterday in the evening when we had them three wickets down and today before Clarke got into his stride and then Watson after that," said batting coach Marvin Atapattu, a former skipper of the national side.
"If we had held on to those two it would have been different, but that is the way it goes and we have got ourselves to blame."
Meanwhile, Ponting has defended Australia's rotation policy after first Test hero Mitchell Starc was rested for the Melbourne match, allowing Jackson Bird to make his debut.
Starc took six wickets in Hobart, five of them coming in Sri Lanka's second innings.
"A lot of the people that are talking about it, past bowlers in particular, have got no idea of the workload of some of the guys that are playing now," Ponting said.
"Everyone in and around the Australian team is trying to do the best thing for Australian cricket. It's all about trying to put the best and fittest bowlers on the park every time we can."