Kim Jong Un Fast Facts
updated 3:56 PM EST, Tue December 23, 2014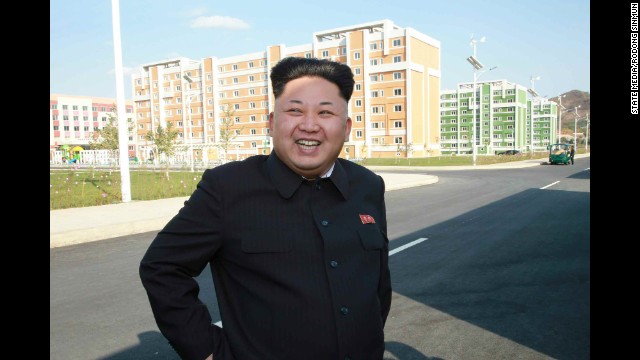 After a mysterious absence of several weeks, undated photos of North Korean leader Kim Jong Un were published Tuesday, October 14. The photos appeared in the official North Korean newspaper, Rodong Sinmun. International speculation about the whereabouts of Kim went into overdrive after he failed to attend events on Friday, October 10, on the 65th anniversary of the Workers' Party.
The North Korean leader gave "field guidance" to a newly built residential district, state news agency KCNA reported. Here, Kim appears with officials while walking with a cane.
Kim also visited the Natural Energy Institute of the State Academy of Sciences, KCNA said. He hadn't been seen in public since he reportedly attended a concert with his wife on September 3.
A news program at the Seoul railway station in South Korea on October 14 shows the North Korean leader using a cane.
Kim Jong Un, center, leader of North Korea, inspects a model food factory in North Korea. The date of the visit is unknown.
Kim Jong Un images released after absence
Kim Jong Un images released after absence
Kim Jong Un images released after absence
Kim Jong Un images released after absence
Kim Jong Un images released after absence
(CNN) -- Here is a look at the life of North Korean leader Kim Jong Un.
Personal: Birth date: January 8, 1983
Father: Kim Jong Il
Mother: Ko Young Hee
Marriage: Ri Sol Ju
Children: Ju Ae (daughter)
Education: Kim Il Sung Military Academy, 2002-2007
Other Facts: Youngest son of former North Korean leader Kim Jong Il.
Timeline: April 2009 - Named to North Korea's National Defense Commission.
September 28, 2010 - Promoted to four-star general and named vice chairman of the Central Military Commission as well as to the Central Committee of the Workers' Party of Korea.
October 9, 2010 - Kim Jong Nam, eldest son of Kim Jong Il, tells Japan's TV Asahi that he opposes the hereditary transfer of power for a third generation. These are his first comments since the promotion of Kim Jong Un, his half-brother.
December 17, 2011 - North Korean leader Kim Jong Il dies at the age of 69.
December 28, 2011 - Accompanies the body of Kim Jong Il during the funeral procession through Pyongyang.
December 31, 2011 - Assumes command of the North Korean army. State-run Korean Central News Agency reports that the power was transferred to him on October 8 at the behest of his father.
April 15, 2012 - Speaks before hundreds of troops and others in Pyongyang as part of a celebration marking 100 years since the birth of the nation's founder, his grandfather. Kim's address is his first televised speech since assuming the country's leadership.
June 6, 2012 - Makes his second public speech, speaking to tens of thousands of children in Pyongyang on the 66th anniversary of the Korean Children's Union. His father, Kim Jong Il, is believed to have made only one brief broadcast throughout his reign.
July 18, 2012 - Kim Jong Un is given the title marshal of the army. It is the latest in a string of moves to reconfigure the top ranks of North Korea's military. The announcement follows the removal of the army chief, Ri Yong Ho.
March 2013 - Hosts former NBA basketball star and North Korea visitor Dennis Rodman.
September 8, 2013 - Upon returning from his second trip to North Korea, Dennis Rodman says he held "baby Ju Ae" and describes Kim Jong Un as "a good dad."
January 8, 2014 - Dennis Rodman sings "Happy Birthday" to Kim Jong Un before he and other former NBA players take on the North Koreans in an exhibition game.
March 9, 2014 - Kim is unanimously elected as Deputy to the Supreme People's Assembly (SPA) of the DPRK, with 100% turnout.