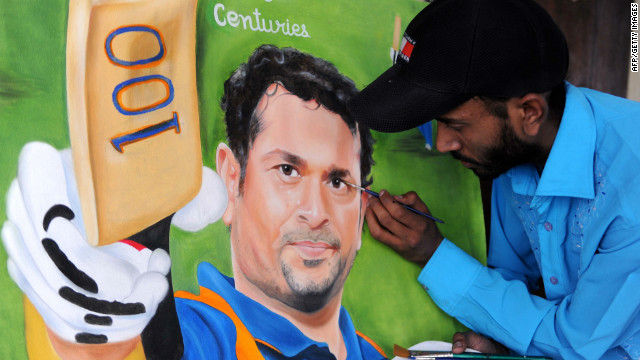 Indian painter Jagjot Singh Rubal touches up his painting commemorating Sachin Tendulkar's latest cricketing milestone.
Tendulkar became the first man in cricket history to score 100 international hundreds when he made 114 in a limited-overs match against Bangladesh on March 16, 2012.
Tendulkar visited the residence of Bangladesh's Prime Minister Sheikh Hasina Wazed, right, to mark his achievement.
He had been stuck on 99 since the 2011 World Cup, when he closed to within one of the milestone with a ton against South Africa. Tendulkar helped India win the final against co-hosts Sri Lanka in his home city of Mumbai on April 2. He scored only 18 in that match, but was India's top runscorer as his country won the 50-over tournament for the first time.
Cricket fans had been waiting for the milestone, which came 33 innings after the South Africa game. Tendulkar went close during India's disappointing tour of Australia -- against whom he has scored 20 tons, more than any other nation.
Tendulkar is the first and only player in cricket history to score 15,000 Test match runs, achieving the feat in November 2011.
Having scored a triple century as a schoolboy, and then passing 100 on his first-class debut in 1988, Tendulkar made his international debut the following year at the age of 16 against Pakistan.
Tendulkar scored his first international century in the five-day format the following year on India's tour of England, hitting 119 not out in the second Test at Old Trafford.
Debate still rages as to whether Tendulkar can be considered greater than Australian legend Donald Bradman, whose Test career ended in 1948 with an incredible average of 99.94, scoring 6,996 runs in 52 matches.
England's players applaud after Tendulkar scores 193 in Leeds in 2002, passing Bradman's record of 29 Test centuries. He has now played 188 Tests, notching 51 hundreds.
Tendulkar, left, became Test cricket's highst runscorer in October 2008 when he passed Brian Lara's previous record of 11,953 during a home series against Australia.
Tendulkar became the first batsman to score 17,000 runs in one-day internationals with a knock of 175 against Australia in Hyderabad on November 5, 2009.
Tendulkar's next foray into three figures saw him become the first batsman to score 200 in a 50-over international -- against South Africa on February 25, 2010. Indian schoolchildren in Amritsar celebrated their national hero's landmark feat.
The Little Master
100 hundreds
Prime player
India's first World Cup title
An agonizing wait
Test best
Teen prodigy
First of many to come
The greatest?
Passing a legend
Lara's landmark falls
Run machine
Tendulkar's 200
STORY HIGHLIGHTS
Sachin Tendulkar has quit one-day international cricket at the age of 39.
The 'Little Master' scored 49 centuries during his one-day career and 96 fifties.
He scored 18,426 runs at an average of 44.83, his highest score an unbeaten 200 against South Africa in 2010.
Tendulkar was part of the India team which won the World Cup on home soil in 2011
(CNN) -- Indian cricket legend Sachin Tendulkar has brought down the curtain on his record-breaking one-day international career, confirming his retirement on Sunday.
The "Little Master," who has thrilled fans since he first made his debut as a raw 16-year-old back in 1989, scored an astonishing 49 centuries in the 50-over game.
The 39-year-old is the world's leading run scorer in one-day cricket, hitting 18,426 runs from his 463 matches at an average of 44.83.
Tendulkar was a key part of the India team which won the 2011 World Cup in his home city of Mumbai.
His final one-day appearance came on March 18 in which he scored 52 during the six-wicket win over Pakistan at the Asia Cup.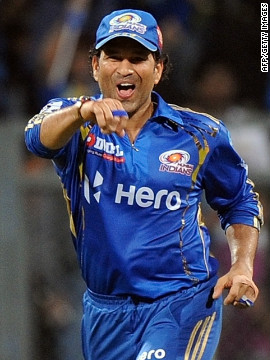 Cricket legend Sachin Tendulkar's nomination to the Indian parliament has drawn mixed reactions across the country. The Times of India said it makes "little sense," while many lawmakers welcomed the celebrated batsman to their ranks.
Tendulkar cemented his place in history when in March he became the first cricketer to score 100 international centuries. The 39-year-old insists cricket will remain his priority, adding: "I have been nominated because I am a sportsman and not a politician."
Tendulkar's supporters held a hunger strike on April 24, demanding the government award him India's highest civilian award. Chairperson Justice Markandey Katju hit back, arguing that giving the Bharat Ratna to cricketers and film stars who have "no social relevance" makes a mockery of the prize.
Tendulkar, pictured with his wife Anjali, was honored at the "Real Heroes Awards" ceremony in Mumbai in March, run by the Reliance Foundation and CNN affiliate broadcaster CNN-IBN.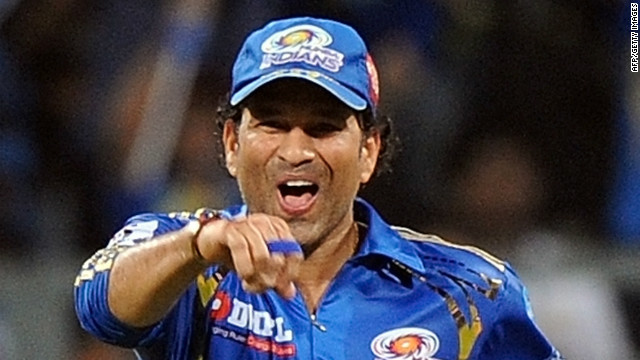 Tendulkar: From cricket to politics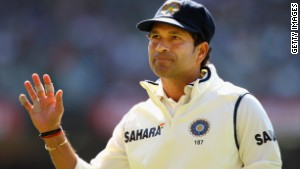 India's 'God of cricket' popularity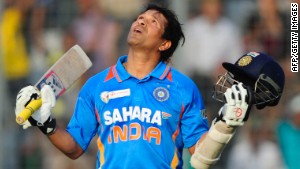 Sachin Tendulkar makes cricket history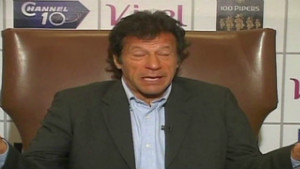 Imran Khan says Tendulkar should retire
Tendulkar reaches 100th international hundred
It was in his penultimate innings that he reached his 100th international century, a total which includes both one-day and Test match cricket, following a knock of 114 against Bangladesh.
Previously, at the age of 36, he scored the first double-century in the 50-over format since the first one-dayer was played in January 1971, hitting an unbeaten 200 against South Africa.
But following a poor Test series against England, in which he made just one half-century and averaged 18.66, Tendulkar says India must build for the future.
'Blessed'
"I have decided to retire from the one-day format of the game," he said in a statement.
"I feel blessed to have fulfilled the dream of being part of a World Cup winning Indian team (in 2011).
"I am eternally grateful to all my well-wishers for their unconditional support and love over the years."
No decision has yet been made over whether Tendulkar will continue to play the five-day format following his disappointing performances during India's series defeat by England this month.
Tendulkar has scored a record 15,645 runs in 194 matches at an average of 54.32 with 51 centuries and remains a hero around the world to cricket fans.
'Unbeatable' records
Former India skipper Krishnamachari Srikkanth told reporters that Tendulkar's records will never be matched.
"I am surprised by his move but he is leaving ODI cricket on a high," he said.
"I am sure he will want to leave on a high in Test cricket also. He will be looking forward to a good Test series against Australia. His records cannot be surpassed."
Former captain Sourav Ganguly added: "I felt that he might have played on, but it is his decision and I think it is right.
"There was a doubt on whether he would play ODI cricket or not. But I am not surprised by his decision. He has done what he thought was right."