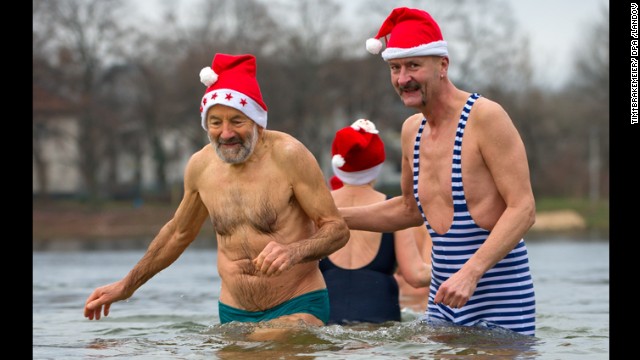 Members of the Berlin Seals group wade into chilly Lake Orankesee in Berlin on Wednesday, December 25. Swimming on Christmas day is a tradition with winter swimmers. Take a look at other lighthearted or interesting moments around the world related to Christmas:
A child enjoys artificial snow at a shopping mall in Singapore on Tuesday, December 24.
Ruben Torres, dressed in a Santa Claus outfit, waves to people from a boat with fishermen along the coast of Valparaiso, Chile, on December 24. Every year, fishermen in Valparaiso organize a Santa Claus boat trip as people wait on the shore to receive their Christmas presents and well-wishes.
An Indonesian Javanese Christian prays during Christmas Eve Mass in Yogyakarta, Indonesia, on December 24.
People act out a nativity scene during the unveiling ceremony of the crib in St. Peter's Square at the Vatican on December 24.
A water-skiing Santa Clause and a reindeer head down the Potomac River at National Harbor, Maryland, on December 24.
More than 1,000 volunteers clad in Santa Claus costumes throw their hats in the air as they gather to deliver gifts for the poor in downtown Seoul, South Korea, on December 24.
A diver dressed as Santa Claus surfaces after swimming in the Coral Garden tank at the South East Asia Aquarium of Resorts World Sentosa, a popular tourist attraction in Singapore, on December 24.
A man dressed as Santa Claus from Lapland, Finland, listens to a girl's Christmas wish on stage at a Christmas event organized by the Finnish Embassy in Seoul, South Korea, on Monday, December 23.
A chimpanzee opens a package filled with treats at a zoo in La Fleche, France, on December 23.
British troops at Patrol Base Lash Durai in Afghanistan get into the festive spirit December 23.
An ultra-Orthodox Jew walks beneath a Palestinian man dressed up as Santa Claus along the walls of Jerusalem's Old City on Sunday, December 22.