STORY HIGHLIGHTS
CDC: About 12.5 million children age 2 to 19 are obese in the United States
Kids learn healthy habits from those they admire most, and Santa is a role model
Culture may already be changing with Santa races, healthy gifts
Editor's note: This story was originally published January 2, 2013.
(CNN) -- Roy Pickler lay on the floor, dripping with sweat, as trainer Bob Harper quipped, "You look like you got run over by a reindeer."
Pickler's job as a professional Santa was a constant joke when he was a contestant on "The Biggest Loser." With his long white beard and protruding stomach, the 63-year-old looked every bit the part he played.
By the time he was voted off the show, Pickler had lost 88 pounds. During his elimination interview, he donned a Santa hat and told viewers his toned physique wouldn't stop him from bringing Christmas joy to children.
"The world is going to have to change their acceptance of what Santa looks like," Pickler said. "Santa is a role model, and kids don't want to have a role model that's fat."
Since 1980, obesity rates among children and adolescents have almost tripled, according to the Centers for Disease Control and Prevention. Approximately 12.5 million children age 2 to 19 are obese; that extra weight can lead to serious health problems, including type II diabetes, cardiovascular disease and psychosocial issues such as peer discrimination or poor self-esteem.
The epidemic has gotten a lot of attention in the past few years. Everyone from first lady Michelle Obama to Shaquille O'Neal is trying to figure out the best way to inspire kids to get and stay fit.
The world is going to have to change their acceptance of what Santa looks like.
Roy Pickler
Children learn healthy (or unhealthy) habits from those they admire. And Santa is one of the most recognizable figures in America.
For at least a month every year, he appears on billboards, storefronts and TV commercials. Millions of kids stand in line to sit on his comfortably padded lap and whisper secrets in his ear. They write letters to him, sing songs about him and read stories about him.
We worry about the effect fast-food advertisements have on students in school. With all his free publicity, should Santa still be fat?
"Let's put it this way," registered dietician Beth Kitchin said with a laugh. "I don't think Santa should be skinny."
There are a lot of other markers to consider in measuring health. Research shows that people can have a higher body mass index and still be healthy, Kitchin said. One can assume Santa is pretty active, wrangling hundreds of elves and nine reindeer every year. And his cheery disposition says a lot about his stress level, which could relate to low blood pressure.
Of course, Santa does have a penchant for sugary treats. One fan estimated the big man eats more than 5,000 tons of cookies on Christmas Eve alone. If Santa isn't diabetic, Christmas magic really does exist.
A 2009 study published in the British Medical Journal determined that Santa could very well be a "public health pariah." The light-hearted research by Nathan Grills of Monash University in Australia found a correlation between countries that recognize Santa and a high rate of childhood obesity.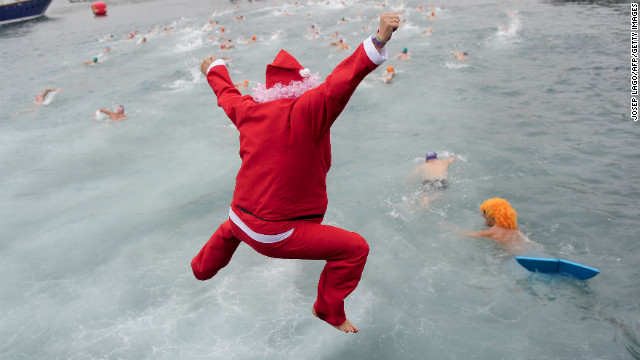 The cold water of Barcelona's Port Vell doesn't deter this swimmer dressed up as St. Nick from joining in the Copa Nadal swimming race, a traditional holiday event in the Spanish seaport, on Tuesday, December 25.
A car wash worker in Santa gear washes a vehicle in Amritsar, India, on December 25.
A man decked out as Santa Claus slips through the back streets of Hamburg, Germany, on Monday, December 24. Related photos: Magnum Santas
A Steelers fan in a Santa outfit waves his Terrible Towel during the game between the Pittsburgh Steelers and Cincinnati Bengals on Sunday, December 23, in Pittsburgh.
Members of a local yoga club perform at a public park wearing Santa Claus costumes in Hanoi, Vietnam, on December 23.
Indian sand artist Sudersan Pattnaik works on a sand sculpture with more than 500 Santa Claus statues on the beach in Puri, India, on Saturday, December 22.
Michael Pless, 62, catches a wave off Seal Beach, south of Los Angeles, on Friday, December 21, in California. Pless, who also runs a surfing school, has been dressing up as Santa Claus and taking to the waves in costume since the 1990s, sometimes joined by his wife, Jill, in a Mrs. Claus outfit.
A militarized police helicopter leaves a Santa Claus atop a school in a shantytown, or favela, of Rio de Janeiro on Thursday, December 20. This St. Nick, dressed in the white and blue colors of Peace Police Units, handed out toys among the children in the Brazilian slum.
Two Japanese Santas clean the windows of a Tokyo hotel on December 20.
Santa auditions an alternative species to pull his sleigh at the Marineland park in Antibes, France, on Wednesday, December 19.
Stuttgart fans don Santa hats during a German Cup match between VfB Stuttgart and 1. FC Köln on December 19 in Stuttgart, Germany.
A man dressed in a Santa Claus costume poses with a sea lion at the animal exhibition park Marineland, in France, on December 19.
Santa Claus walks out of the front door during a Christmas party hosted for sick children at 10 Downing Street on Monday, December 17, in London.
Santa Claus opens his coat to reveal a Matt Schaub jersey at Reliant Stadium on Sunday, December 16, in Houston, Texas, before the Texas Longhorns played the Indianapolis Colts.
Participants wear Santa costumes as they take part in a Santa Claus-themed race in downtown Milan, Italy, on December 16.
A man dressed up as Santa Claus appears at a demonstration in Paris for the legalization of same-sex marriage on December 16.
A fan stands out in his Santa Claus attire during an NFL game between the Baltimore Ravens and Denver Broncos on December 16 in Baltimore. Denver won 34-17.
A girl points out toys to Santa Claus on Saturday, December 15, in a store in Lille, France.
Costumed Santas crowd into a telephone booth during the Santacon pub crawl near London's Trafalgar Square on December 15.
Revelers in Santa costumes sit on the lion statue at the base of Nelson's Column in London's Trafalgar Square on December 15.
A member of a French anti-fur group wades into the sea during a beach protest to denounce the practice of wearing fur on December 15 in Nice, France.
A man dressed as Santa Claus sees a patient in the pediatric ward of a hospital in Guatemala City, Guatemala, on Friday, December 14.
A man decked out as Santa walks down Geary Street on December 14 in San Francisco.
A man wearing a Santa Claus costume performs in downtown Rome on Thursday, December 13.
Police check a man dressed as Santa Claus as he passes through a metal detector at the U.S. Capitol on Wednesday, December 12, in Washington.
Catholics United hold a press conference with Santa Claus in front of the U.S. Capitol to rebut the GOP's budget effort in the ongoing fiscal cliff argument on December 12 in Washington.
Icelandic philantropist Einar Sveinsson, dressed as Santa Claus, speaks with a patient in the oncology ward during a visit to the Benjamin Bloom National Children's Hospital in San Salvador, El Salvador, on Tuesday, December 11.
A man dressed as Ded Moroz, the Russian Santa Claus, entertains children at the Ded Moroz residence in Kuzminsky Park in Moscow on Tuesday, December 11.
A man dressed as Santa waits for customers in a wooden house in Rome on December 11.
A diver dressed as Santa Claus poses for a photograph with children during a promotional event for the "Sardines Feeding Show with Santa Claus" at the Coex Aquarium in Seoul, South Korea, on December 11.
Costumed participants of the annual "Best Father Frost" contest from different city districts make their way through a courtyard in Krasnoyarsk, Russia, on Monday, December 10.
A few thousand Santa Clauses ride between Gdansk and Gdynia, Poland, on Sunday, December 9. Santa Clauses rode on scooters, motorcycles and all-terrain vehicles between the two Polish cities.
Participants in the fourth annual Michendorf Santa Run, one wearing a camera on his head, gather shortly before the run on December 9 in Michendorf, Germany. More than 800 people took part in this year's races.
A woman and her dog in Santa suits prepare for the annual Glasgow Santa Dash on December 9 in Glasgow, Scotland.
Beachgoers carry a man wearing a Santa Claus costume on the Mediterranean coast on Saturday, December 8, in Nice, France.
Takashi Inui of Frankfurt, Germany, celebrates dressed as Santa Claus after the Bundesliga match between Eintracht Frankfurt and SV Werder Bremen on December 8 in Frankfurt am Main, Germany. Eintracht won 4-1.
A customer holds the door of a shopping mall for a man dressed as Santa Claus on December 8, in Berlin.
Valery Kokoulin, 47, rings a bell on his yacht to mark the end of the sailboat season on Friday, December 7, on the Yenisei River outside Krasnoyarsk, Russia. Temperatures in the Siberian city dipped to minus 9.4 degrees Fahrenheit.
Kokoulin stands aboard his yacht on December 7.
President Barack Obama greets Santa Claus with actors Neil Patrick Harris, Rico Rodriguez and musician Phillip Phillips during the 90th National Christmas Tree Lighting Ceremony at the White House on Thursday, December 6, in Washington, D.C.
A diver dressed as a Santa Claus dives with a nurse shark in the Sea Life Aquarium in Munich, Germany, on December 6, which is St. Nicholas Day.
Around 400 people dressed as Santa Claus arrive by train in Frankfurt am Main, Germany, on December 6.
A man dressed as a Santa Claus waves at the port in Hamburg, Germany, on December 6.
People in Santa Claus outfits imitate South Korean rapper Psy's famous "Gangnam Style" dance outside offices in Seoul, South Korea, on Wednesday, December 5. The dance marked the start of a charity mission to hand out gifts to children.
A man dressed as Santa Claus stands at The Paley Center for Media on December 5 in Beverly Hills, California.
Santa descends on a rope during Christmas Box Launch at Wellington Arch in London's Hyde Park on Tuesday, December 4.
Santa Claus, aka Tim Connaghan, sits in the audience while a Marine stands guard during a presentation at Ronald Reagan National Airport on Monday, December 3, as part of the Marines' Toys for Tots program. Thousand of donated toys are set to be delivered to families affected by Hurricane Sandy.
A spectator dressed as Santa Claus and wearing an Australian green cap watches the South African team walk out onto the field at a cricket match against Australia on December 3.
Runners dressed in Father Christmas costumes take part in the annual 5-kilometer Santa Dash in Liverpool, England, on Sunday, December 2. Many runners who refuse to run in red, the color of their football rivals Liverpool FC, wear blue to support the football team Everton FC.
A fan of the Baylor University Bears dresses up as Santa Claus while the Bears face the Oklahoma State University Cowboys on Saturday, December 1, in Waco, Texas.
Competitors run in the annual 6-kilometer Santa Run in Battersea Park, London, on December 1.
A man dressed as Santa leaves the the annual meeting of volunteer Santa Clauses and angels on December 1 in Berlin. Studentenwerk Berlin, a student organization at the German capital's technical university, hosts a general meeting for guidelines on participating in this year's events during the festive season.
Angels and Santa Clauses gather for the annual meeting on December 1 in Berlin.
A man dressed as Santa Claus attends Berlin's meeting of volunteer Santa Clauses and angels on December 1 in Berlin.
Men dressed as Santa Claus carry sacks through the meeting of volunteer Santa Clauses and angels on December 1 in Berlin.
A volunteer Santa Claus takes a nap during the general meeting outlining guidelines for Father Christmases in Berlin on December 1.
Volunteers in New York's 110th annual Sidewalk Santa Parade cross the street on Friday, November 23.
A diver wearing a Santa Claus costume feeds a sunfish during a Christmas show at the Hakkeijima Sea Paradise Aquarium in Yokohama, Japan, on Wednesday, November 21. The show will be held daily until Christmas Day.
Estonian Santa Claus "Santa Aare," from left, Dutch Santa Claus "Santa Holland" and Swedish Santa Claus "Snaretomten" compete in the Kicksled Sack Race during the Santa Claus Winter Games in Gallivare, Sweden, on Saturday, November 17. Santas from around the world gathered to participate in Christmas-themed competitions that weekend.
Santas from various countries compete in the porridge-eating contest during the Santa Claus Winter Games in Gallivare on November 17.
A Santa Claus representing the indigenous Sami people competes in the reindeer ride event during the Santa Claus Winter Games in Gallivare on November 17.
Japanese Santa Claus "Santa Paradise Yamamoto" hits the ground in the reindeer ride event during the competition in Gallivare on November 17. Related photos: Magnum Santas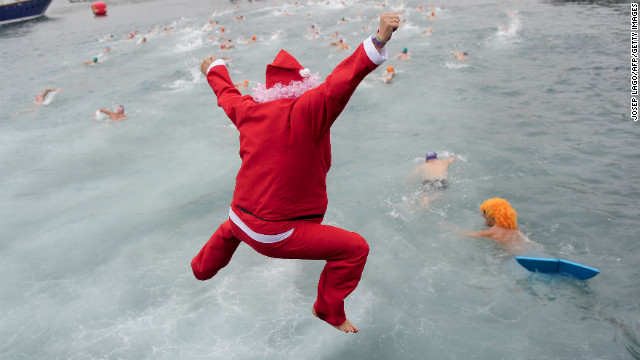 Photos: Santa sightings around the world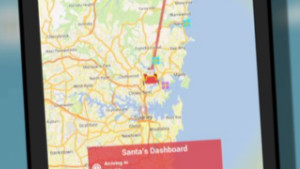 Track Santa with your smartphone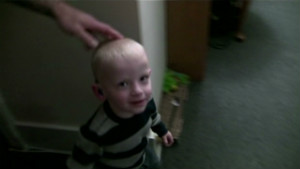 Signing Santa brings big smile to child
Santa's weight is a longstanding tradition, said Tom Kliner, founder of Santas Across the Globe and the Fraternity of International Real Bearded Santas. The character originated with St. Nicholas, who lived in Turkey during the fourth century. Nicholas was a wealthy young bishop who started giving away all his gold after his parents died.
"Back in those days, extra weight was a sign of wealth and affluence," Kliner said.
Hollywood used to have a set of numbers -- waist circumference, face shape, beard length -- that Santas were supposed to adhere to, Kliner said. But around the world, the legendary giver comes in all shapes and sizes. Coca-Cola's Santa, whom many in America try to emulate, is very round: round face, round nose, round stomach. The Santa imitated in Europe is a thinner man with more squared-off features.
Kliner said he sees Santa as more of a public figure than a role model. "I've never seen anybody aspire to become Santa Claus."
Changing Santa's iconic image would be hard, said Meg Cox, author of "The Book of New Family Traditions." Comfort and security come with seeing the same character year after year.
"We carry these traditions forward from our childhood," she said. "Some of us are pretty emotional about them. And yet I think there's nothing wrong with having a sense of play about it."
If you want Santa to be skinny, Cox said, make it happen: Tell your kids Santa is tired of eating cookies, and leave an apple out instead.
"Having your own take on Santa might be the ultimate personalized Christmas."
It's possible our culture is already changing. Santa races are becoming as much of a tradition as candy canes and Christmas lights. Kids are finding active video games under the tree alongside step counters and organic cookbooks for Mom or Dad.
10 healthy gifts that keep giving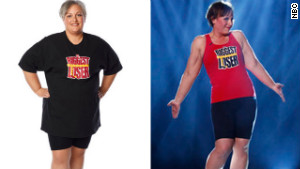 Chris Pickler lost 77 pounds on "The Biggest Loser," dropping to 163 pounds.
Pickler recently called a couple of companies he has contracts with and asked whether they were OK with a trim Santa.
"They both said, 'We want you just the way you are. Your idea of a healthy Santa is the one we want to go with.' "
Since "The Biggest Loser" finale, Pickler and his wife, Chris, have spoken to kids across the Midwest about nutrition and exercise. Pickler often walks in to schools dressed as Santa Claus and then takes off his suit, Superman-style, to reveal his new fit self.
In an upcoming documentary about Santas titled "They Wore a Red Suit," Pickler implores his colleagues around the country to get fit.
"We cannot use (our role) as an excuse, because it influences kids in the wrong direction," he said.
Maybe one day, instead of a belly that shakes like a bowl full of jelly, Santa will have a six-pack. Maybe his cheeks will glow not from the cold but because he's consuming the recommended doses of omega-3 fatty acids. Maybe Mrs. Claus will take up gardening. (Granted, that would be hard to do at the North Pole, but surely the elves can build a greenhouse or two.)
Eventually, in addition to being a role model for the Christmas spirit, our beloved St. Nick could become a healthy role model for kids.
Until then, save some cookies -- Santa Claus is comin' to town.
Lightbulb babies and fairytale castles: Your Christmas traditions