One week later, the nation remembers Sandy Hook
updated 11:07 AM EST, Fri December 21, 2012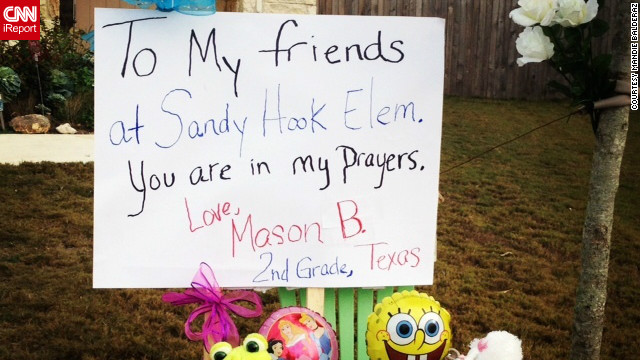 Mandie Balderaz's 8-year-old son was inspired to create his own memorial on his New Braunfels, Texas front lawn.
When Stephen Kales told his daughter the news, she went into her room and created these memorials.
Jennifer Wallace's son replaced his 12 birthday candles with 27 tea lights in honor of those lost in Newtown.
Ryan Emrich rearranged his house's Christmas lights to memorialize the 27 lives lost in Newtown.
Katie Ayala helped her son, Aaron, make a t-shirt to show his support for the victims. On the back of the shirt, they put a tree with Newtown's "core character attributes" they found on the school district's website, including "respect" and "caring". Aaron's first grade teacher, Mrs. Botino, died suddenly a few months ago and he was affected greatly by her loss, Ayala said. "When he learned of the Newtown tragedy, the first thing Aaron said to me was, 'Heaven must have needed teachers to take care of the of the children killed.' He then said, 'I wish they surrvived but Mrs. Botino will take care of them.'"
Donna Gusavitch took her two boys, ages 6 and 8, along with her friend's two boys, to Jones Beach in Wantagh, New York., to make a memorial for the victims. They picked out 20 angel ornaments for the children killed, along with seven doves for the adults. "We all held hands and we each said a prayer. My friend's 11-year-old son wrote 'Pray for these angels' in the sand. A piece of me died that Friday."
Megan Miller, a nanny in Alexandria, Virginia, was inspired by Ann Curry's online campaign to do 26 acts of kindness for each of the 20 children and six adults killed at Sandy Hook Elementary School. For her first act, she passed out candy to strangers in honor of Caroline Previdi. For her second, she is collecting thank-you notes for veterans and returning soldiers.
Mike Kirouac and his wife bought 27 flags they plan to place on their lawn every December 14.
Within an hour of hearing the news of the shooting, Deepthy Alias was moved to write a poem in tribute.
Shane Read is a graphic designer in Murfreesboro, Tennessee. As a father of two, he said he was moved to design this graphic showing that the spirit of America "is still here." He said: "I wanted to ... share it with everyone and give them a means to visually illustrate and share their love for Newtown and all those affected. Right now, it's a simple image on social media and it has been shared a humbling amount of times. It's doing its job for the 26 from Sandy Hook Elementary."
A second grader's prayers
A 9-year-old girl's condolences
Instead of birthday candles
Christmas light memorial
A first grader's t-shirt
Tribute on the beach
Notes for Noah
A promise to remember
A poem for the lost
'Wrapped in love'
STORY HIGHLIGHTS
Friday, December 21, marks one week since the Sandy Hook shooting
Many will pause at 9:30 a.m. when the shooting began
Moments of silence, website blackouts and other tributes are planned
(CNN) -- Since the deadly shootings last Friday at Sandy Hook Elementary in Newtown, Connecticut, family and friends of the victims have gathered to remember and bury loved ones.
At 9:30 a.m., the time the shootings started, people all over the United States and the world paused to honor the six educators and 20 children who were killed at the school.
Moment of silence
On Tuesday, Gov. Dannel Malloy declared that Friday would be a day of mourning in Connecticut. He also was among the first to call for a moment of silence in his state, and he called on other governors to do the same.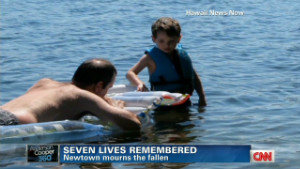 Father: Jesse died trying to save peers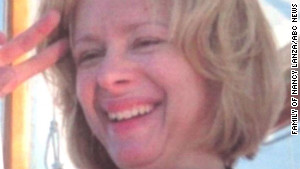 Lanza buried in undisclosed location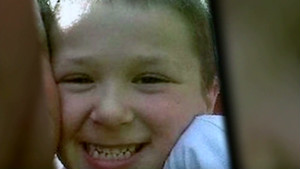 Father: My son was my best friend
After a news conference, state leaders across the country followed suit, including Gov. John Hickenlooper of Colorado. In many states, flags are flying at half-staff, and government activity came to a stop to honor the moment.
The New York Stock Exchange also started the day of trading by holding a moment of silence, marked by a single bell at 9:30 a.m. The standard opening bell followed one minute later at 9:31 a.m.
Online solidarity
Citizens also are taking it upon themselves to remember the tragedy. The social media savvy took to Twitter, Facebook and other platforms, using #momentforsandyhook to spread the word about the one-week tribute.
Some sites have gone a step further by holding a minute-long blackout on their pages. The campaign, called Web Goes Silent, provided a code that allowed websites to automatically go dark at 9:30 a.m., Friday, with a green ribbon in the foreground to mark the occasion.
Video game cease-fire
The gaming community is showing their support for the people of Newtown by putting down their controllers for the day. GamerFitNation called on gamers online to not play violent games for 24 hours starting at midnight. Instead, gamers participating are posting #OSCEASEFIRE on social media or their video game's online comment window to show solidarity.
Community solidarity
Towns and communities around the country are planning smaller tributes to stand with Newtown one week later. Many churches and places of worship rang bells 26 times at 9:30 a.m., once for each of the victims. One church in Newtown rang its bells 28 times, to include the victims, the shooter and his mother, Nancy Lanza.
Others planned to release 26 green and white balloons, the colors of Sandy Hook Elementary School. Many have written the names of the victims and attached messages to the balloons.
Support for the families of Sandy Hook Elementary and the Newtown community will continue to pour in even after the one-week commemoration.
To see how you can keep helping, visit Impact Your World.