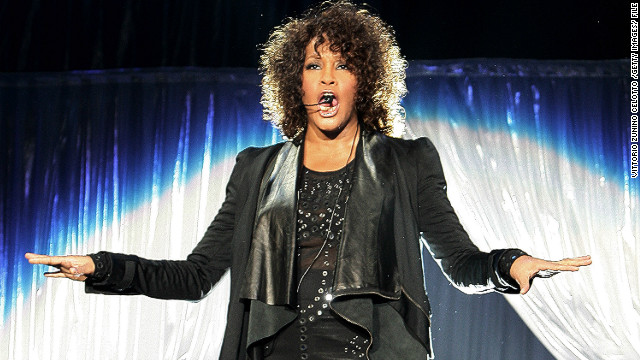 Highest trending Google search: Whitney Houston:
Whitney Houston,one of America's best-loved singers who died accidentally in the bath in February at the age of 48, was Google's top trending search of the year, according to Google Zeitgeist 2012.This means she had the highest number of searches over a sustained period this year compared with 2011.
Most retweeted: Barack Obama:
Barack Obama's tweet on winning the U.S. presidential election,
"Four More Years
," accompanied with a picture of him hugging his wife Michelle, was the year's most retweeted, according to Twitter. It was retweeted more than 810,000 times and made a favorite more than 300,000 times.
Highest trending event: Hurricane Sandy: Hurricane Sandy, which devastated parts of the Caribbean and East Coast of America in October, was the year's highest trending event among Google searches, according to Google Zeitgeist 2012. This picture show Seaside Heights, New Jersey, on October 31.
Highest trending athlete: Jeremy Lin: Houston Rockets star Jeremy Lin was Google's highest trending athlete of the year. Lin, one of a very few Asian Americans in the NBA, was virtually unknown before he burst on to the New York Knicks side early in 2012. "Linsanity," the name given to the fervor surrounding him, was the 10th most used meme on Facebook in the U.S this year.
Newcomer to Twitter: Pope Benedict:
Pope Benedict joined Twitter as
@ponitex
, sending his first tweet:
"Dear friends, I am pleased to get in touch with you through Twitter. Thank you for your generous response. I bless all of you from my heart"
on December 12. At the time of writing he has more than 1.2 million followers after only nine tweets.
Most U.S. Facebook check-ins: Times Square: Times Square in New York City had the most U.S. Facebook check-ins of 2012, according to Facebook Trends. More than three million people have used Facebook's check-in button to say they were there.
Biggest Twitter event: London Olympics: Twitter users produced 150 million tweets during the 16-day summer games in London. The opening and closing cermonies proved the most tweeted moments, with 116,000+ tweets being sent per minute during the the Spice Girls' performance. Jamaica's Usain Bolt was the most-discussed athlete -- his gold-medal win in the 200m sprint sparked 80,000 tweets per minute.
Most talked about movie: The Hunger Games:
"
The Hunger Games
" movie, based on the best-selling books by Suzanne Collins, was both the most talked about movie on Facebook in the U.S, with 8.3 million likes, and the highest trending movie on Google worldwide. "The Hunger Games" trilogy also occupied all top three spots on Facebook's most-read books list. This picture shows star Jennifer Lawrence at the movie premiere in Los Angeles in March. By
Catriona Davies
and
Matthew Ponsford
, CNN
Highest trending Google search: Whitney Houston
Most retweeted: Barack Obama
Highest trending event: Hurricane Sandy
Highest trending athlete: Jeremy Lin
Newcomer to Twitter: Pope Benedict
Most U.S Facebook check-ins: Times Square
Biggest Twitter event: London Olympics
Most talked about movie: The Hunger Games