STORY HIGHLIGHTS
Peter Schmeichel forecasts Borussia Dortmund to win the European Champions League
Schmeichel won the Champions League with Manchester United in 1999
The Dane says Barcelona can be stopped, as Chelsea proved last season
Schmeichel suggest Jose Mourinho can guide Real Madrid into the latter stages
(CNN) -- Former Manchester United goalkeeper Peter Schmeichel is backing Borussia Dortmund to cause a shock and win the European Champions League.
Schmeichel captained United to European club football's biggest prize in 1999 and believes Jurgen Klopp's German champions have the ability clinch Europe's premier competition.
"I'm looking at Dortmund this time," the Dane, who skippered United as they secured a dramatic 2-1 win over Bayern Munich 13 years ago, told CNN, ahead of Thursday's last -16 draw.
"They've surprised everyone; they've put everything they have into the Champions League.
"They're behind in the league, as champions, which is not great, but they play exciting football. I think they have one of the managers for the future; the big clubs will certainly try and get him."
Read: Messi commits his future to Barcelona
Klopp has led Dortmund to back-to-back German titles and guided the 1997 Champions League winners to the top of a group which contained Real Madrid, Manchester City and Ajax after failing to reach the knockout stages last season.
"I think we'll get a surprise this year and I'm leaning a little bit towards Dortmund," continued Schmeichel. "They play such a great game which fits the Champions League. Maybe we will have a surprise winner."
In addition to Dortmund, Schmeichel also talked up the chances of Spanish giants Real Madrid and Barcelona.
The Catalan side have won all but one of their Spanish League matches and, in Lionel Messi, possess a player who has scored a record 90 goals in 2012.
Blog: Is Barca's Vilanova coach of the year?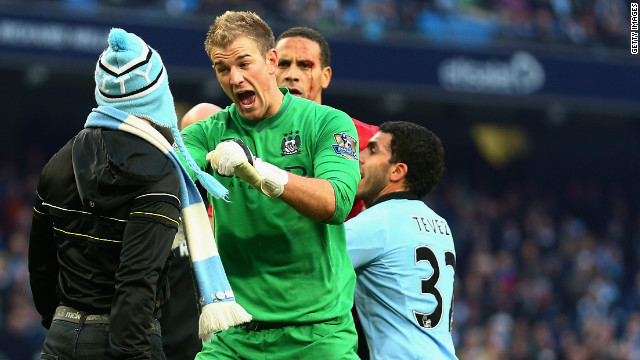 Manchester City goalkeeper Joe Hart of confronts a pitch invader at the end of his side's 3-2 derby defeat by Manchester United, whose defender Rio Ferdinand (at back) was left with a bloody face after being hit by a coin thrown from the crowd.
Police intervened to eject the invader, and the Greater Manchester force also announced after the match that another man was arrested inside City's Etihad Stadium on suspicion of chanting racist abuse.
The match was settled in the second minute of time added on by Manchester United's Dutch striker Robin Van Persie.
Manchester City midfielder Samir Nasri (left) diverted Van Persie's free kick past Hart as he backed off from his position in the defensive wall.
Wayne Rooney had put United 2-0 ahead inside half an hour, with the 27-year-old becoming the youngest player to score 150 goals in the English Premier League.
United should have gone 3-0 ahead just before the hour mark but Ashley Young's effort was ruled out in a marginal offside decision. City hit back immediately through midfielder Yaya Toure.
Pablo Zabaleta, right, fired an equalizer in the 86th minute to give second-placed City hope of extending a 21-game unbeaten league run that went back to last season's title-winning climax.
However, Van Persie's 11th EPL goal since signing from Arsenal for $38 million in August left City six points behind leaders United after 16 matches.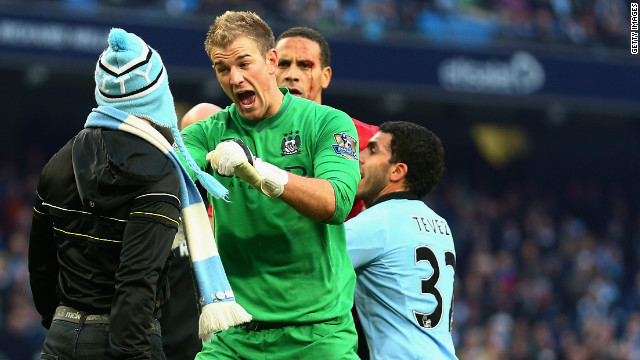 United edge fiery Manchester derby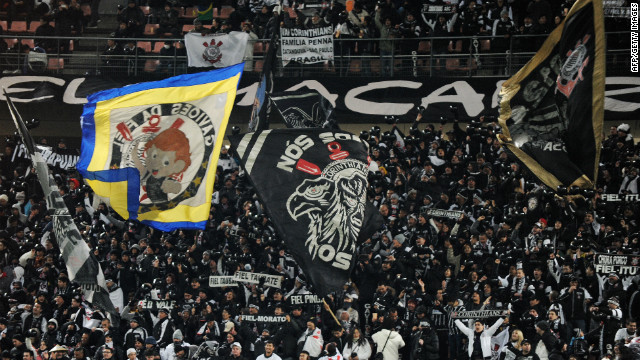 It is estimated 30,000 Corinthians fans are in Japan to support the Brazilian club in the Club World Cup.
Back in Sao Paulo, fans of the Brazilian club were determined to join in the celebrations after the Copa Libertadores winners reached the Club World Cup final with a 1-0 semifinal win over Al-Ahly.
"I'm conscious 30 million supporters need to be made happy," said Corinthians coach Tite ahead of the semifinal against Al-Ahly.
A Corinthians fans shows off his tattoo with the emblem of the team in Sao Paulo.
Some 15,000 Corinthians supporters waved banners, set off fireworks and blocked roads at Sao Paulo's main airport as the team set off for Japan.
Hundred of fans followed the team bus from the Corinthians training camp to the airport.
As well as the flags, banners and scarves, no Brazilian group of supporters would be complete without a drummer.
If you have made the trek to Japan to watch your club play in the Club World Cup it makes sense to watch the team at every available opportunity -- even at training sessions.
After the 1-0 semifinal win over Ah-Ahly, the Corinthians players applaud their travelling fans in the Toyota stadium
European teams have won the last five editions of the Club World Cup. But Corinthians, who are coached by Tite, go into Sunday's final with plenty of confidence given they were the first unbeaten winners of the Libertadores Cup since 1978.
Corinthians will play European Champions League winners Chelsea in Sunday's final. Chelsea reached the final after beating Mexican club Monterrey in Yokohama, with Juan Mata scoring the opening goal for the English Premier League side in a 3-1 win.
Paulinho -- full name Jose Paulo Bezerra Maciel Junior -- played in Europe for clubs in Lithuania and Poland as a teenager before returning home, where he made his name at Corinthians.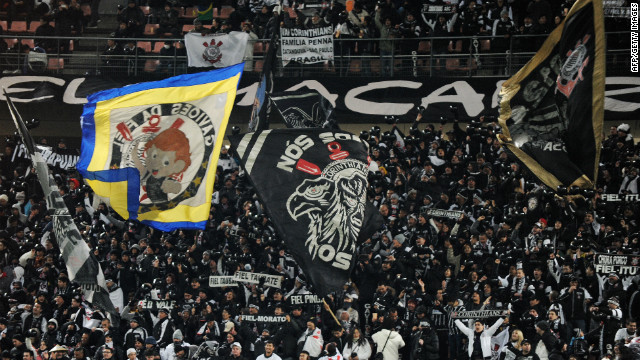 Craziest fans in the world?
However, Schmeichel suggested Barca's opponents could take heart from Chelsea's defeat of the four-time European champions at the semifinal stage last season.
"We know how to stop Barcelona now because we saw what Chelsea did," said the former Danish international keeper.
"It requires a little bit of luck and Chelsea had that, but I don't think you can beat Barcelona over two games without having played well.
"You could see the confusion of the Barca players -- they didn't have a plan B and I think you need to have that.
"You need to have more than one style of playing in the Champions League and I think that's why it is interesting to follow Barcelona -- how are they going to react now? But Barcelona will always be the team to beat."
By way of comparision, Schmeichel feels that Real Madrid have a coach in Jose Mourinho who can adapt a team to any situation.
Real have endured a torrid start to the La Liga season and sit 13 points off table-toppers Barca, but Schmeichel suggests Mourinho could be the man to lead Real to a much-coveted 10th European crown.
I think we'll get a surprise this year and I'm leaning a little bit towards Dortmund
Peter Schmeichel
"We've seen this with Mourinho when he was at Chelsea and Inter Milan," added Schmeichel.
"They are very, very hot and then they are cold. But when it comes to the Champions League and Mourinho, it is a guarantee they will be there or thereabouts because he's a master in that tournament.
"With Mourinho there is a plan B, a plan C, you can carry on. He can set his team up in so many different ways."
If United is the club which remains closest to Schmeichel's heart, the Dane argues manager Sir Alex Ferguson needs to find a quick solution to a defense which has shipped 30 goals in 23 league and Champions League matches.
"We have been defending terribly this year and even Alex is out there now publicly stating we have to improve," admitted Schmeichel. "Every game we have to score three goals to win the game, you're under too much pressure.
"Three goals is a lot to score in the Champions League, I'm not saying its impossible but at this stage of the competition, it is really tough. You have to stop conceding."
Schmeichel hopes the recent return of defender Nemanja Vidic, who has suffered an injury-ravaged 12 months, will help shore up United's shaky backline.
"He's basically been out for a year. He came back against Sunderland, it was great to see him there and we're all hoping he is going to be the player he was. We need him for his leadership, but we need him for his defending as well."