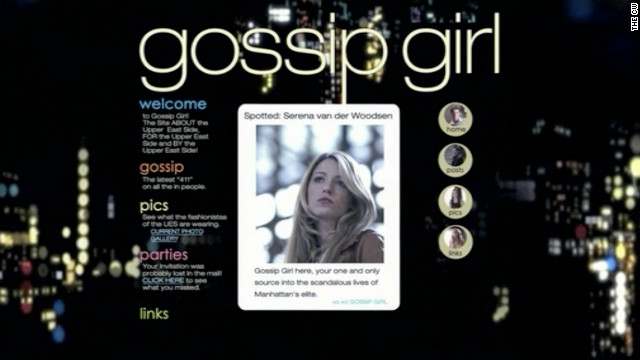 "Gossip Girl" is one TV show that's reveled in its status as a soapy drama, even capitalizing on its crazy plot twists
with a marketing campaign that said "OMFG."
Now that the CW series has ended its run after six seasons, we recount our favorite moments that definitely left our mouths forming an "O."
The series, which launched in 2007, centered on the return of semi-reformed party girl and high school student Serena van der Woodsen to Manhattan's Upper East Side. Among the secrets she was keeping was a dalliance with Nate Archibald, the boyfriend of her best friend, Blair Waldorf.
In the first season, Blair was the queen bee of the girls attending a ritzy private school, and Jenny Humphrey was the not-so-innocent striver from Brooklyn. The way "LIttle J" gamely handled Blair's increasingly adult challenges was a sign of things to come.
The pairing of Chuck Bass and Blair Waldorf helped "Gossip Girl" live up to its "OMG" hype, particularly their back-of-the-limo interaction at the end of the seventh episode.
After Serena picks up a pregnancy test for Blair, juicy gossip leaks out about the seemingly prim Blair -- she's been with both her boyfriend, Nate, and his best friend, Chuck. The news temporarily knocks Blair off her high school throne.
Georgina Sparks is the kind of insane yet hilarious character that can make any episode better. In the first season, she was revealed as a friend from Serena's past who was intimately acquainted with Serena's skeletons.
One of the series' best scenes involved a frighteningly tearful Serena as she admitted to an "OMG"-worthy secret near the end of the first season.
Nate, with his manbangs and relaxed sense of humor, was considered a catch for ladies of all ages. But our eyebrows were raised when he started sleeping with an older woman in exchange for keeping his bills paid.
The girls of Constance Billard School were deliciously cruel. Their antics -- such as when a "Nairtini" was thrown on a new student that Serena's ex-boyfriend was interested in -- never ceased to entertain.
Lives can be cut short early and often on a prime-time soap. When it came time to bid farewell to Chuck's cold father, Bart Bass, in the middle of the second season, we saw just how broken Chuck could be.
The inclusion of Cyrus Rose, played by Wallace Shawn, as the love interest and eventual husband of Blair's mother, Eleanor, kept us repeating his favorite saying -- "Not enough!"
When high school graduation rolled around at the end of season two, there was a valiant attempt to unmask the nosy, biting and stalkerish Gossip Girl. No such luck, as she (or he) was one step ahead.
Blair and Chuck went back and forth over whether they were or were not meant to be, and the saga finally paid off for fans at the end of the second season. Chuck returned the "three words, eight letters" that Blair had told him repeatedly: "I love you."
When Dan Humphrey's dad, Rufus, married Serena's mother, Lily, it added to the arc of our main characters and put a kink in the romance between Dan and his on-again, off-again girlfriend Serena. We were always tickled by how quickly Dan, Jenny and Rufus acquired a taste for the finer things in life during season three.
In a soon-to-be-forgotten plot development, it was revealed that Lily and Rufus had a secret son named Scott. As if making Serena and Dan step-siblings wasn't weird enough, the lovebirds also shared a half-brother.
As adorable as Hilary Duff was portraying Olivia, Dan's actress girlfriend at NYU, we squirmed when the show went for a threesome between Olivia, Dan and his longtime best friend, Vanessa Abrams.
After engaging in an affair with a married politician -- who also just happened to be related to her friend and future boyfriend Nate -- Serena got into a horrible car accident, the kind of incident that happened with regularity on this show.
A big part of Chuck's character was his belief -- passed down by his father, Bart -- that he'd killed his mother in childbirth. However, right around the anniversary of his father's death, a mysterious woman appeared, claiming to be the mother he'd been longing for.
The only problem is that Chuck's fake "mother" was actually in cahoots with Chuck's creep of an uncle, Jack Bass, to take away Chuck's prized possession: his hotel.
In a show that's had its fair share of questionable plots and controversial incidents, Chuck's willingness to let Blair spend the night with his uncle in exchange for his hotel property -- and Blair's own willingness to do it unbeknownst to Chuck -- was a stomach-turning low point of season three.
We can't be the only ones who knew bad behavior wasn't far off when Dr. William van der Woodsen, Serena's estranged father whom she'd been trying to track down, finally made his appearance as the show headed toward its third season finale.
Jenny Humphrey didn't forget about Chuck Bass' rape attempt in the pilot episode, so we were flabbergasted when these two wound up in bed together -- and just as Chuck was planning to propose to Blair, no less.
Georgina pulled the ultimate cliffhanger at the end of season three when she showed up at Dan's home proclaiming that she was carrying his child.
In an explosive season three finale, viewers saw Chuck get shot in a robbery -- only to see him return and face a resplendent Blair in the early episodes of the fourth season. Gotta love the way "Gossip Girl" can bring back a character.
We kept an eye on Blair and Dan's developing friendship over the course of season four, but we weren't quite expecting to see their bond turn romantic.
Working on "Gossip Girl" must have felt meta for Kaylee DeFer, considering that she portrayed an actress who was hired to impersonate Serena's cousin Charlie.
All of her practicing in the hallways of Constance Billard paid off when Blair married Prince Louis of Monaco, but it was still surprising that she actually went through with the wedding in season five.
Although someone was buried back in season two, it wasn't really Chuck Bass' father, Bart. The NYC business titan faked his death, only to return near the end of the fifth season and refresh his rivalry with his son.
At the conclusion of season five, Serena was in a dismal place and seemed to return to her old habits. So when "Gossip Girl" returned for its sixth and final season, we were introduced to the "new" Serena -- who'd been living off the grid with a new beau and calling herself "Sabrina."
We started to feel the teensiest bit sorry for Chuck's dear old dad, who'd just been brought back to life only to be killed off once again as season six wrapped up.
The whirlwind sixth season of "Gossip Girl" fittingly concluded with the identity of the anonymous "Gossip Girl" blogger finally being revealed.
Chuck and Blair's relationship, as Blair's maid Dorota aptly said in the series finale, has had a lot of ups and downs and is nearly too complicated to explain. At least fans got the payoff of Chuck and Blair tying the knot -- albeit not in the most conventional way.
'Gossip Girl's' 'OMG' moments
Serena returns with a Nate Archibald-sized secret
Little J takes the dare
Chuck meets a new side of Blair
The pregnancy test fail
Meeting Georgina
Serena did what?
Cougar bait Nate
The Nairtini
The Bass-ly departed
The great Cyrus Rose
Meeting 'Gossip Girl' ... or not
Three words, eight letters ... finally
Lily becomes a Humphrey
The brother from Boston
The threesome that shouldn't have happened
Serena gets taken for a ride
Chuck's mother rises from the dead ... sort of
The mother-lode of betrayal
The biggest regret
The deceitful dad
Little J sleeps with the enemy
Dan becomes a dad (in spirit)
Chuck Bass, back from the brink
Blair goes for Lonely Boy
The Charlie/Ivy mystery
Blair becomes a royal
Bart Bass returns
Serena's identity crisis
Bart Bass dies ... again
'Gossip Girl's' big reveal
Blair and Chuck tie the knot