STORY HIGHLIGHTS
Fan group states opposition to Russian club Zenit St Petersburg signing black players
Group says "we see the absence of black players at Zenit as an important tradition"
Zenit say they have been distinguished by their tolerant approach to diversity
Zenit spent millions on black players Hulk and Axel Witsel back in September
(CNN) -- A group of fans who support Russian soccer giant Zenit St Petersburg has unveiled a manifesto urging the club not to sign black players.
The Landscrona group posted the "Selection 12 manifesto" on its website Monday, prompting the club to issue its own statement to CNN emphasizing its policy of diversity and tolerance.
Zenit spent a reported $103 million on black players Hulk, from Brazil, and Belgium international Axel Witsel in September.
The Brazilian striker's arrival has caused problems within the squad, with Zenit captain Igor Denisov dropped to the reserve team after complaining about Hulk's arrival and the wages he commands.
Racism row shines light on Serbian football
In a detailed letter on its website, Landscrona stated their opposition to Zenit signing any players who are black or gay.
"We're not racists but we see the absence of black players at Zenit as an important tradition." the letter said. "We are against representatives of sexual minorities playing for Zenit.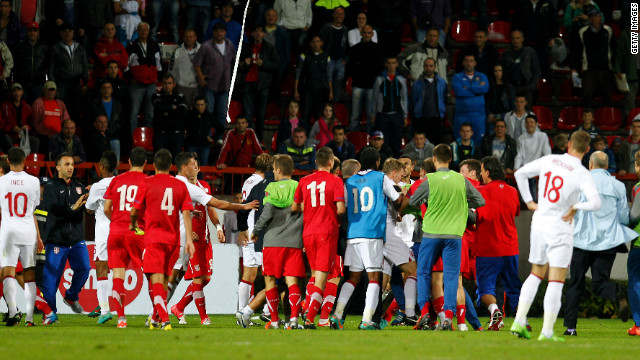 England midfielder Danny Rose claims he was subjected to monkey chants before, during and after the second-leg of their Under-21 Euro 2013 playoff match against Serbia on Tuesday, and had stones thrown at him by the crowd in Krusevac. Fans also ran on to the pitch and scuffles broke out after a 1-0 win secured England qualification for Euro 2013.
The Macedonia FA were fined $26,000 after fans racially abused England trio Ashley Cole, Sol Campbell and Emile Heskey during a qualifying game for Euro 2004.
In September 2011, Bulgaria were fined $55,000 after a small number of fans directed monkey chants at England's Ashley Young, Cole and Theo Walcott during a Euro 2012 qualifier in Sofia.
Russia was hit with a $38,000 punishment after supporters made monkey noises towards Czech Republic defender Theodor Gebre Selassie during Euro 2012
The Croatian FA were ordered to pay a $16,000 fine after their fans were found guilty of "displaying a racist banner and showing racist conduct during the Euro 2008 quarter-final tie against Turkey.
Russia were again in the news for the wrong reasons at Euro 2012 and were fined $39,00 for "the setting off and throwing of fireworks by Russia spectators, displaying of illicit banners and the invasion of the pitch by a supporter," during the Euro 2012 tie against Poland. Russia was also fined $155,000 after clashes between supporters and police during and after their game against the Czech Republic.
Denmark's Nicklas Bendtner was given a one-match ban and a $126,000 fine after he lifted his shirt to reveal a betting company's logo on his underwear while celebrating a goal against Portugal in a Euro 2012 group game.
Porto were hit by a $27,000 fine after their fans were found guilty of subjecting Manchester City forward Mario Balotelli to monkey chants during a Europa League game in February 2012. It took UEFA six weeks to finally hand out a punishment. But questions were raised after UEFA also fined City $40,000 after the club were found guilty of coming back out on to the field of play late after the halftime interval.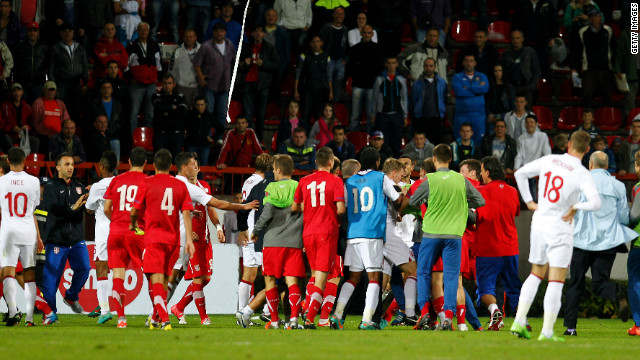 Soccer racism in Eastern Europe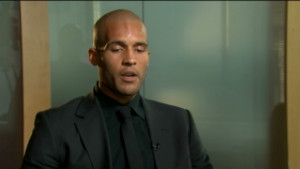 PFA chairman: Serbia should be banned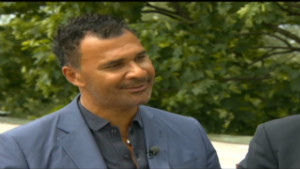 Ruud Gullit: Euros will confront racism
"For us it is crucial (Zenit) has retained its own identity, and not turned into an average European team, with a standard set of foreign players.
"We only want players from other brotherly Slav nations, such as Ukraine and Belarus as well as from the Baltic states and Scandinavia. We have the same mentality and historical and cultural background as these nations.
"Any other continents except Europe, should not be a priority for (Zenit). This does not mean that it is a taboo. But flying to Latin America only makes sense if we honestly and professionally tried everything possible to find a player in the region, Russia and Europe."
Russian soccer has been troubled by incidents of racism in recent years, with former Brazil player Roberto Carlos being abused while playing for Anzhi Makhachkala. The defender asked to be substituted in a game in 2011 after picking up a banana that was thrown at him from the stands.
The media attention given to Landscrona's letter comes as Russia continues its preparations to host the 2018 World Cup.
Zenit responded with a statement, sent to CNN World Sport, stating the club does not "support archaic values."
It read: "FC Zenit has always been distinguished by its tolerant approach to players of various nationalities and confessions, and has always had diversity in its side.
Football grapples with anti-Semitism storm
"Furthermore, our club has millions of fans from all continents of the world. St. Petersburg is an open city which historically has united various cultures.
"Zenit invites players to the team exclusively thanks to their sporting qualities and achievements, not based on their nationality or skin color. The club's policy is aimed at development and integration into the world football community. We do not support archaic values.
"We continue to be sure that fighting all manifestations of intolerance is the only principle for development of our club, football, and sports as a whole in the world."
It is the latest racism controversy to blight European football in recent months.
Italian club Lazio was fined $52,000 by UEFA following racist chanting by its supporters during the Europa League fixture with Tottenham in September.
The Serbian Football Association was fined $105,000 following an Under-21 match in which opposing players from the England team said they were racially abused.
Meanwhile, In the English Premier League West Ham vowed to ban for life any fans found guilty of anti-Semitic chanting during their match at Tottenham in November.