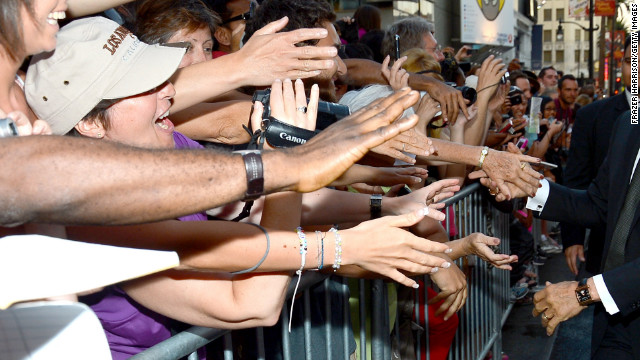 Earlier this month, we asked CNN's readers to vote for what they loved the most in entertainment this year, and also what they'd rather see stay in 2012. The results are in, so stay tuned for a new list to be revealed each day starting December 17. Thanks to all who voted!
From the Carly Rae Jepsen earworm "Call Me Maybe" to fun.'s "We Are Young," 2012 boasts a plethora of catchy tunes. To get an idea of which songs stood out the most for our readers, we asked them to choose their 10 favorites from a list of 20 hits. Though some of these tracks made their debut before the start of the year, they didn't quite peak until after the ball dropped. Here are the results:
No. 10 on the list is One Direction's "What Makes You Beautiful." The track is the first single off the English-Irish boy band's debut studio album, "Up All Night." Their second studio album, "Take Me Home," was released in November 2012.
"Ho Hey," the first single off The Lumineers' self-titled debut album, was released in June. It has spent 27 weeks on Billboard's Hot 100, peaking at No. 4; and it's currently the No. 1 tune on Billboard's Rock Songs chart.
most-watched YouTube video
of all time in November. Psy recently
apologized
for rapping anti-American lyrics during a 2004 performance that surfaced on CNN's iReport, among other outlets.
South Korean artist Psy's "Gangnam Style" music video became the
"We Are Never Ever Getting Back Together" is the first single off Taylor Swift's "Red," which was released in October. The tune is the country-pop princess's
first to hit No. 1 on the Billboard Hot 100
; it also earned Swift a
Grammy nod
for record of the year.
"American Idol" winner Phillip Phillips' song "Home" is another 2012 reader favorite. "Home" is the Georgia native's debut single and coronation song from the reality show's 11th season.
performed the song
at the 2012 MTV Video Music Awards in September with help from some dancing lips.
Pink released "Blow Me (One Last Kiss)," the first single off her sixth studio album, "The Truth About Love," in July. She
The newly engaged Kelly Clarkson's single "Stronger (What Doesn't Kill You)" was released in January. It's the artist's third single to reach No. 1 on the Billboard Hot 100, following "A Moment Like This" and "My Life Would Suck Without You."
"We Are Young," which spent six weeks at No. 1 on the Billboard Hot 100, is the first single off fun.'s second studio album, "Some Nights." The indie band, made up of Nate Ruess, Andrew Dost and Jack Antonoff, was recently
Carly Rae Jepsen's "Call Me Maybe" spent nine weeks at No. 1 on the Billboard Hot 100. The single became an earworm in the United States shortly after
Justin Bieber and friends
uploaded their homemade music video featuring the tune on YouTube.
"Somebody That I Used to Know" spent eight weeks at No. 1 on the Billboard Hot 100. Gotye's track, which features New Zealand singer-songwriter Kimbra, debuted in the summer of 2011 on his third studio album, "Making Mirrors." The Belgian-Australian artist's real name is Wouter "Wally" De Backer.
Much has been said about sluggish box office weekends this year, but there's no denying that we had an abundance of great movies to choose from. To get an idea of which films stood out the most for our readers, we asked them to choose their favorite 10 pictures out of a mix of 20 major releases that arrived in theaters between January and December 7, 2012. Here are the results:
The final installment of "The Twilight Saga" isn't a surprising entry on the list, but what might surprise you is how close it came to getting knocked off entirely. "Breaking Dawn -- Part 2" just barely edged out "The Amazing Spider-Man" to make it to No. 10 on our list.
People magazine's sexiest man
. We saw the writing on the wall after this comedy with Jonah Hill arrived, and called
2012 a standout year for the actor.
Of the three films Channing Tatum, left, starred in this year, "21 Jump Street" was widely received as a defining moment for the 32-year-old star, who's since been named
Disney/Pixar's summer animated feature "Brave" was on trend with a strong heroine at the center of its story in addition to featuring oh-so-hot archery. The movie
The positive buzz was huge for "Argo" and actor/director Ben Affleck, right, after his success with "The Town." "Argo" still stands out among December's heavy hitters, as it hasn't been forgotten by the SAG or Golden Globe Awards.
What Steven Spielberg's "Lincoln" has lacked in box office receipts it's made up for in critical praise. The lengthy examination of Abraham Lincoln's presidency and his pivotal push to end slavery and the Civil War is considered one of the best films of the year.
With the "Harry Potter" and "Twilight" franchises in our rearview,
The release of the 23rd James Bond film, "Skyfall," just happened to coincide with
The final installment of Christopher Nolan's Batman trilogy, "The Dark Knight Rises," was
"The Avengers'" box office
reign after it opened in May, you knew it had to show up on a public-voted "best" list. It's the highest-grossing film this year, according to
BoxOfficeMojo.com
, earning $623 million domestically to date.
The sequel is on its way.
No surprise here: If you paid any attention at all to
Readers Favorites 2012: The results
Readers' Favorites: Top 10 songs of 2012
No. 10: 'What Makes You Beautiful'
No. 9: 'Ho Hey'
No. 8: 'Gangnam Style'
No. 7: 'We Are Never Ever Getting Back Together'
No. 6: 'Home'
No. 5: 'Blow Me (One Last Kiss)'
No. 4: 'Stronger (What Doesn't Kill You)'
No. 3: 'We Are Young'
No. 2: 'Call Me Maybe'
No. 1: 'Somebody That I Used to Know'
Readers' Favorites: Top 10 movies of 2012
No. 10: 'The Twilight Saga: Breaking Dawn -- Part 2'
No. 9: '21 Jump Street'
No. 8: 'Brave'
No. 7: 'Ted'
No. 6: 'Argo'
No. 5: 'Lincoln'
No. 4: 'The Hunger Games'
No. 3: 'Skyfall'
No. 2: 'The Dark Knight Rises'
No. 1: 'The Avengers'