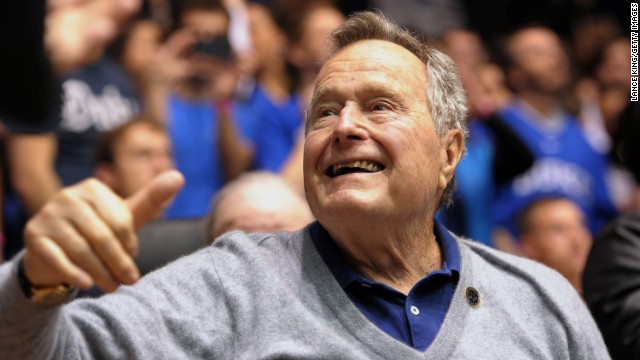 Former President George H.W. Bush attends a college basketball game between North Carolina State and Duke in Durham, North Carolina, on January 18. Bush celebrated his 90th birthday on Thursday, June 12. Click through the images to see Bush's life in pictures.
Bush is pictured with his sister, Mercy, in 1929. He was born June 12, 1924, in Milton, Massachusetts.
After serving as a U.S. Navy pilot in World War II, Bush attended Yale University and played baseball from 1945-48.
Before he entered politics in 1964, Bush made a fortune drilling oil in Texas. He created the Zapata Offshore Co., which introduced a new era in the drilling industry.
Bush is pictured with his wife, Barbara, during his first campaign for Congress. He represented Texas' 7th District from 1966-70, and he was appointed to the tax-writing Ways and Means Committee.
Bush sits with members of his family in 1971. That year, President Richard Nixon appointed Bush ambassador to the United Nations.
Under President Gerald Ford, Bush served as the chief liaison to China in 1975. Here, Bush greets well-wishers in Beijing.
Bush was Ronald Reagan's vice president from 1981 to 1989.
Bush and Indiana Sen. Dan Quayle accepted the Republican Party's nominations for president and vice president in August 1988. During his speech, Bush first uttered the memorable line, "Read my lips: No new taxes."
President-elect Bush meets with civil rights leader Jesse Jackson at the White House in November 1988. He once called Jackson a "loose cannon."
Bush was sworn into office as the 41st President of the United States on January 20, 1989. First lady Barbara Bush holds the Bible for her husband while Chief Justice William Rehnquist administers the oath of office.
Bush hosted Nelson Mandela, South Africa's anti-apartheid leader and future President, at the White House in June 1990.
Bush holds a White House news conference in August 1990 during the run-up to war with Iraq.
Bush visits American troops in Saudi Arabia on Thanksgiving Day in 1990.
Bush and Quayle join hands at the August 1992 Republican convention in Houston. They are joined by their wives, Marilyn Quayle and first lady Barbara Bush.
Bush checks his watch during the 1992 presidential debate with Ross Perot, right, and Bill Clinton. The memorable moment was interpreted as the President being out of touch.
In November 1997, Bush speaks at the dedication of his presidential library at Texas A&M University.
Bush watches election returns with his son, George W. Bush, in Austin, Texas, on November 7, 2000. George W. Bush went on to win the presidential election over Democrat Al Gore, but only after a lengthy recount.
Celebrating his 80th birthday in 2004, Bush performed two jumps with the Army Golden Knights over the Bush Presidential Library.
President George W. Bush appointed his father and former President Bill Clinton to lead fundraising efforts for victims of Hurricane Katrina in September 2005.
At the christening ceremony of the USS George H.W. Bush in 2009, the 41st President poses for a picture with two of his sons: former President George W. Bush and former Florida Gov. Jeb Bush.
President Barack Obama presents Bush with the 2010 Medal of Freedom at the White House in February 2011.
Bush and Clinton attend the Points of Light Institute Tribute in 2011.
Bush wears socks featuring the American flag at the dedication ceremony for his son's presidential library in Dallas, Texas, in April 2013.
Bush floats to the ground Thursday, June 12, during a tandem parachute jump near his home in Kennebunkport, Maine. Bush was strapped to Mike Elliott, a retired member of the Army's Golden Knights parachute team, as he made the jump to celebrate his 90th birthday.
George H.W. Bush
George H.W. Bush
George H.W. Bush
George H.W. Bush
George H.W. Bush
George H.W. Bush
George H.W. Bush
George H.W. Bush
George H.W. Bush
George H.W. Bush
George H.W. Bush
George H.W. Bush
George H.W. Bush
George H.W. Bush
George H.W. Bush
George H.W. Bush
George H.W. Bush
George H.W. Bush
George H.W. Bush
George H.W. Bush
George H.W. Bush
George H.W. Bush
George H.W. Bush
George H.W. Bush
George H.W. Bush
(CNN) -- Here's a look at the life of George H.W. Bush, the 41st president of the United States.
Personal Birth date: June 12, 1924
Birth place: Milton, Massachusetts
Birth name: George Herbert Walker Bush
Father: Prescott Bush, investment banker and senator
Mother: Dorothy (Walker) Bush
Marriage: Barbara (Pierce) Bush (January 6, 1945-present)
Children: Dorothy, August 18, 1959; Marvin, October 22, 1956; Neil, January 22, 1955; John (Jeb) February 11, 1953; Pauline (Robin), December 20, 1949 - October 1953 (died of leukemia); George, July 6, 1946
Education: Yale University, B.A., 1948
Military service: U.S. Navy, 1942-1945, Lieutenant Junior Grade
Religion: Episcopalian
Other Facts: Bush was the first sitting vice president to be elected president since Martin van Buren in 1836.
He is the second U. S. president, after John Adams, to be the father of a U.S. president.
Flew 58 combat missions for the Navy during World War II and was awarded three Air Medals and the Distinguished Flying Cross.
Has a form of Parkinson's disease.
His nickname since childhood had been Poppy, and that's how he was known at Yale -- especially as a baseball player.
Timeline June 1943 - Becomes the youngest pilot in the Navy at the time, after earning his commission and wings.
late 1940s - Captain of the Yale University baseball team and played in the first two College World Series in 1947 and 1948.
1951 - Establishes the Bush-Overbey Oil Development Co. with John Overbey.
1953 - Forms Zapata Petroleum with William and Hugh Liedtke.
1964 - Runs unsuccessfully for the U.S. Senate.
1967-1971 - U.S. Representative from Texas' 7th District.
1971-1972 - Ambassador to the United Nations.
1973-1974 - Chairman of the Republican National Committee.
1974-1975 - Serves as chief of the United States Liaison Office in China.
January 1976-January 1977 - Director of the CIA.
1980 - Runs for president, but loses his party's nomination to Ronald Reagan.
January 20, 1981 - Is sworn in as vice-president of the United States.
July 13, 1985 - Acting president for nearly eight hours while President Reagan undergoes surgery.
November 8, 1988 - Elected 41st president of the United States, with 53.1% of the popular vote and 426 electoral votes.
January 20, 1989 - Sworn in as 41st president of the United States.
December 1989 - Sends American troops to Panama (Operation Just Cause).
August 2, 1990 - Iraq invades Kuwait.
August 7, 1990 - Operation Desert Shield begins.
January 16, 1991 - Operation Desert Storm begins.
February 27, 1991 - Declares victory in Iraq.
November 3, 1992 - Loses the presidential election to Bill Clinton.
December 24, 1992 - Pardons six government officials who had been implicated in the Iran-Contra affair.
January 3, 1993 - Signs the second Strategic Arms Reduction Treaty (START-II) with Russia.
June 9, 1999 - Celebrates his 75th birthday by skydiving. He celebrates his 80th and 85th birthdays the same way.
February 19-21, 2005 - Tours areas in southeast Asia damaged by a tsunami with former President Bill Clinton.
September 1, 2005 - After Hurricane Katrina, Bush and Clinton form the Bush-Clinton Katrina Fund.
January 10, 2009 - The USS George H. W. Bush aircraft carrier is commissioned.
February 15, 2011 - Receives the Presidential Medal of Freedom.
November 17-19, 2012 - Hospitalized due to bronchitis.
November 23, 2012 - Is re-admitted to the hospital following treatment for bronchitis.
January 14, 2013 - Is released from the hospital after almost two months of treatment for bronchitis.
July 2013 - Shaves his head in solidarity with a leukemia victim, the son of a member of his Secret Service detail.
2013 - Attends the same-sex wedding of Bonnie Clement and Helen Thorgalsen in Kennebunkport, Maine, and signs the marriage license as a witness.
November 2013 - The National College Baseball Foundation announces their Hall of Fame museum will be named after the 41st president.
April 2014 - Receives the John F. Kennedy Library foundation Profiles in Courage Award
June 12, 2014 - Celebrates his 90th birthday with a parachute jump as he did for his 75th, 80th and 85th birthdays.
November 11, 2014 - "41: A Portrait of My Father," a biography written by George W. Bush, is released during a special ceremony and discussion session at the George H. W. Bush Presidential Library at Texas A&M University in College Station.