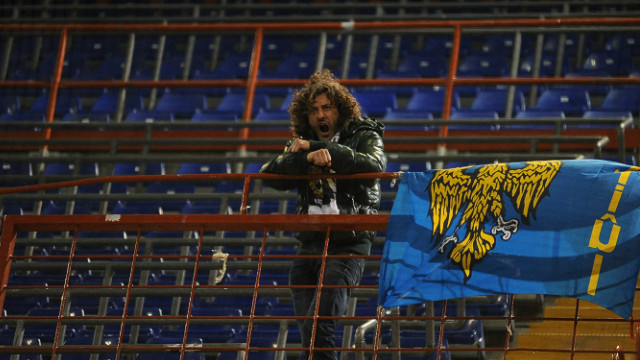 Arrigo Brovedani was the only Udinese supporter in a crowd of 15,000 at an Italian Serie A match away to Sampdoria.
Udinese captain Antonio Di Natale salutes the sole traveling fan after the match, having scored in his team's 2-0 win at Stadio Luigi Ferraris in Genoa.
Udinese, one of Italy's leading club's last season, has an average home attendance of around 18,000 -- but attracts far fewer fans to its away games.
Lone voice
Thanks for coming!
Home and away
STORY HIGHLIGHTS
Story of Italian soccer club's lone supporter sweeps the internet
Arrigo Brovedani was outnumbered by 15,000 Sampdoria fans on Monday
The 37-year-old says he didn't expect to be the only Udinese fan present
He says he has been besieged by media requests, including an invite to England
(CNN) -- He might have walked alone in a crowd of 15,000 fans, but for one Italian soccer fan that lonely experience has resulted in internet stardom.
The unusual story of Arrigo Brovedani, who was the only Udinese supporter to turn up to the club's top-level away game earlier this week, has swept around the world.
"I feel a little overwhelmed, I don't think I deserve all this attention!" the 37-year-old told CNN on Thursday.
Brovedani has had a memorable few days. He went to Sampdoria's stadium in Genoa on Monday evening expecting few fellow Udinese fans -- but he didn't expect to be the only one.
A wine seller, he had been in the city on business, having started the four-hour drive from the northeastern city of Udine that morning.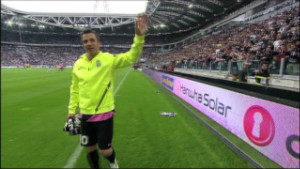 Del Piero's Juventus love affair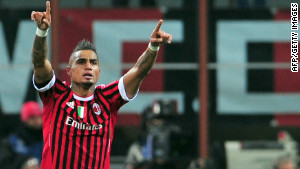 Can AC Milan rebuild this season?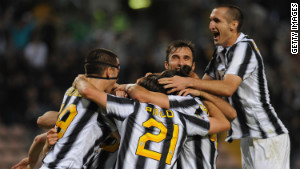 How Juventus won the Italian title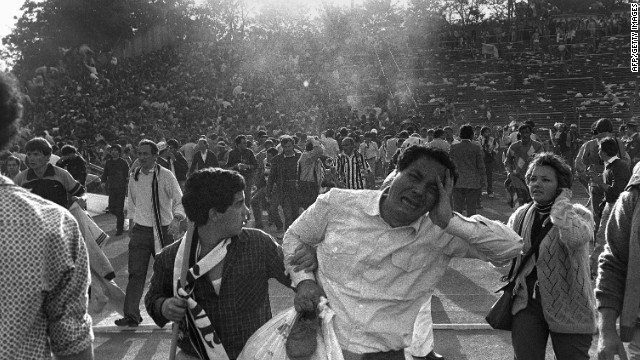 In the space of four years in the 1980s, a total of 191 people died in three stadium disasters at Bradford, Heysel and Hillsborough.
Thirty-nine fans -- 32 from Italy, four from Belgium, two from France, one from Northern Ireland, the youngest just 11 years old -- were killed in a stampede before the European Cup final between Liverpool and Juventus at the Heysel Stadium in May 1985.
In the decade before Heysel there had been a history of trouble surrounding English supporters at European matches on the continent, notably Tottenham Hotspur in Rotterdam in 1974 and 1983, Leeds United in Paris in 1975 and Manchester United in Saint-Etienne in 1977. Violence had also ominously flared between English and Italian supporters when Liverpool played Roma in the 1984 European Cup final in Italy's capital. Liverpool won the game on penalties.
Sixty-five years after its construction in 1920, Heysel was crumbling. The outer wall was made of cinder block, and fans who didn't have tickets were seen kicking holes in it to get in. Heysel's Sector Z terrace had grass poking through the crumbling concrete while flimsy wire-netting separated the Liverpool and Juve fans.
Michel Platini, who is now UEFA president, scored Juve's winning goal in a 1-0 victory, though he was criticized at the time for celebrating. "On that far away spring day I was a player who had not yet turned 30, happy go lucky, like many supporters who on that day made it to Brussels for the love of Juve and who unfortunately never returned, having been ripped away from their loved ones that cursed night," the Frenchman said in 2010.
"For me that cup will always be covered in death," wrote Juve defender Antonio Cabrini in his autobiography. "The cup of death."
Heysel is a story of "incompetence, violence, cover-up, shame and lies," writes British historian John Foot -- the author of the authoritative history of Italian football "Calcio."
"I'm happy that sometimes there is someone who remembers the tragedy," Rosalina Vannini Gonnelli told CNN. "Many years have passed. People had forgotten soon after it happened, so now there's no way. The 39 angels will always be in the memories of their loved ones."
"Whenever I think of Heysel, the first image that springs to mind is the expression on Joe Fagan's face as the terrifying scenes of crowd violence escalated to the point where the game that had been his whole life no longer meant anything. At the end, he looked a broken man," wrote former Liverpool defender Alan Hansen of the club's manager in his autobiography "A Matter of Opinion."
Liverpool met Juventus in a competitive match for the first time since that fateful day in 2005's Champions League quarterfinal tie. Liverpool won 2-1 on aggregate and went on to to win the European Cup after beating AC MIlan on penalties in Istanbul.
Striker Ian Rush, right, spent one season at Juve in 1987-88 between two spells at Liverpool. Before the first leg of the 2005 quarterfinal at Anfield, Liverpool supporters held up a mosaic to form the word "Amicizia" (friendship). Some of the visiting Juve fans applauded, but many turned their backs in disgust. There is also a Heysel memorial plaque at Liverpool's Anfield Stadium.
Juventus officials insist the Serie A club has never forgotten the victims of the Heysel disaster. "The families of the victims are always welcome at the club, the museum and the stadium -- for free," said a Juve spokeswoman.
Former Juve defender Fabio Cannavaro attended a memorial ceremony for the victims of the Heysel stadium disaster prior to a friendly international between Italy and Mexico in Brussels on June 3, 2010 -- the 25th anniversary of the tragedy.
A decade after the Heysel disaster the ground was rebuilt and renamed the King Baudouin Stadium.The new ground had a plaque dedicated to the disaster, though it had no names of the victims, before, in 2005, a monument that did include the 39 victims' names was unveiled.
Former Juve striker Alessandro del Piero this year told Italian newspaper Gazzetta Dello Sport that Liverpool made an approach to him while he was in discussions with Sydney FC but he "thought about what happened at Heysel" before opting for a move to Australia. "Liverpool have worked hard to mend their relationship, but for a lot of people it's something that can never be forgotten," added Del Piero.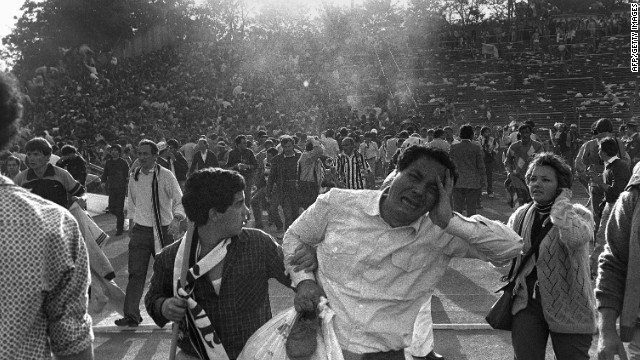 The Heysel stadium disaster
"When I travel to away matches, there's about 200 or 80 of us but on Monday, because of the time of the game and the location I thought I wouldn't find more than five or six people there," he said.
"When I got there I found out I was the only one. I understand that it's cold now, it's a long drive plus, the economic crisis doesn't help, so people are not moving en masse as you would expect. I was lucky because I'm used to traveling and just happened to be in the area."
The stewards at Stadio Luigi Ferraris gave him the option of sitting in the main stand, but Brovedani chose the deserted away end.
Liverpool squeeze into Europe League knockout stages
"The home fans started booing, shouting and insulting ... the usual," he said. "But when I saw that the Udinese players were warming up I shouted out to them saying, 'Guys, I'm all alone here. Alone! You can hear me now but you won't be able to hear me once the game starts!'
"When the home fans eventually understood what was happening, they gave me a huge round of applause. They were cheering even though Sampdoria lost the game in the end. They were actually really nice -- they offered me food and coffee and the club manager gave me a shirt, which was nice."
Brovedani has since been swamped with media requests as the popularity of his story grew.
He said he has been invited to a Premier League game in England by broadcaster the BBC, Udinese officials have asked him to come to the club's next home match and Italian TV stations "keep calling me."
"I don't think it's that big a story -- there are so many keen fans that really never miss a game, so I'm sure I'm not the first one!" he said.
Udinese, which last season finished third in Serie A to qualify for the preliminary rounds of Europe's top club competition this term, has an average home attendance of 18,000.
Monday's 2-0 win at Sampdoria lifted the team into the top half of the table, with captain Antonio Di Natale among the scorers. He personifies the fierce loyalty the club inspires, refusing lucrative offers to join bigger sides.
Brovedani, meanwhile, is happy to support anything from his home region.
"I'm not a representative of the Udinese fan club, I'm just passionate about all things that my region has to offer -- from sports to food and everything inbetween," said Brovedani, who hails from the town of Spilimbergo.
"I've been a Udinese fan for years, since I was a little boy. Udinese represents my region: if you come from Friuli, you have to be a Udinese fan.
"I always carry a flag and my scarf with me in the car. Whenever there is a sporting event that involves people from my region I just go along, because I'm very proud of my origins."
The supporters of English club Liverpool traditionally sing the anthem "You'll never walk alone" -- and from now on it can apply to at least one Italian fan.
A new 'dark age' for English football?