John McAfee says he faked heart attack to avoid deportation to Belize
updated 8:54 PM EST, Thu December 13, 2012
STORY HIGHLIGHTS
NEW: Belize authorities want to talk to McAfee, a spokesman says
He's been on the run since his Belize neighbor was found dead November 11
McAfee has said Belize authorities are corrupt and have been trying to get him
After being on the run and in immigration detention, he arrived in Miami on Wednesday
(CNN) -- American technology pioneer John McAfee said he faked a heart attack while detained in Guatemala to buy time for his attorney to file a series of appeals that ultimately prevented his deportation to Belize, hastening the government's decision to send him back to the United States.
After weeks on the run and days in immigration detention, McAfee arrived in Miami on Wednesday.
He said Belize authorities in April 2011 accused him of running a methamphetamine lab, before the November 11 killing of his neighbor, American businessman Gregory Faull, and have since persecuted him.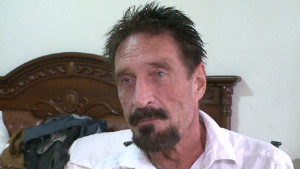 McAfee fights to stay out of Belize
"I have absolutely nothing to do with the murder in Belize," he said Thursday. "This is not about a murder in Belize. This began on the 30th of April of last year when 42 armed soldiers stormed my property."
Mystery follows McAfee to Miami
After weeks in hiding, the 67-year-old antivirus software company founder emerged in Guatemala's capital last week to ask for asylum.
Guatemalan authorities took him into custody on accusations of entering the country illegally, and his asylum bid was rejected. McAfee then waged a public battle, requesting asylum and arguing that police in Belize were after him following his apparent decision to shed light on corruption in the country.
He also said the breach resulted in Belize soldiers shooting his dog. CNN cannot independently verify his account.
"He opted to return to his country of origin," said attorney Telesforo Guerra, who has represented McAfee since he arrived in Guatemala last week.
On Sunday, McAfee told reporters that he hoped to go back to the United States.
"Our intent is to return to America, if at all possible, and settle down to whatever normal life we can settle down to under the circumstances," he said. "There is no hope for my life if I am ever returned to Belize."
Authorities in Belize, where McAfee had lived since 2008, say they want to talk to him about Faull's death.
McAfee's home on Ambergris Caye, an island off Belize's mainland, was raided after Faull's death. National police spokesman Raphael Martinez said authorities went into the house amid suspicions there were illicit weapons and drugs inside, but neither were found.

Part of complete coverage on
John McAfee investigation
updated 7:30 AM EST, Thu December 6, 2012

John McAfee is arrested in Guatemala on suspicion of illegal entry. CNN's Martin Savidge reprots.
updated 5:53 AM EST, Fri December 7, 2012

Software pioneer John McAfee ended the day as he started it: imprisoned in a Guatemalan immigration detention center.
updated 10:55 AM EST, Thu December 6, 2012

Four poisoned dogs. A dead neighbor. A millionaire on the run.
updated 11:37 AM EST, Wed December 5, 2012

Internet security pioneer John McAfee speaks exclusively with CNN en Español from Guatemala, where he's seeking asylum.
updated 5:41 AM EST, Mon December 3, 2012

The journey to interview John McAfee began with a secret phrase, a mysterious driver and a circuitous route full of twists and turns.
updated 6:33 AM EST, Tue November 20, 2012

To look for John McAfee, you must be willing to travel a narrow, rutted and muddy road. This is one weird story.
updated 11:44 AM EST, Tue November 20, 2012

A dead neighbor. Headless dogs. And a millionaire on the run. All set against a backdrop of spectacular tropic beauty.
updated 5:23 PM EST, Wed November 14, 2012

Three people have been detained for questioning in Belize in the killing of Gregory Faull, a neighbor of John McAfee.
updated 6:25 PM EST, Tue November 13, 2012

Authorities in Belize are trying to find and talk to John McAfee about a fatal shooting in the Central American nation.