Mystery follows McAfee to Miami
updated 1:00 PM EST, Thu December 13, 2012
STORY HIGHLIGHTS
John McAfee says in Miami that he had no choice in the destination
The software company founder plans to keep criticizing Belize's government
"He opted to return to his country of origin," lawyer says
McAfee's request for asylum in Guatemala was rejected after he fled Belize
Miami (CNN) -- After weeks on the run and days in immigration detention, American technology pioneer John McAfee arrived in Miami on Wednesday.
He said he had no choice in the matter, that Guatemalan authorities expelled him to the United States and put him on a plane to a destination they determined.
"I was whisked out of prison," McAfee told CNN affiliate broadcaster WSVN in front of his South Beach hotel. "I was forcibly separated from Samantha, and now here I am."
Samantha Venegas is McAfee's girlfriend.
When the plane landed, U.S. officials boarded the aircraft to greet him and escort him off.
Former girlfriend: McAfee 'frightened for his life'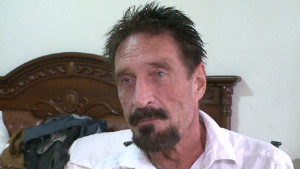 McAfee fights to stay out of Belize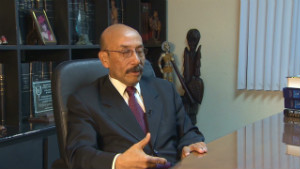 McAfee lawyer: He will stay in Guatemala
It was unclear whether he planned to stay in Miami or where he might go next.
For the past week, McAfee waged a public battle, requesting an asylum in Guatemala and arguing that police in Belize were persecuting him. Authorities turned down his request and told him he would have to leave the country.
"He opted to return to his country of origin," said attorney Telesforo Guerra, who has represented McAfee since he arrived in Guatemala last week.
Authorities in Belize, where McAfee had lived since 2008, say they want to talk to McAfee about the November 11 killing of his neighbor, American businessman Gregory Faull.
McAfee said he had nothing to do with the death and insists he left Belize to escape police persecution.
Guatemalan authorities took him into custody on accusations of entering the country illegally, and his asylum bid was rejected.
McAfee told WSVN he has openly criticized Belize's government for seven months, making himself a "thorn in their side."
"Unfortunately, now that I'm here, they can't shut me up," he said.
CNN en Español's Adriana Hauser reported from Miami. CNN's Joe Sutton and Ana maria Luengo-Romero reported from Atlanta. Journalist Miguel Salay reported from Guatemala City.

Part of complete coverage on
John McAfee investigation
updated 7:30 AM EST, Thu December 6, 2012

John McAfee is arrested in Guatemala on suspicion of illegal entry. CNN's Martin Savidge reprots.
updated 5:53 AM EST, Fri December 7, 2012

Software pioneer John McAfee ended the day as he started it: imprisoned in a Guatemalan immigration detention center.
updated 10:55 AM EST, Thu December 6, 2012

Four poisoned dogs. A dead neighbor. A millionaire on the run.
updated 11:37 AM EST, Wed December 5, 2012

Internet security pioneer John McAfee speaks exclusively with CNN en Español from Guatemala, where he's seeking asylum.
updated 5:41 AM EST, Mon December 3, 2012

The journey to interview John McAfee began with a secret phrase, a mysterious driver and a circuitous route full of twists and turns.
updated 6:33 AM EST, Tue November 20, 2012

To look for John McAfee, you must be willing to travel a narrow, rutted and muddy road. This is one weird story.
updated 11:44 AM EST, Tue November 20, 2012

A dead neighbor. Headless dogs. And a millionaire on the run. All set against a backdrop of spectacular tropic beauty.
updated 5:23 PM EST, Wed November 14, 2012

Three people have been detained for questioning in Belize in the killing of Gregory Faull, a neighbor of John McAfee.
updated 6:25 PM EST, Tue November 13, 2012

Authorities in Belize are trying to find and talk to John McAfee about a fatal shooting in the Central American nation.