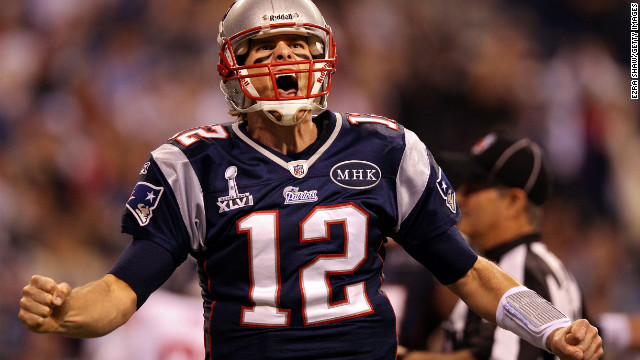 After Tom Brady was taken 199th in the 2000 draft, Patriots fans would've been pleased had the San Mateo, California, native ably skippered New England to a few victories as a backup. They got more than they could've dreamed as "Tom Terrific" has established himself as one of the best gunslingers ever. He is a seven-time Pro Bowler with three Super Bowl wins (in two of which he was named MVP) and five conference championships. He's also earned several sportsman/athlete of the year honors.
Though his career was cut short by a near-fatal 1988 accident at Pocono Raceway, Bobby Allison is considered one of NASCAR's greatest. His 84 Winston Cup wins, which include three Daytona 500s, tie him for third all time. He took the series championship in 1983 and was runner-up five times. Only Richard Petty has led more races. In addition to his prowess behind the wheel, he's also owned teams, and his two sons followed him into racing. Clifford was killed in a practice race in 1992 and Davey died in a helicopter crash the following year.
Now enjoying his European retirement as a New York Red Bull, Thierry Henry played for some of the continent's top clubs, including Arsenal, Barcelona and Juventus, and found the net 232 times in European club play (174 of those for Arsenal, a club record). He won titles in France, England, Spain and the Champions League. Though he's best known as No. 14, Henry wore No. 12 for France, which won the 1998 World Cup and may have won the 2006 title if not for teammate Zinedine Zidane's infamous headbutt during the finals.
The Robin to Karl Malone's Batman, John Stockton arguably had the best court vision of any point guard in history. His résumé, simply put, is beastly: Not only is he No. 1 in assists (15,806) and steals (3,265), but Jason Kidd, the No. 2 in both categories, is almost 4,000 assists and nearly 700 steals behind him. A 10-time All-Star, Stockton can thank Michael Jordan for the one thing missing from his trophy case: a championship.
Dubbed "Remember the Alomar" by ESPN's Chris Berman, Roberto Alomar, a Puerto Rico native, is one of the best second basemen in history. His tight defense earned him 10 Gold Gloves, but he could also put wood on the horsehide as he racked up four Silver Sluggers, given for the best offensive player at each position. A journeyman who played for seven teams, Alomar appeared in every All-Star game from 1990 to 2001. He retired in 2005 with a tidy .300 batting average.
"Broadway" Joe Namath was nothing if not flamboyant, whether it was rocking a full-length fur coat on the sidelines or guaranteeing a Super Bowl win over the highly favored Baltimore Colts in Super Bowl III (his New York Jets pulled off a 16-7 shocker). Signed for $400,000 in 1965, he played 13 seasons, mostly with the Jets, and played in four AFL all-star games and one Pro Bowl.
After playing backup to one of the best ever, Brett Favre, Aaron Rodgers quickly helped Green Bay fans forget about their longtime idol. In just eight seasons on the Frozen Tundra, the University of California grad has completed almost 66% of his passes for 20,663 yards and 161 touchdowns, a dozen shy of Joe Namath's career mark. A two-time Pro Bowler with almost four times as many touchdowns as interceptions, Rodgers was also named MVP of Super Bowl XLV, which the Packers won over the Pittsburgh Steelers.
Having spent most of his career in Orlando, Dwight Howard, also known as "Superman," joined the L.A. Lakers this year with an already impressive list of accomplishments. He is the only player to lead the league in rebounds in five consecutive seasons, and he has led the league in blocks per game three times and double-doubles twice. He's also the youngest player to reach 7,000 rebounds. At 27, he still has gas in the tank and is an inevitable first-ballot Hall of Famer. Now, if he could just figure out those free throws.
A 6-foot-1, 215-pound winger from Edmonton, Alberta, Jarome Iginla did it at every level. After winning consecutive championships with the Western Hockey League's Kamloops Blazers, he made his NHL debut at age 18 with the Calgary Flames -- during the 1996 playoffs. Since then, the six-time All-Star has racked up 516 goals and 557 assists and holds the honor of being the first black captain in league history. On the world stage, he owns five gold medals, including two from the 2002 and 2010 Olympics.
Fleet-footed quarterback Roger Staubach wore No. 12 throughout his college and pro career with Navy and the Dallas Cowboys. A slippery fellow who earned the sobriquet "Roger the Dodger," Staubach rushed for 2,264 yards and 20 touchdowns on top of his 153 passing touchdowns. The Heisman Trophy winner was drafted late in 1964 but went on to earn six Pro Bowl selections and win two Super Bowls, despite a four-year stint in the military that kept him out of the league until age 27. The NFL ranks him the 46th best player of all time.
The poultry may have paid off. Superstitious to the point of eating chicken before every game, the Omaha, Nebraska-born Wade Boggs didn't enter the major leagues until he was 25. Still, he was able to amass 3,010 hits (making him No. 26 all time) in his 18 years as a third baseman for the Red Sox, Yankees and Devil Rays. Though the eight-time Silver Slugger was better known for his offense, he twice earned Gold Glove honors. In 2005, he became a first-ballot Hall of Famer with 92% of the vote.
Well-known as a madcap commentator during Sunday's pregame and halftime NFL coverage, Terry Bradshaw is one the most successful quarterbacks in history. The first overall pick out of Louisiana Tech, Bradshaw joined the Steelers in 1970. Aided by one of the league's best defenses and receiver corps, he won four Super Bowls in his first decade as a pro. Never the most accurate thrower -- he retired with a 52% completion percentage and 210 interceptions -- he knew how to find the end zone, twice leading the NFL in touchdown passes.
Top 12 No. 12s in sports
Top 12 No. 12s in sports
Top 12 No. 12s in sports
Top 12 No. 12s in sports
Top 12 No. 12s in sports
Top 12 No. 12s in sports
Top 12 No. 12s in sports
Top 12 No. 12s in sports
Top 12 No. 12s in sports
Top 12 No. 12s in sports
Top 12 No. 12s in sports
Top 12 No. 12s in sports
STORY HIGHLIGHTS
One Las Vegas chapel is offering 40 different wedding packages for 12/12/12
An Indian numerologist says Wednesday is a great day for making investments
Pope Benedict sends his first official tweet Wednesday
Some people on Twitter are underwhelmed by the unusual date
Send us your photos of 12 things for 12/12/12!
(CNN) -- From India to Las Vegas, superstitious lovebirds and numbers geeks are reveling in a once-in-a-lifetime event: the date 12/12/12.
Sure, it might be just another set of numbers for some. But unlike the past 11 years, this will be the last such triple date for almost a century -- until January 1, 2101.
That means one last chance for couples to get hitched on such an easy-to-remember wedding date (read: anniversary date).
Those tying the knot at the Viva Las Vegas Wedding Chapel have 40 different 12/12/12 wedding packages to choose from. Six of those options include an Elvis impersonator. Others include pirate, gangster and gothic themes.
"Besides a traditional wedding, the most popular is Elvis in a pink Caddy, where Elvis drives the couple down the aisle in a pink Cadillac," said general manager Brian Mills, who doubles as an Elvis impersonator.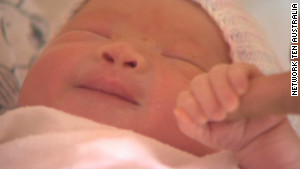 Celebrating 12/12/12 birthdays, weddings
From midnight to midnight, more than 100 couples will walk or ride down the aisle at Viva Las Vegas. That's more than 10 times the number of couples who get hitched there on a typical Wednesday in December, Mills said.
"The charismatic and fun-loving couple that gets married on a 12 day is lucky and balanced, but seeking constant goals to achieve," the chapel's website explains. "The 'go-getting' 1 and the 'sensitive' 2 make this a very balanced number.
"1 is the vibration of 'new beginnings' and starting things afresh. The 2 vibration is about seeking 'balance' and that's certainly something that many will struggle with -- balancing the bank balance, balancing the food and beverage intake, balancing the emotions ... balancing in every way."
For professional numerologists, 12/12/12 isn't just a cool repetition of digits or a lucky day for lovers.
It's a fantastic day to start a new business venture or make a significant purchase, Indian numerologist Swetta Jumaani said.
According to numerology, 12 is considered a "three" number because the digits add up to three.
And three is a very good number because it corresponds with the largest planet, Jupiter, in addition to wealth. (In case you're wondering, Jumaani says the No. 1 "planet" is the sun, and the No. 2 "planet" is the moon.)
"If you're in a business of trading money, or the buying and selling of anything, (Wednesday) is a good day to make investments," Jumaani said. "If you want to buy something -- property, if you want to buy gold -- it'd be a good day."
But Wednesday is a terrible day to wear black, she said.
"Black is a very inauspicious color. Something bad always happens."
Halfway across the world in Alabama, Kiam Moriya will turn 12 on 12/12/12 -- at exactly 12:12 p.m., AL.com reported.
"It's like one minute out of a whole lifetime," Kiam told the news site. "You know, it's all 12s."
Wednesday also marks a milestone for the Vatican, where Pope Benedict XVI sent his first official tweet to the world.
It's unclear whether the pope chose 12/12/12 for the digits or for some other reason. But more than 600,000 followers waited to see what message @Pontifex would offer in 140 characters or less.
Despite the weddings, superstitions and inaugural papal tweet, underwhelmed Twitter users griped about all the brouhaha.
"Ladies and gentlemen, it's 12.12.12 and...... Nothing happened," Aazief Khalid of Malaysia tweeted Wednesday.
And nothing like it will happen again for almost 100 years.
Read more: The allure of the Mayan Apocalypse