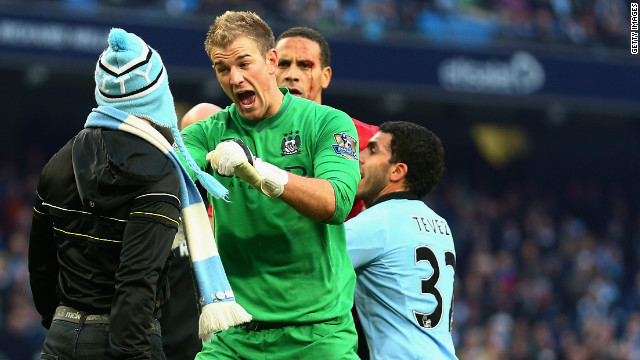 Manchester City goalkeeper Joe Hart of confronts a pitch invader at the end of his side's 3-2 derby defeat by Manchester United, whose defender Rio Ferdinand (at back) was left with a bloody face after being hit by a coin thrown from the crowd.
Police intervened to eject the invader, and the Greater Manchester force also announced after the match that another man was arrested inside City's Etihad Stadium on suspicion of chanting racist abuse.
The match was settled in the second minute of time added on by Manchester United's Dutch striker Robin Van Persie.
Manchester City midfielder Samir Nasri (left) diverted Van Persie's free kick past Hart as he backed off from his position in the defensive wall.
Wayne Rooney had put United 2-0 ahead inside half an hour, with the 27-year-old becoming the youngest player to score 150 goals in the English Premier League.
United should have gone 3-0 ahead just before the hour mark but Ashley Young's effort was ruled out in a marginal offside decision. City hit back immediately through midfielder Yaya Toure.
Pablo Zabaleta, right, fired an equalizer in the 86th minute to give second-placed City hope of extending a 21-game unbeaten league run that went back to last season's title-winning climax.
However, Van Persie's 11th EPL goal since signing from Arsenal for $38 million in August left City six points behind leaders United after 16 matches.
Passions run high
Beautiful game's ugly side
Van the Man
Hole in the wall
Rooney double
Turning point?
Zabaleta the savior?
Six-point gap
STORY HIGHLIGHTS
Manchester United go six points clear in Premier League with 3-2 derby win
Robin van Persie scores late winner against second-placed champions City
Wayne Rooney put United 2-0 up inside the first half hour at Etihad Stadium
City leveled through Yaya Toure and Pablo Zabaleta before injury-time free kick
(CNN) -- Racist abuse, missiles from the crowd, a pitch invader and five goals in an action-packed thriller -- Sunday's 164th Manchester derby epitomized all that is good and bad about English football.
On the field, Manchester United snatched a 3-2 victory that gave Alex Ferguson's team a healthy six-point lead from second-placed Premier League champions City.
But the non-sporting incidents continued -- in tune with more than a year of controversies that have plagued arguably the world's most lucrative and widely supported domestic soccer competition, starting with the John Terry-Anton Ferdinand racism incident in October 2011.
Hooliganism was once known as the "English disease" -- but the game's malady is more pervasive than mere violence.
This time Ferdinand's older brother Rio was involved, being hit in the face by a coin as he celebrated Robin van Persie's injury-time winner.
While the former England international wiped the blood from his face, City goalkeeper Joe Hart intervened to confront a fan who had invaded the pitch -- police then hauled him from the ground.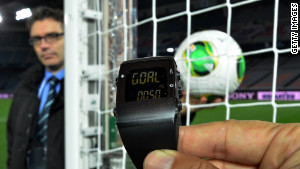 Goal line technology gets rave reviews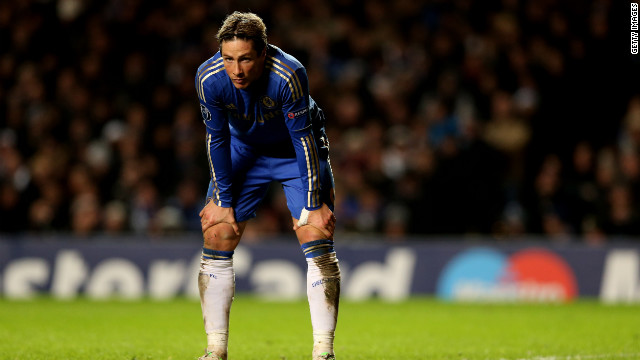 Fernando Torres scored twice as Chelsea crushed Danish side Nordsjaelland 6-1 at Stamford Bridge but it wasn't enough to save them from elimination from the Champions League. Juventus picked up a 1-0 win at Shakhtar Donetsk to secure its place in the last-16 and dump Chelsea into the Europa League.
Juventus secured its place in the next round with a 1-0 win in Ukraine courtesy of Olexander Kucher's 56th minute own goal. The victory also enabled the Italian club to snatch top spot from Shakhtar with the Donetsk side finishing second.
Gary Hooper and Kris Commons were the stars as Celtic claimed a 2-1 win over Spartak Moscow to clinch its place in the knockout phase. Hooper's 21st minute strike gave the Scottish champions the lead, only for Ari to equalize six minutes before the break. Commons fired home the winner from the penalty spot with nine minutes remaining.
Leo Messi endured a miserable night after he was forced off with injury during Barcelona's 0-0 draw with Benfica. The striker, who started the night on the Barcelona bench with his side having already qualified for the next stage, has scored 84 goals in 2012 and was hoping to break Gerd Muller's record of 86 goals in a calendar year which the former Bayern Munich and Germany forward set back in 1972.
Mario Gomez and Xherdan Shaqiri were both on target as last year's finalist Bayern Munich secured top spot in Group F with a 4-1 win over 10-man BATE Borisov. Thomas Muller and David Alaba were also on target, while Denis Polyakov was sent off for BATE.
Jonas fired Valencia to a 1-0 win at Lille with a 36th minute penalty. The Spanish club was already through to the last-16 before the game and will now look forward to the knockout phase.
Burak Yılmaz struck his sixth goal of the Group Stage to inspire Galatasaray to a 2-1 triumph at Braga. The win takes the Turkish side into the last-16 at the expense of Romanian side Cluj. Mossoro had given Braga a first-half lead, but goals from Yilmaz and substitute Aydın Yılmaz sealed the victory.
Cluj missed out on the last-16 of the Champions League despite becoming the first Romanian team to win at Old Trafford. Luis Alberto's 56 minute strike gave Cluj victory in United manager Alex Ferguson's 200th Champions League match in charge.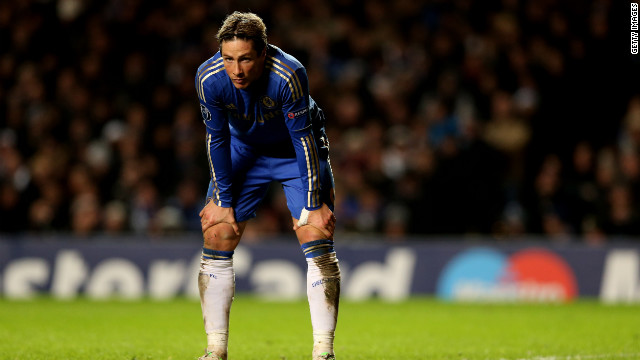 Champions League action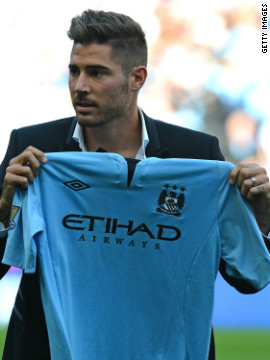 Manchester City was the highest spender when it came to agents' fees, paying out close to $17million. Manager Roberto Mancini was busy in the transfer market, bringing in the likes of Javi Garcia from Benfica.
New Liverpool manager Brendan Rodgers brought in $40 million worth of talent in Fabio Borini and Joe Allen in August. The Anfield club has struggled on the pitch however, languishing in 12th place.
Esteban Granero arrived at Queens Park Rangers with the hope of lighting up the Premier League. But the former Real Madrid man has endured a difficult start, with his new team rock bottom and yet to win a game.
Tottenham manager Andre Villas-Boas was a busy man during the summer transfer window, bringing in the likes of Clint Dempsey and Mousa Dembele from Fulham as well as France goalkeeper Hugo Lloris and Belgium's Jan Vertonghen.
Eden Hazard was just one of the big arrivals at Chelsea after arriving from French club Lille in a deal worth over $50 million. The Blues also brought in Brazilian playmaker Oscar and German winger Marko Marin.
When it comes to business, Arsenal is held up as a beacon club by many. It spent wisely once again in pre-season, attracting Germany international Lukas Podolski, Spain's Santi Cazorla and France forward Olivier Giroud.
Robin van Persie was Manchester United's big summer signing after he arrived from Arsenal. United also brough in Shinji Kagawa from Borussia Dortmund and Alex Buttner from Vitesse Arnhem.
Premier League newcomers Southampton spent the least on agents' fees. The Saints spent most of its budget on Gaston Ramirez from Bologna, who cost just over $19 million.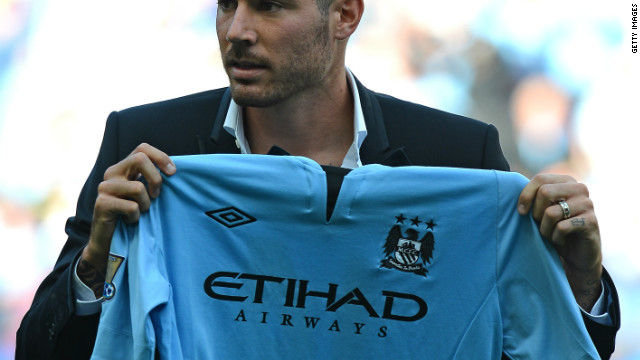 EPL agents earn millions
The Greater Manchester force also reported after the match that another man had been arrested inside City's Etihad Stadium on suspicion of chanting racist abuse.
"It's disappointing that after a great game and advert for the Premier League that we are discussing this issue," said the English Football Association in a statement on Sunday.
"We will work with the clubs and authorities to identify those responsible and support the strongest sanctions available, including life bans.
"We condemn any such acts and it is simply unacceptable that any player is exposed to injury in this way. To witness Rio Ferdinand leaving the field with a cut above his eye to receive treatment is appalling."
United manager Alex Ferguson also condemned the transgressions, calling for action by the authorities as he cited similar problems during October's controversial clash at Chelsea -- which saw ref Mark Clattenburg accused of racism before being cleared, and John Obi Mikel fined and banned for confronting the official after the match.
Revived Torres fires up Chelsea
"It was disappointing that a supporter ran on the field after Rio had been hit by a coin in the eye," Ferguson told MUTV. "It's a bit disappointing. The game didn't deserve that.
"I don't know whether they're going to stitch it or not. The same thing happened at Chelsea with all the carry-on when half a seat hit Michael Carrick and coins and lighters were thrown on. The game doesn't need that."
City released an apologetic statement afterwards promising to investigate, but Ferdinand laughed off the coin attack as he posted on his Twitter account after the game.
"What a result, 3 points! Sweet! Whoever threw that coin, what a shot! Can't believe it was a copper 2p....could have at least been a £1 coin!," the 34-year-old wrote.
"Respect to Joe Hart for protecting that idiot who ran on!! Love the banter between fans but there is a point when it goes too far...calm it!"
The problems also extended to the internet, with the Greater Manchester Police reporting on Twitter that it is investigating reports of racist tweets.
Earlier it had reported that a man had been arrested outside the Etihad Stadium on suspicion of ticket touting, but a prematch prediction from the man in charge of policing the game proved wide of the mark.
"I have every confidence this match will mirror the two derbies last season and the football will be the only talking point," Superintendent Craig Thompson said.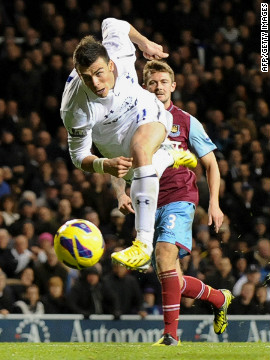 West Ham have already banned one fan for life after he was cautioned by police for "racially aggravated gesturing" during their match with Tottenham on Sunday. West Ham's fans are also reported to have aired songs about Adolf Hitler. The FA are to investigate. Tottenham won the game 3-1 with Gareth Bale (left) on the scoresheet.
Neither West Ham manager Sam Allardyce (L) or his Tottenham counterpart Andre Villas-Boas were keen to wade into the controversy. Allardyce told reporters at a post match press call: "I don't want to be a political animal -- I'm here to talk about football."
West Ham's Israeli midfielder Yossi Benayoun took to Twitter to express his view of the chants. He said: "I was very disappointed to hear some of the songs yesterday and it was embarrassing. But we need to remember that it was made by a minority group of fans and I'm sure the FA together with West Ham will do everything to find and punish them."
A group of Tottenham fans were attacked before their recent Europa League match with Lazio as they drank in the city center. One supporter is still in hospital suffering from stab wounds. West Ham's fans allegedly made reference to the incident in their chants.
A section of Lazio fans unfurled a "Free Palestine" banner during the 0-0 Europa League draw with Tottenham, which was marred by anti-Semitic chanting from the home supporters. Tottenham traditionally have a strong Jewish following.
Just last week Chelsea's complaint that Premier League referee Mark Clattenburg aimed racist language at midfielder Jon Obi Mikel was dismissed by the Football Association due to a lack of evidence.
Chelsea's John Terry (L) was found not guilty in a criminal court of racially abusing Queens Park Rangers defender Anton Ferdinand but received a four-match ban from the FA and a $356,000 fine for calling his opponent a "f*****g black c***."
Liverpool's Uruguayan striker Luis Suarez served an eight-match ban in the 2011/12 season for racially abusing Manchester United defender Patrice Evra. Suarez maintained his innocence but Liverpool were heavily criticized for their handling of the case.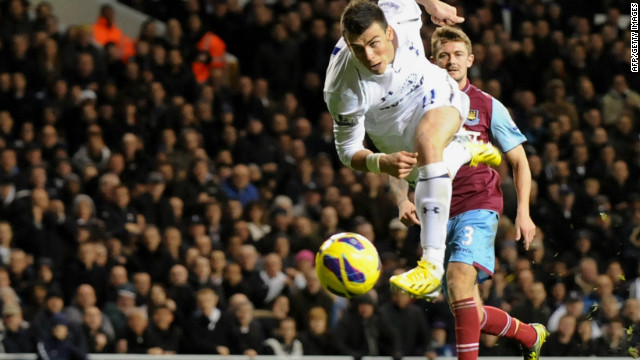 Hammers vow action on anti-Semitic chants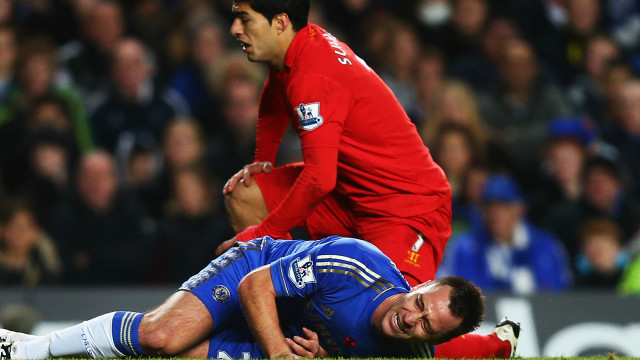 Chelsea captain John Terry is injured after going down in a tackle with Liverpool striker Luis Suarez.
The veteran defender left Stamford Bridge on crutches after a short-lived return to the Chelsea line-up, and will have a knee scan on Monday.
Terry had put Chelsea ahead in the 20th minute on his return from a four-match domestic ban for racially abusing Queens Park Rangers defender Anton Ferdinand last season. It was his 50th career goal for Chelsea.
Suarez joined Manchester United's Robin van Persie at the top of the EPL scoring charts with his eighth this season, earning Liverpool's sixth draw in 11 league outings.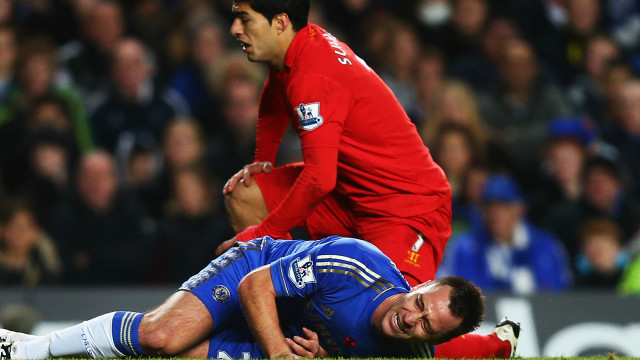 Terry injured on Chelsea comeback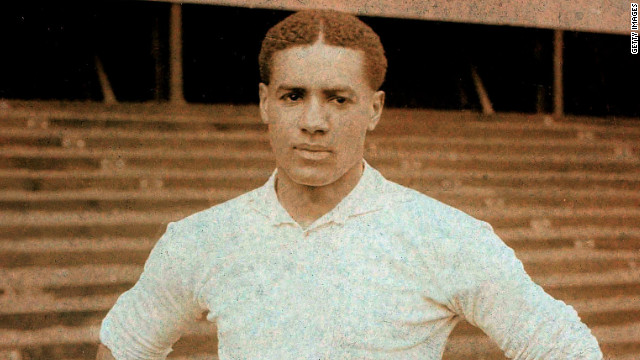 Walter Tull became the first black outfield player to play in the English top flight when he signed for Tottenham Hotspur in 1909. Tull was the subject of racist abuse, with one particular match against Bristol City leading to Tottenham selling him to Northampton Town.
Tull had joined Spurs -- he is pictured here with his Spurs teammates sitting in the front row to the very right -- after helping Clapton F.C. win the Amateur Cup, London Senior Cup and London County Amateur Cup. He made his debut for Spurs at the age of 21.
The First World War broke out in 1914, with Tull signing up to the 17th Service Battalion of the Middlesex Regiment, otherwise known as The Football Battalion. He became the first black officer to lead troops into battle, although he was never officially recognized. Tull was fatally wounded by machine gun fire in the French town of Favreuil in 1918.
A play telling Tull's story is set for a run at Bolton's Octagon theatre, beginning on February 21. Nathan Ives-Moiba (left) will play Tull and he is pictured here with the Octagon's artistic director David Thacker (right). The pair are pictured alongside former footballer Fabrice Muamba, who suffered a cardiac arrest on the pitch while playing for Bolton Wanderers earlier this year.
Parallels have been drawn between Tull's plight and that of Danny Rose, who claimed he was subjected to racist abuse during an England Under-21 match in Serbia last week. European football's governing body UEFA are investigating the matter.
Rose claims he was subjected to monkey chants before, during and after the match against Serbia and had stones thrown at him by the crowd in Krusevac. Fans also ran on to the pitch and scuffles broke out after a 1-0 win secured England qualification for Euro 2013.
Last weekend Reading's Grenadian striker Jason Roberts, who has played in England for the last 15 years, was one of a number of black players who refused to wear the Kick It Out T-shirt in protest at what he perceives to be the campaign group's lack of action in combating racism in football.
Rio Ferdinand was another player who opted not to wear the Kick It Out T-shirt. The Manchester United defender is reportedly involved in talks to set up a separate black footballers' association.
Andrew Watson is another pioneering black footballer. In 1881 he became the first black international player when he represented Scotland in a match with England.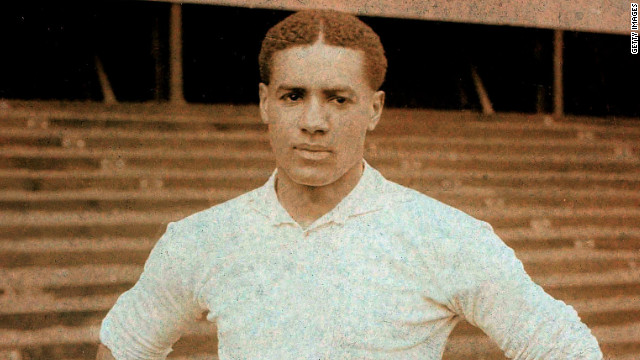 Walter Tull: Black footballing pioneer
Last season City thrashed United 6-1 at Old Trafford on the same day that Terry clashed with Queens Park Rangers' Anton Ferdinand.
The fallout from that incident cost the Chelsea player the England captaincy, then he was cleared of racial abuse in court before being fined and banned by the English Football Association.
Roberto Mancini's team won 1-0 in the home derby on April 30 before claiming the 2011-12 league title on goal difference from Ferguson's men on the final day of the season.
Mancini's role at the Abu Dhabi-owned club has become more precarious since then, with City crashing out of the UEFA Champions League at the group stage for the second season in a row.
Sunday's defeat ended City's 21-match unbeaten run in the EPL, 15 of those this season, and halted a run of 37 matches without defeat at home which stretched back to December 2010.
Van Persie scored a last-gasp winner for United, firing in a free-kick that was deflected past Hart, whose team had fought back from a 2-0 halftime deficit.
"It's very hard to lose a derby, but even more so in the last minute, so I'm very disappointed," Mancini said. "We dominated the second half, and for this reason I am really disappointed.
"They scored from their first two goal-scoring opportunities but after that we dominated the game and fought back really well -- but we can't then give a goal away after working so hard.
"I think we made a mistake for the Van Persie free-kick at the end by only putting three men in the wall. I wanted four but I couldn't get the instruction over and I think that cost us the goal. We should have defended this free-kick better and we had chances to win this game, but there is nothing we can do about it now."
United had conceded first in 15 of 23 games so far this season, but a double inside the opening half hour from Wayne Rooney -- which made the 27-year-old England striker the youngest player to score 150 in the EPL -- put Ferguson's team in the driving seat.
United winger Ashley Young had a goal disallowed for offside after Van Persie hit the woodwork just before the hour, and City reduced the deficit 60 seconds later through midfielder Yaya Toure before defender Pablo Zabaleta drove in a low shot from an 86th-minute corner.
However, Van Persie had the final say as he netted his 11th league goal since signing from Arsenal for $38 million in August, with City midfielder Samir Nasri guilty of backing away in his position in the defensive wall and sticking out a leg to divert the ball past a helpless Hart in the second of four extra minutes.
City substitute Carlos Tevez, who came on for Mario Balotelli seven minutes after the break, was lucky to avoid punishment after aiming a wild kick at United's Phil Jones late in the match.
Meanwhile, Everton moved up to fourth place with a 2-1 victory at home to Tottenham on Sunday thanks to injury-time goals from Steven Pienaar and Nikica Jelavic.
Clint Dempsey had opened the scoring in the 76th minute for Spurs, who dropped to fifth above West Brom on goal difference.
Liverpool claimed 10th place with a 3-2 victory at West Ham, as James Collins conceded a late own goal after Glen Johnson and Joe Cole scored against their former club.