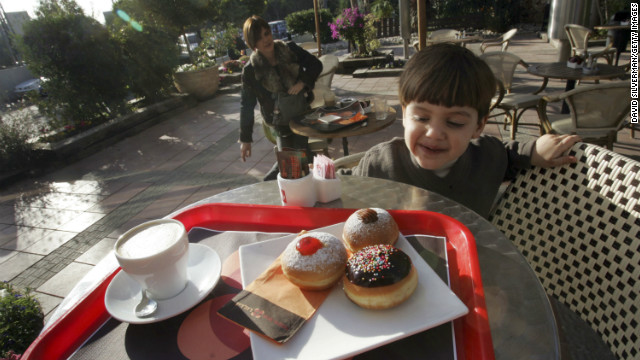 A young Israeli boy looks at a serving of fresh oil-fried and jam-filled doughnuts, known in Hebrew as "sufganiyot", served at one of the local bakeries in Kadima, central Israel, during Hanukkah.
In Jewish tradition, it is customary to eat doughnuts and other foods fried in oil during the eight-day festival of Hanukkah.In this picture, a kosher bakery prepares doughnuts by injecting them with cream custard in the Ukranian port city of Odessa. A thriving Jewish community in the region ensures that there is plenty of demand for kosher foodstuffs.
So popular are the doughnuts in Israel that Jewish-American chef Joan Nathan recalls the local marketplaces resembling a "pastry auction" around this time of year. Also known as the Festival of Lights, Hanukkah reaffirms the ideals of Judaism and is one of the most popular Jewish observances.
For some, Hanukkah is "the potato pancake holiday", where the mundane potato is given a massive makeover in form of latkes -- a fried potato cake that can be served with lots of goodies including goat cheese, tomatoes, herbs, or topped with smoked salmon and dill.
Nathan, who has won numerous awards for her cookbooks dedicated to Jewish cuisine, says that while she has added many different ingredients to her latke recipes -- including zucchini, beetroot, sweet potato, celery root, and apple-horseradish -- her favorite is still the simple potato.
Jewish bakers are busy with more than just doughnuts and latkes during this time of year. Here, traditional gingerbread hearts and Stars of David with Hebrew inscriptions in Latin letters on them hang at a stall at the annual Hanukkah market at the Berlin Jewish Museum.
Doughy delights
Get your fill
Pastry auction
The potato makeover
Simple is best
Busy bakers
STORY HIGHLIGHTS
The word Chanukah or Hanukkah means re-dedication and is also known as the Jewish Festival of Lights
It is celebrated for eight days and each day a candle on the Hanukiah -- an eight-stemmed candelabrum -- is lit
Popular Chanukah food includes latkes (fried potato pancakes) and sufganiyots (doughnuts)
Editor's note: Joan Nathan is an award-winning American author of cookbooks. She has also produced TV documentaries on the subject of Jewish cuisine
(CNN) -- It is no accident that Hanukkah comes in the darkest time of year. The winter holidays are about light, about miracles, and about waking up to light when it is least visible to the naked eye. Food-wise, we jolt our senses alive through texture, taste and flavor with fried foods that couple warmth, crispness, and the smoothness of oil in order to reinvigorate and fine-tune us just as the sun begins to seemingly disappear altogether.
For some, Hanukkah is "the potato pancake holiday" -- a holiday that takes the mundane potato and gives it a massive makeover. It is shredded and tossed and recombined, squeezed and remolded into new form and then fried up lightly so that its texture shifts, its flavor alters. The latke (pancake) itself becomes the miracle of light, of oil, and of transformation.
Read more: Diwali, the Hindu festival of lights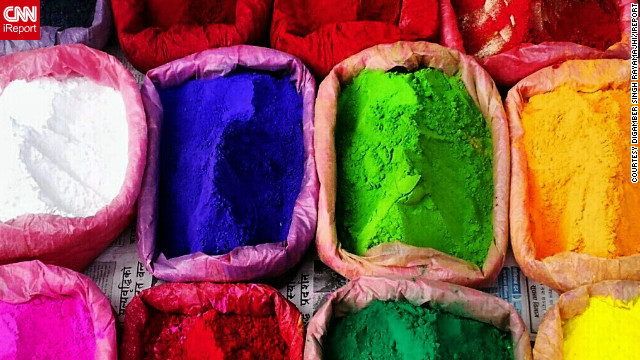 This image of colorful powders, which are used to make rangoli artworks during Diwali, was snapped by iReporter Digamber Singh Rayamajhi as he walked through the busy streets of Kathmandu, Nepal. "As it is Diwali time the roads were bustling with people coming to shop," he says. "There were lot of little street shops on the pedestrian foot paths selling candles, colors, spices. I thought it looked beautiful and I just clicked few pics through my cell phone."
Alam Singh captured this cool image of Diwali celebrations in downtown Melbourne, Australia. "There were many dance performances by local and foreign talent, and of course the 8000 plus people in the crowd dancing too," he says.
For Roger Seepersad from the Caribbean island of Trinidad, Diwali offers the perfect opportunity to snap some spectacular images. "Diwali is special to me because being a photographer, I am into light. It is the Festival of Light," he says. This photo shows actors praying at the end of a re-enactment of the life of the Indian king Lord Ram. Seepersad says the play runs for two hours every night for ten nights in the run-up to Diwali.
Artist and fashion designer Hyacinthe Kaur decided to adorn her hands with henna art when she was shopping for Diwali in a busy bazaar in Klang, Malaysia. "There were a few henna artists around, but this particular applier seemed to put a lot of heart, thought and dedicated effort into her work," she says. "After the design was complete, I felt so overwhelmed and happy with the results -- it put a big smirk on my face."
Manish Kanojia took this image of his daughter, Kyra, reaching out to touch ceramic artifacts on sale at a market in New Delhi, India. The ornamental items are a popular buy around Diwali time when "people use them to decorate their homes," he says.
Monika Khaled captured this image of colorful jewellery boxes in Singapore's Little India district as preparations were being made for this year's Diwali festivities. For the duration of the celebration, local markets sell all manner of traditional Indian decorations "such as clay candles, welcome banners and sweet cookies," she says.
This brightly colored photo was taken by Manish Kanojia in the "happening" Sector 18 of the Noida district in New Delhi. The colored sand on sale is for making Rangolis, decorative floor designs made to welcome guests and encourage the goddess Lakshmi inside during Diwali. "Most people buy the sand and make their own, or they buy readymade stencils," Kanojia says.
iReporter Malliqa Luthra took this photo of a magnified "diya" (a traditional oil lamp made from clay) on her phone at the Select Citywalk Mall in New Delhi, India. The ceremonial candle "is a symbol of happiness, prosperity and is lit in abundance during the festival of Diwali," she says. "I love the spirit of togetherness and the warmth shared between people during the festival. Also, I love decorating my house with candles and 'diyas'."
This photo of Serangoon Road, the main thoroughfare of Singapore's Little India, was snapped by Suresh Adiyeri Paikat. Indians make up 8% of Singapore's population and just over 4% are Hindus, according to the Singapore government.
A rangoli artwork, as created and captured by iReporter Kshitij Sharma, adorns a sidewalk in Pune, India. "I think this festival reminds us to stay away from bad things and to promote communal harmony," he says. "The main highlight is of course the lights, at night whole cities and towns look lovely because of the lights."
Manish Kanojia took this photograph whilst shopping at the Sadar Bazar in Delhi, one of the busiest wholesale markets in India. According to Kanojia it is famous for Diwali shopping. He says the day he captured the image "the markets were crowded [and] people were happily shopping around for gifts and decoration stuff."
Stephen Ravndal of Boston, Massachusetts, took this photo of a woman lighting a candle to mark the beginning of Diwali whilst wandering the backstreets of Boudnath, Nepal. "The woman's attention to detail and devotion are plainly obvious and the lights, which are such an integral part of the festival, really capture a warm and serene mood," he says.
This photo from instagrammer Shaikh Rahil Ibrahim shows a large colorful rangoli in a shopping mall in Mumbai, India. Rangoli artworks are a common site outside Indian homes and in public spaces throughout Diwali.
A vivid neon sign celebrating Diwali hangs above Singapore's Little India district. The image was captured by iReporter, Monika Khaled, an Austrian living and working in the populous Asian city state. "Deepavali in Singapore is a great event visited by visitors and locals alike and not just Indians," she says
This image captured by Hyacinthe Kaur shows a selection of Diwali sweets on display at a market in the city of Klang, Malaysia. "The Festivals of Lights is a joyous occasion where people come together to dance, sing, eat delicious Indian food, embrace culture, share, worship, smile, shop and experience a burst of colors," she says.
Diwali is a festival that provides the opportunity to celebrate life with colors as well as lights, says Dinesh Thakur of Pune, India. "It symbolizes victory of good over evil - light defeating darkness. It teaches us to have faith in the 'good' and not give into the darkness," he adds. He took this image of a single candle resting above a rangoli artwork to mark the start of this year's festival.


"[Lakshmi] is worshiped by those who wish to acquire or to preserve wealth. It is believed that (wealth) goes only to those houses which are clean and where the people are hardworking," he says. "She does not visit the places which are dirty or where the people are lazy."
This picture was captured by iReporter Rohan Pavgi and displays miniature-statues of the Goddess Lakshmi for sale in a market in Pune, India. He says the neat manner in which the statues are aligned emphasizes an important part of Hindu beliefs and tradition.
The vibrantly colored flowers in this picture, captured in Secunderabad, India, display the electrifying energy that Diwali brings, says iReporter Temitope Adekanbi. "The cultural emphasis [of] the idea of 'good trumping evil' through the use of bright colors, firecrackers, lights, and lamps, I believe, add a powerful and magical element to the day," she says.
"This is my daughter Kyra doing Goddess Luxmi worship," says avid iReporter Manish Kanojia from New Delhi. According to her dad, Kyra thoroughly enjoyed her first ever festival of lights although "she was slightly scared of the Diwali crackers."
Syed Yasir Kazmi captured this photo of Diwali celebrations in Karachi, Pakistan. "Everyone was happy, distributing sweets, doing prayer of Lukshmi Devi, and enjoying fireworks," he says. "What was most special to me was the happiness and joy on everyone's faces."
New Delhi based student, Tazeen Qureshy, snapped this image whilst visiting her home-town of Bhubaneswar, eastern India during Diwali. "For me, Diwali is a festival to enjoy with family and friends and most importantly it illumines lives with new energy and hope," she says.
Sobhana Venkatesan lives in St. John's, Newfoundland, Canada. The photo depicts an "Amman Alankaram " of Goddess Lakshmi. It was made by covering sandalwood paste on a dehusked coconut shell before Lakshmi's facial features were painted in. "Prayers offered to Goddess of Wealth, Lakshmi, during Diwali celebrations beckons prosperity into our homes and lives," says the 52-year-old.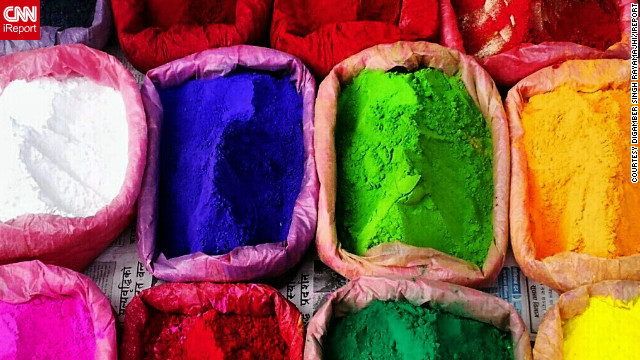 Your Diwali shots from around the world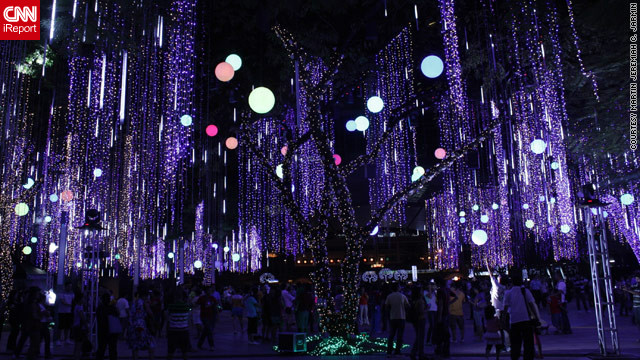 Christmas celebrations in the Philippines are the longest -- and most lavish -- in the world. These beautifully lit trees in Makati City, Philippines were captured by iReporter Martin Javin.
Christmas lanterns known as 'parols' light up many a Filipino mall, home or street, as seen in this image by Christian Bordo. They were created in 1928 by an artisan to help villagers find their way to churches to pray.
The parol lanterns are most likely nowadays to be powered by electronic lights, but their beauty still caught the eye of iReporter Stephanie Masalta.
Some displays are more common than others -- this unusual candy house display in Binan City intrigued iReporter Pauline Alvarez. "You can't help but smile at the sight of this. Isn't that what Christmas is about?" she said.
iReporter Aaron Banaticla loved this outlandish elephant light display near his Laguna home, although he was at a loss to explain why locals had chosen the creature for their Christmas decorations.
In the Philippines, Christmas trees come in all shapes and sizes -- this one in iReporter Miaflor Tatlonghari's image is at least 30ft tall and towers over Santa Claus's house in Santa Rosa city.
A wacky Christmas parade with dancers, mascots and of course Santa Claus caught iReporter Patricia Garcia's eye during a shopping trip to a local mall.
Student Mae Anne Alejandro loves the delicious food prepared at Christmas time in the Philippines. It's doled out at food carts and stands set up by Christmas light displays across the country.
Above all, at Christmas time Filipinos are urged to think of others. iReporter Janoah Soriano captured this poignant image of evacuees from areas affected by typhoons earlier this year now living in temporary accommodation. They recieved free Christmas gifts from a Christian charity.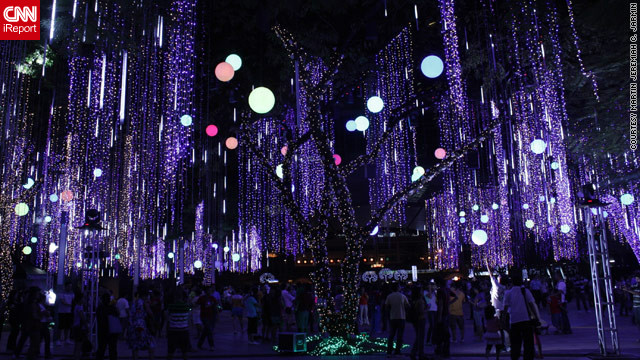 Why the Philippines leads the world in celebrating Christmas
Hanukkah has always been this "potato pancake holiday" in my house. No matter what I serve, my family likes simple crispy potato latkes best. Yet in this vastly changing landscape of food, I have tried all different kinds: zucchini, beet, sweet potato, celery root, and apple-horseradish. The favorite is still simple potato. Today we have tiny latkes served with goat's cheese, tomatoes, herbs, or topped with smoked salmon and dill at latke and vodka parties. Topped with salmon, they make great appetizers.
Potatoes have only been part of this holiday since the 18th century, when they came to Europe from the New World. The word latkes stuck, coming from "platke" in Ukrainian and potato pancakes spread throughout Europe. They came to the United States with immigrants from Eastern Europe at the end of the 19th century.
I have celebrated Hanukkah throughout my life, lighting candles each night for eight nights to recall the miracle of the oil. I then have at least one dinner of slowly cooked brisket complemented by crisp fragrant potato latkes cooked in oil and, of course, homemade applesauce.
More from CNN Celebrates: Your photos from Australia total solar eclipse
Yet of all the Hanukkahs of years past, the most memorable for me was spent in Israel with my children at the home of dear friends. As we walked past houses nearby, we saw the candles lit in the windows and everyone gathering with their own families. When we got to our friends, we lit the candles on several menorahs and had a festive meal. There were no latkes that night, only delicious Moroccan stuffed vegetables and sufganiyot, Israeli doughnuts stuffed with jam, much more popular than pancakes in the holy land. Unlike in America where there are too many presents, the highlight of this evening was being together with friends and family.
We waded through crowds of people excitedly waving their money at the bakers in what felt like a giant pastry auction
Joan Nathan, food writer
I also remember taking my children with me to the shuk (marketplace) in downtown Jerusalem to buy our own sufganiyot. We waded through crowds of people excitedly waving their money at the bakers in what felt like a giant pastry auction, all so we could sink our teeth into these massive orbs of fried dough, still warm, dripping with jam.
Share with us your defining moment of 2012
These doughnuts were no laughing matter in Israel, and in America, for the years that followed, we made our own renditions. We were revamping our traditions so that the food and the family, more than the material gifts, were the markers of our joyful memories.
For many years after, I went to my children's schools and helped teach the cafeteria staff about how to make jelly donuts from scratch. This was a process, again, of transforming the dough, that flat ball of flour, once something simple growing in the ground, and turning it into something both crispy and smooth, doughy, savory and sweet.
The doughnut and the latke, more than the tradition of presents and gifts, were the bright light of our winter holiday. Through the mixer and past the frying pan, the flour and the potato and everything else we added over the years transformed before our very eyes -- reminding us of an ancient tradition meant to recall the miracle of light.
Joan Nathan's latest cookbook is titled Quiches, Kugels, and Couscous: My Search for Jewish Cooking in France