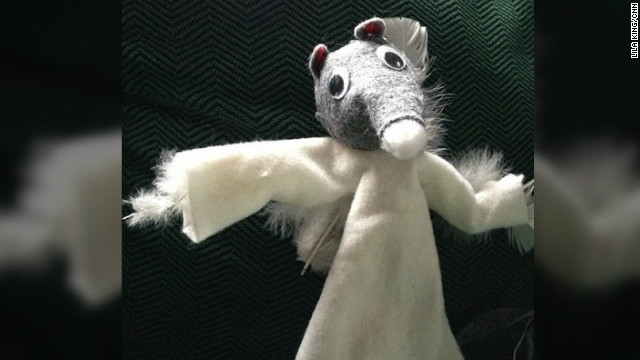 "Yes, our Christmas tree angel is a rat. Our first apartment had a rodent problem, and I thought maybe a felted patron saint would protect us (and our tree)." -- Lila King (@lilacina), Senior Director for Social News at CNN
"My grandfather took our Popsicle sticks each summer and made the grandchildren sled ornaments each Christmas." -- Anne Kletzker (@annek312), Chicago, Illinois
"We had Tigger and Pooh as cake toppers on our wedding cake. After 17 years, we're still bouncing!" -- @ranchmama
Robyn Shepherd's family has had this Santa ornament for as long as she can remember. A few years ago, they grabbed him out of the bag and saw the red stain. "Rather than throw him out, we hung him on the tree and dubbed him Barfight Santa," she says. "We're not sure where that gory red stain came from, but we like to think that one of the elves was getting a little too jolly with Mrs. Claus, and Santa took one on the kisser."
"One day while getting ready for preschool I wanted to wear this white headband with a bow, but my mom said that I couldn't, especially with a ponytail. Unbeknownst to her, I snuck it in my dress pocket and took it to school with me. That's when this picture happened, which, as you can see, became a Christmas ornament. Obviously I was busted, but it became an instant favorite and continues to be a favorite that gets a prime spot on the tree every year." -- @britty_leigh
Maria Datcu (@marialovescoco) of Tampa, Florida, made a tree topper from music sheets that her boyfriend used when he was young. "It's our first Christmas together, so I wanted to personalize our decorations as much as possible."
Orlando, Florida, photographer Tom Burton's (@twburton) daughter, Elise, made this ornament when she was in kindergarten and it's hung on the family's tree every year since. She's now 25 and teaches kindergarten -- and makes the ornaments with her own class.
"Every Christmas Eve as a kid, I'd go to work with my dad. When I was about 10, I raided his highlighters and permanent markers and started making ornaments out of office supplies. This jolly Santa was my best creation. It's been on the tree ever since." -- Christina Zdanowicz (@stinaz27), CNN iReport producer
Geraldine Nordfeldt (@diney1) decorates her tree with a sentimental collection of mementoes from her travels around the world. "It's a very international tree! Each one tells a story from the place it was collected. It's a pleasure to hang them each year because each one brings back fond memories."
"My brother gave me an ornament version of MY HOUSE for Christmas last year. So sweet and awesome. It ranks among the best gifts I've ever gotten!" -- Katie Hawkins-Gaar (@katiehawk), CNN iReport senior producer
"This was a class project in 5th or 6th grade to make ornaments from hollowed eggs. I wrote all the names of our family members and also 'Our Family.' I remember that NO ONE believed the teacher when she told us we were going to blow the egg out of the shell." -- Penelope Ann Treat (@penelopeanntreat), Palm City, Florida
Jessica Edwards (@je_photography), a photographer in Lamar, Missouri, has made photo ornaments to mark special occasions like her wedding, honeymoon and the passing of her dad. She also buys ornaments from every trip as a keepsake. She now has so many of these ornaments that she had to buy an extra tree to display them. "I love our mini-tree and the memories that hang from its branches," she wrote.
The rat angel
Popsicle sleds
Tigger and Poo
Barfight Santa
That headband
DIY topper
Kindergarten treasure
Office-supply Santa
The traveling tree
A home on the tree
Class project
So many mementoes