Prosecutor: Actor Stephen Baldwin charged with failing to file NY income tax
updated 9:54 AM EST, Fri December 7, 2012
STORY HIGHLIGHTS
DA: Stephen Baldwin did not file New York state income tax returns for 2008, 2009 and 2010
Baldwin's attorney says the actor is "working diligently" to resolve the tax liability
The tax liability is more than $350,000, the state says
Baldwin produced a check for $100,000 Thursday as a "good faith" payment, his lawyer said
New York (CNN) -- Actor Stephen Baldwin was arrested Thursday on a charge of failing to file New York state personal income tax returns for three years, according to a statement released by the Rockland County district attorney's office.
According to the statement, Baldwin's alleged tax liability for failure to file in 2008, 2009 and 2010 is more than $350,000, including penalties and interest. The arrest was a result of an investigation conducted by the Rockland County Special Investigations Unit and the New York State Department of Taxation and Finance, the statement said.
Baldwin pleaded not guilty at an arraignment Thursday in Nyack, New York, and was released on his own recognizance.
"Mr. Baldwin did not commit any crimes," his lawyer, Russel M. Yankwitt. said. "He is working diligently with the district attorney's office and the New York state commissioner of taxation and finance to resolve any remaining disputes," Yankwitt said.
Baldwin's lawyer said his client had cooperated in the year-long investigation that led to the charge and arrest. He said Baldwin did owe money to the government, but that no crime had been committed, as Baldwin did not have the intent to deceive.
Gallery: 9 tales of celebrity tax troubles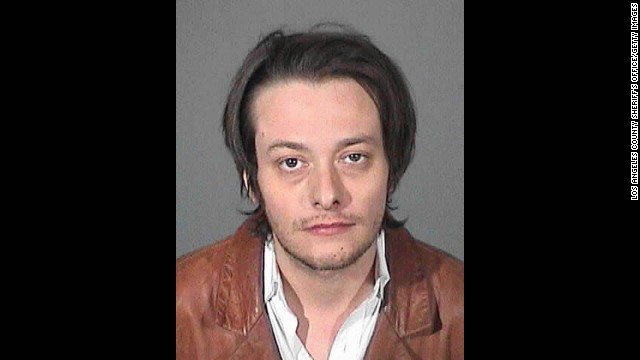 Actor Edward Furlong was arrested again on Friday, May 17, after allegedly violating a protective order filed against him by an ex-girlfriend. Furlong is seen here in a police booking photo after his arrest for alleged domestic violence, the arrest which resulted in the protective order, on January 13, in Los Angeles.
Country music star Billy Currington has been indicted on charges of terroristic threats and abuse of an elderly person on April 15 in his native state of Georgia.
Actress Reese Witherspoon and husband Jim Toth were arrested early April 19 in Atlanta after Toth was pulled over for suspected drunken driving with Witherspoon in the car, the Georgia State Patrol said.
Rapper Gucci Mane turned himself in to authorities on March 26 after a warrant was issued for his arrest on aggravated assault charges in Atlanta.
Singer Bruno Mars was arrested on September 19, 2010 in Las Vegas, Nevada, on a drug charge. He later accepted a "deferred adjudication" deal in 2011.
Lohan poses for a mug shot on March 20, 2013, after accepting 90 days in a "locked in" drug rehab facility for misdemeanor charges.
Stanley Kirk Burrell, aka MC Hammer, was arrested February 21 in Dublin, California, for allegedly obstructing an officer.
Actor Stephen Baldwin was arrested December 6 on a charge of failing to file New York state personal income tax returns for three years, according to a statement released by the Rockland County district attorney's office.
William J. Drayton, 53, also known as Flavor Flav, was arrested October 17 in Las Vegas and charged with assault with a deadly weapon and battery in a case involving his fiancee of eight years, police said.
Border Patrol agents in Texas arrested singer Fiona Apple on September 18, saying they found marijuana and hashish on her tour bus.
Olympic gold medalist Shaun White, 26, was charged with vandalism and public intoxication in Nashville, Tennessee, on September 16.
Actress Amanda Bynes was booked for suspicion of driving under the influence in Hollywood, California, on April 6 after she got into a fender bender with a marked police car. She later tweeted President Barack Obama and asked him to fire the cop who made the arrest.
Los Angeles police took this 2011 mug shot of party girl Lindsay Lohan for violating her probation for a 2007 drunken driving conviction. She later cleaned up her act -- and the L.A. County Coroner's office -- by completing community service as a morgue janitor.
Bad boy actor Charlie Sheen is no stranger to Hollywood scandal. He posed for this mug after a 2009 arrest related to a domestic violence dispute.
This mug was snapped after Mel Gibson, now notorious for getting himself into trouble, was arrested and charged with drunk driving in 2006.
Nicole Richie was sentenced to four days in jail for DUI in August 2007. She spent 82 minutes in custody.
Musician Randy Travis was arrested August 7 for misdemeanor DWI and felony retaliation after he was involved in a one-vehicle accident and found buck naked in the roadway. He was later released on bond.
Marshall Mathers, aka Eminem, was booked on gun charges twice in June 2000. Police said both arrests stemmed from fights -- the first over his estranged wife, Kim, and the second against rival rap group Insane Clown Posse.
Funny-man Russell Brand landed himself in the Orleans Parish Sheriff's Office on March 16 when he snatched a photographer's iPhone and threw it at a window. Brand was free on bond after turning himself in to New Orleans police.
Rapper Jay-Z was arrested in 1999 for allegedly stabbing a record executive in a New York night club. He pleaded guilty in 2001 and was sentenced to three years' probation.
Matthew McConaughey was arrested in Austin, Texas, in 1999 after police allegedly found him dancing naked and playing bongo drums in his house. He paid a $50 fine for disturbing his neighbors with the show.
Curtis Jackson, aka 50 Cent, posed for this mug in 1994 when he was arrested at 19 for allegedly dealing heroin and crack cocaine.
Robert Downey Jr.'s drug problems are almost as famous as his talent. He served time in the late 1990s on a drug conviction, was arrested in November 2000 for drug possession, and was busted again in April 2001 in Culver City, California.
Wayne "Lil Wayne" Carter was booked on drug charges in Arizona in 2008 and sentenced to a year in prison.
Kiefer Sutherland got this mug shot after surrendering to serve a 48-day sentence for his third DUI arrest.
Backstreet Boy Nick Carter was arrested for drunken driving after failing a field sobriety test in 2005.
"Gossip Girl" star Chase Crawford was arrested in June 2010 in Austin, Texas, and charged with possession of marijuana. He was charged with a misdemeanor because he had less than 2 ounces, according to a police report.
Jane Fonda was arrested in Cleveland, Ohio, in 1970 after a scuffle with police in the airport. U.S. Customs agents allegedly found a large quantity of pills in her possession.
The Oklahoma County, Oklahoma, Sheriff's office took this mug shot of the famous "Home Alone" star Macaulay Culkin after they found marijuana, Xanax and sleeping pills in his possession. He was briefly jailed before being released on bond.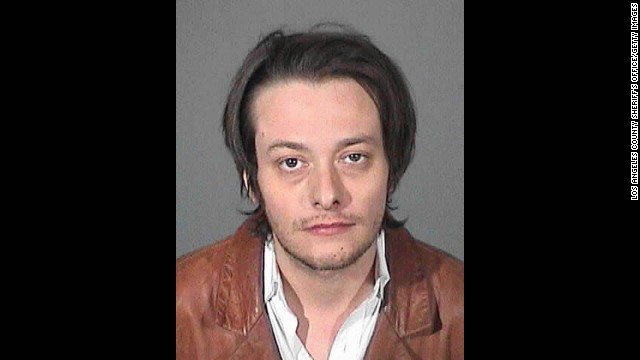 Photos: Celebrity mug shots
Baldwin had trusted paid professionals to handle his affairs, especially during the time he was on an island shooting the reality TV show "Survivor," Yankwitt said.
Baldwin produced a check for $100,000 Thursday as a "good faith" down payment on the money he owed, Yankwitt said.
Baldwin rode in his lawyer's car to the police station and was not handcuffed. The government agreed on a date convenient for both Baldwin and his attorney for the arraignment about a month ago, Yankwitt said.
Baldwin is due back in court on February 5, but hopes his continued work with the state will lead to an agreement on an amount owed, Yankwitt said. They hope to settle somewhere between $100,000 Baldwin paid Thursday and the $350,000 the state is claiming, Yankwitt said.
District Attorney Thomas P. Zugibe said Baldwin's failure to file returns and pay taxes had contributed to sweeping cutbacks and closures in local government agencies and schools.
"At a time when Rockland County and New York State face severe fiscal shortfalls, we cannot afford to allow wealthy residents to break the law by cheating on their taxes," Zugibe said. Baldwin faces up to four years in state prison if convicted on the state felony charge.
And New York State Commissioner of Taxation and Finance Thomas H. Mattox said, "It is rare and unfortunate for a personal income tax case to require such strong enforcement measures in order to ensure compliance with our tax laws ... particularly in light of the fact that the vast majority of New Yorkers fulfill their filing requirements voluntarily."
The youngest of the four show-business Baldwin brothers, Stephen Baldwin is known for his 1994 role in the film "The Usual Suspects" and a 1989 appearance in the TV series "The Young Riders." He also has become a conservative political activist, launching a conservative talk radio show in 2008, and speaking at political events around the country.

Part of complete coverage on
updated 10:26 AM EST, Wed February 6, 2013

Advocates say the exam includes unnecessarily invasive and irrelevant procedures -- like a so-called "two finger" test.
updated 7:09 PM EST, Tue February 5, 2013

Supplies of food, clothing and fuel are running short in Damascus and people are going hungry as the civil war drags on.
updated 1:01 PM EST, Wed February 6, 2013

Supporters of Richard III want a reconstruction of his head to bring a human aspect to a leader portrayed as a murderous villain.
updated 10:48 AM EST, Tue February 5, 2013

Robert Fowler spent 130 days held hostage by the same al Qaeda group that was behind the Algeria massacre. He shares his experience.
updated 12:07 AM EST, Wed February 6, 2013

As "We are the World" plays, a video shows what looks like a nuclear attack on the U.S. Jim Clancy reports on a bizarre video from North Korea.

The relationship is, once again, cold enough to make Obama's much-trumpeted "reset" in Russian-U.S. relations seem thoroughly off the rails.

Ten years on, what do you think the Iraq war has changed in you, and in your country? Send us your thoughts and experiences.
updated 7:15 AM EST, Tue February 5, 2013

Musician Daniela Mercury has sold more than 12 million albums worldwide over a career span of nearly 30 years.

Photojournalist Alison Wright travelled the world to capture its many faces in her latest book, "Face to Face: Portraits of the Human Spirit."
updated 7:06 PM EST, Tue February 5, 2013

Europol claims 380 soccer matches, including top level ones, were fixed - as the scandal widens, CNN's Dan Rivers looks at how it's done.
updated 7:37 AM EST, Wed February 6, 2013

That galaxy far, far away is apparently bigger than first thought. The "Star Wars" franchise will get two spinoff movies, Disney announced.
updated 2:18 AM EST, Fri February 8, 2013

It's an essential part of any trip, an activity we all take part in. Yet almost none of us are any good at it. Souvenir buying is too often an obligatory slog.