Photo appears to show Zimmerman bleeding after Trayvon Martin killing
updated 7:48 AM EST, Tue December 4, 2012
STORY HIGHLIGHTS
The photo shows Zimmerman apparently bleeding on the night of Martin's killing
Prosecutors previously provided a black-and-white copy, Zimmerman's defense says
Zimmerman claims he killed Trayvon Martin in self-defense
Martin's defense team says he was killed "in cold blood"
(CNN) -- A photo posted online Monday shows George Zimmerman with blood on his nose and lips. His attorneys say it was taken the night unarmed teen Trayvon Martin was killed in Sanford, Florida.
Zimmerman says he shot Martin in self-defense. Martin's attorneys say he was shot and killed "in cold blood."
Prosecutors have charged Zimmerman with second-degree murder for the February 26 killing.
The picture, posted Monday on Zimmerman's defense website, was taken by a police officer, Zimmerman's attorneys wrote.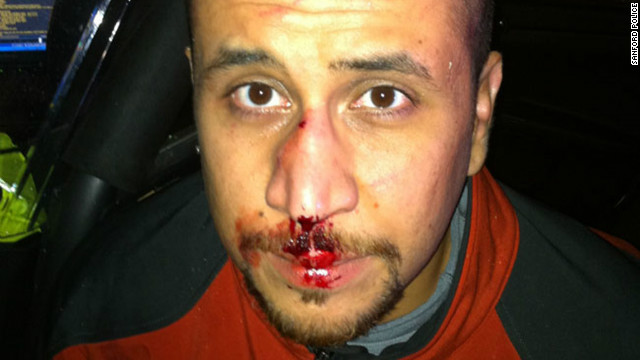 A photo posted online Monday, December 3, shows George Zimmerman with blood on his nose and lips. His attorneys say it was taken the night unarmed teen Trayvon Martin was killed in Sanford, Florida. Zimmerman, 28, faces second-degree murder charges in the death of Martin in Sanford, Florida, on February 26, 2012. Other evidence photos were released earlier this year:
Zimmerman says he shot Martin in self-defense. Martin's attorneys say he was shot and killed "in cold blood."
Zimmerman said that before he shot the teenager, he was "assaulted (by Martin) and his head was struck on the pavement," according to a police report.
According to a fire department report, Zimmerman had "abrasions to his forehead," "bleeding/tenderness to his nose" and a "small laceration to the back of his head" when he was treated at the scene.
In a photo released by the Sanford Police Department, Zimmerman's hands appear to be unmarked.
Prosecutors allege Zimmerman unjustly killed Martin, an unarmed teenager, after profiling him. Zimmerman has pleaded not guilty and claims self-defense.
Zimmerman's gun is displayed. The shooting raised questions about gun laws, as well as the merit of the "stand your ground" law in Florida and similar laws in other states.
Crime scene photos released by the Sanford Police Department show Trayvon Martin's cell phone at the scene of the shooting.
Evidence marker 2 shows a plastic sack found at the crime scene.
A can of Arizona iced tea was found on the ground at the Martin crime scene.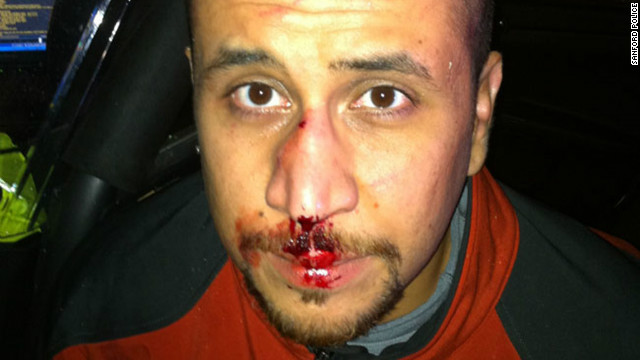 Photos: Trayvon Martin evidence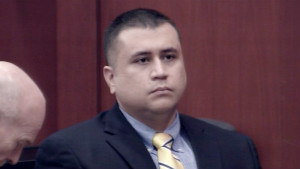 Zimmerman's attorney speaks about case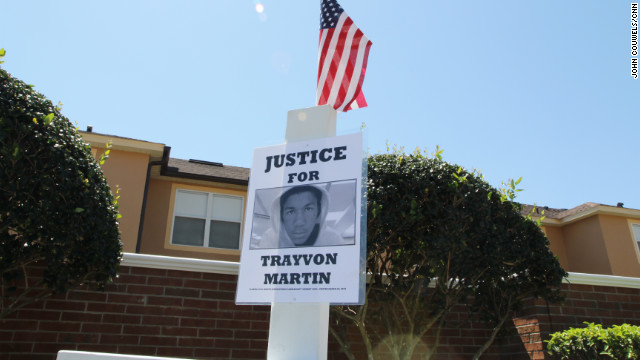 Memorials to Trayvon Martin grow daily outside The Retreat at Twin Lakes, the gated Sanford, Florida, community where neighborhood watchman George Zimmerman shot and killed the unarmed teen February 26. The death has sparked protests across the country and brought unwanted attention to Sanford, a town north of Orlando.
Sanford's main roads are dotted with mini strip malls in between patches of what remains of central Florida's agricultural history. Views about the Martin case depend on which streets you stand on in Sanford.
"I don't see Sanford as being a prejudiced town by any means," said Michelle Simoneaux, left, manager of downtown's Colonial Room Restaurant and Fountain. "This could happen anywhere, but it doesn't happen every day. "
A neighborhood watch sign marks the gated community where Martin died. Zimmerman has said he killed the teen in self-defense, police said.
Members of the Goldsboro community play a game under an oak tree. Goldsboro was one of Florida's earliest towns incorporated by African-Americans before Sanford absorbed it and took over in 1911. Residents speak of frequent police patrols in the area and other cases similar to Martin's.
A protest sign painted on the window of a car at a housing project calls for Zimmerman's arrest. For some, the Martin case has become a rallying cry, a chance to air what they believe are years of grievances.
The Martin killing has been the subject of intense coverage in local newspapers as well as the national media.
Longtime resident Myranette Boynton, 58, says she thinks the attention to Sanford will make a difference. "This occasion has happened too many times, and enough is enough," Boynton says from the banks of Lake Monroe. "Trayvon is not the only one, but Trayvon should be the last one."
A handwritten card lies among the memorial gifts outside the neighborhood where the high schooler died.
A woman strolls through the downtown area. Many residents say they wonder whether Sanford will forever be known as the place where an unarmed black teen was killed while heading home from the store.
Signs about the shooting have been posted throughout the Florida city, and the message is clear: People want answers.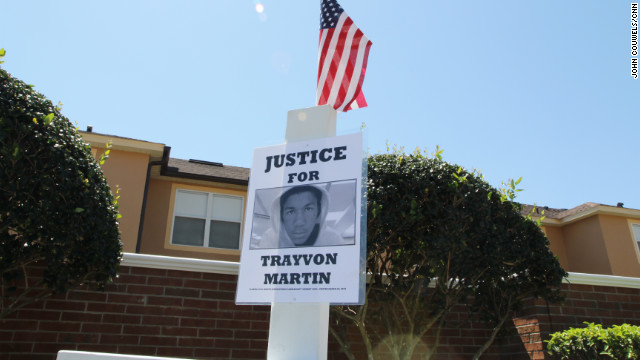 Stigma for town in Trayvon Martin killing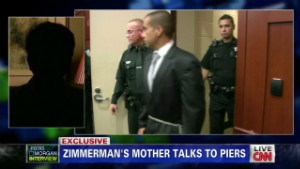 Zimmerman's mom: 'I believe in justice'
The state had previously provided a black-and-white copy of the image, the attorneys wrote on the website. "This high resolution digital file was finally provided to the defense on October 29."
A police report from the night of the incident said Zimmerman was "bleeding from the nose and back of his head."
The 28-year-old volunteer neighborhood watchman was driving through his gated community when the incident occurred. Martin was walking through the neighborhood to his father's girlfriend's house.
Zimmerman has claimed that after the two exchanged words, Martin charged at him, knocked him to the ground and banged his head repeatedly against a concrete sidewalk.
Martin's family says Zimmerman attacked the teen, who had done nothing wrong.
Martin's death sparked nationwide protests and inflamed public passions over race relations and gun control, as well as Florida's controversial "stand your ground" law, which allows the use of deadly force when a person perceives a threat to safety.
In August, a new judge was named to oversee the case, after an appeals court agreed to a request from Zimmerman's defense team. The attorneys had argued the previous judge had made remarks putting Zimmerman in reasonable fear of an unfair trial.
Judge rules George Zimmerman's team can review slain teen's records

Part of complete coverage on
Trayvon Martin shooting
updated 10:51 AM EST, Tue February 26, 2013

February 26, 2012. That was the day two strangers -- Trayvon Martin, and George Zimmerman -- met for the first and only time.
updated 10:47 AM EST, Tue February 26, 2013

The shooting death of Trayvon Martin one year ago continues to resonate among the consciousness of many Americans.
updated 1:16 PM EST, Tue February 26, 2013

The final, violent moments in the life of their son, Trayvon Martin, no longer dominate the national news, as they once did.

One year after an explosion of press attention, the question seems obvious: Has the news media learned anything about covering race issues in the wake of the Trayvon Martin shooting?
updated 8:55 AM EDT, Thu March 22, 2012

Supporters of Trayvon Martin rallyed in New York's Union Square during a "Million Hoodie March" on Wednesday, March 21, 2012.
updated 4:00 PM EST, Tue February 26, 2013

"Murderer," one e-mail's subject line said. These venom-drenched words are just a smattering of at least 400 e-mails and letters, all sent to George Zimmerman over the past 10 months.

The shooting of Trayvon Martin prompted Florida, and other states, to take another look at the law pivotal to this case, the so-called "stand your ground" law.
updated 7:55 AM EDT, Thu July 19, 2012

George Zimmerman gave his first television interview, saying he had to act after Trayvon Martin said "you are going to die tonight" and reached for Zimmerman's gun holster.
updated 11:13 AM EDT, Fri May 18, 2012

Florida, urged prosecutors to take George Zimmerman into custody after arguing his killing of Trayvon Martin was "ultimately avoidable."
updated 8:50 AM EDT, Wed May 9, 2012

The police chief in Sanford, Florida, said communities should "take a good, hard look at who is selected" for neighborhood watch programs.
updated 11:33 AM EDT, Fri March 30, 2012

Just like most any other teenager, Trayvon Martin enjoyed listening to music, going to the movies and the roller rink with his friends, friends and family said.

The Martin case renewed scrutiny of Florida's 2005 "Stand Your Ground" law -- and others like it.
updated 10:10 PM EDT, Wed April 18, 2012

The judge in George Zimmerman case has received high ratings from defense lawyers but isn't known as a "soft touch."
updated 5:31 PM EST, Mon December 3, 2012

See photos of an injured George Zimmerman that his attorneys say it were taken the night unarmed teen Trayvon Martin was killed in Sanford, Florida.