STORY HIGHLIGHTS
Republicans and Democrats are still trying to reach a deal to avert the fiscal cliff
Ilyse Hogue: Republicans seem to be the ones suffering from a break with reality
She says GOP can't keep helping the rich at expense of the middle class
Hogue: As Rand Paul puts it aptly, GOP risks becoming extinct if they don't change
Editor's note: Ilyse Hogue is co-director of Friends of Democracy, a super PAC aimed at electing candidates who champion campaign finance reform. She is the former director of political advocacy and communications for MoveOn.org and has been a senior strategist to Democratic and progressive groups, including Media Matters for America, Public Campaign and Rebuild the Dream. She is a regular contributor to The Nation magazine.
(CNN) -- Hyperbole among GOP lawmakers and the anguished pundit class reached epic proportions this week as Treasury Secretary Tim Geithner presented the president's proposal to address the looming tax increases and spending cuts set to kick in, if a deal is not reached by January.
GOP Senate Minority Leader, Mitch McConnell, warned that the president's proposal takes us backward, moving us "significantly closer to the cliff." Anonymous Republican aides were immediately dispatched to trash the proposal of revenue increases and spending cuts as "a joke," "an insult" and "a complete break from reality."
These remarks, coming on the heels of a sound rejection of Mitt Romney's fidelity to America's 1%, indicate that the ones suffering from a break with reality are the Republicans deaf to the mandate of this election. Their delusional commitment to eviscerating social insurance programs -- Social Security, Medicare and Medicaid -- while allowing the rich to get richer shows a remarkable disconnect from the shared experience of most Americans.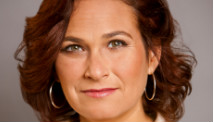 Ilyse Hogue
Decades of underinvestment in our country by the wealthy class, two Bush wars paid for on credit, and an unrestrained culture on Wall Street that treated the economy like a poorly run casino has unarguably left America strapped for cash. The only question at hand is whether we'll finally be treated to genuine accountability and sound fiscal policy in this deal.
Not if the Republicans get their way. Their endless exaggeration of the certain doom that awaits us on the other side of the fiscal cliff is intended once again to force middle class and poor Americans to accept yet one more bum deal so that the wealthy don't have to budge an inch. But this time, they do so at their own political peril.
The social divide that has enabled their antics is becoming perilously unbalanced. A full 60% of Americans support letting the Bush-era tax cuts expire for those making over $250,000 a year. This includes 63% of Independents. On the spending side, polls show that most Americans don't want to raise the eligibility age for Medicare.
The polling jury is less clear on the question of Medicaid, the program that serves a population that is disproportionately young, disproportionately female and disproportionately people of color. By definition, these people are poor. This is the population that has suffered the most in an economic recession.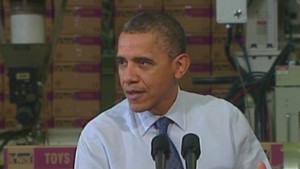 Obama: Fiscal cliff can be averted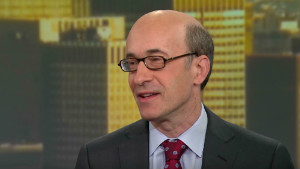 Ken Rogoff on fiscal cliff talks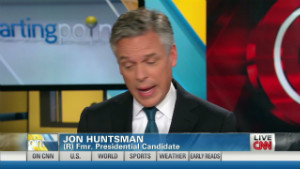 Huntsman expects cliff breakthrough
But instead of putting genuine effort into ways to help millions of Americans, some in the GOP chose to demonize them as freeloaders. While scapegoating and race baiting might dent the polling popularity of Medicaid, it won't change the fact that slashing these services will mean the difference between eating and starving, having rent and being homeless. And cutting social security won't change the fact that many elderly Americans depend on the fund for 90% of their income.
At a time when economic inequality is the highest it's been since the Great Depression and federal tax rates are lower than they were under Ronald Reagan, the party that fails to support the will of the people will pay a price.
But when push comes to shove, the GOP has greater masters to serve. The Sheldon Adelsons of the 2012 campaign are being followed by Fix the Debt, a corporate front group most aggressively holding lawmakers' feet to the fire to cut benefit programs. While the group as a whole takes no official position on tax revenue, the membership roster is a veritable who's who of warriors for corporate tax cuts. The money to run this country has to come from somewhere, and this group nominates the old, the sick, and the poor to foot the bill.
Following the advice of this cabal seems like a dicey proposition morally and politically, a fact that's not lost on all GOP lawmakers. Some are starting to prioritize their own reelection prospects over party fidelity. Rep. Tom Cole of Oklahoma broke rank recently to argue that his party should go along with President Obama's plan of taxing the wealthiest Americans.
Put aside for a moment the grave moral injustice of forcing the middle class, the poor and the elderly to foot the bill for an economic mess not of their making. Pursuing concessions like these barrels down a political path that has been shown to be an abject failure. Two-thirds of Americans believe that our representatives in Washington will act like "spoiled children" through these negotiations, with most people blaming Republicans for the standoff.
And this is where the fiscal cliff negotiations makes strange bedfellows, because for once I find myself agreeing with Rand Paul's assessment that the GOP risks becoming extinct like dinosaurs, if they don't change course.
Follow us on Twitter @CNNOpinion
Join us on Facebook/CNNOpinion
The opinions expressed in this commentary are solely those of Ilyse Hogue.