English Premier League's hidden costs revealed
updated 4:19 PM EST, Sat December 1, 2012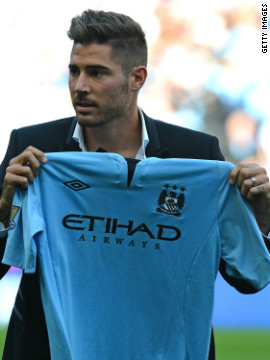 Manchester City was the highest spender when it came to agents' fees, paying out close to $17million. Manager Roberto Mancini was busy in the transfer market, bringing in the likes of Javi Garcia from Benfica.
New Liverpool manager Brendan Rodgers brought in $40 million worth of talent in Fabio Borini and Joe Allen in August. The Anfield club has struggled on the pitch however, languishing in 12th place.
Esteban Granero arrived at Queens Park Rangers with the hope of lighting up the Premier League. But the former Real Madrid man has endured a difficult start, with his new team rock bottom and yet to win a game.
Tottenham manager Andre Villas-Boas was a busy man during the summer transfer window, bringing in the likes of Clint Dempsey and Mousa Dembele from Fulham as well as France goalkeeper Hugo Lloris and Belgium's Jan Vertonghen.
Eden Hazard was just one of the big arrivals at Chelsea after arriving from French club Lille in a deal worth over $50 million. The Blues also brought in Brazilian playmaker Oscar and German winger Marko Marin.
When it comes to business, Arsenal is held up as a beacon club by many. It spent wisely once again in pre-season, attracting Germany international Lukas Podolski, Spain's Santi Cazorla and France forward Olivier Giroud.
Robin van Persie was Manchester United's big summer signing after he arrived from Arsenal. United also brough in Shinji Kagawa from Borussia Dortmund and Alex Buttner from Vitesse Arnhem.
Premier League newcomers Southampton spent the least on agents' fees. The Saints spent most of its budget on Gaston Ramirez from Bologna, who cost just over $19 million.
Manchester City - $17m
Liverpool - $13.8m
Queens Park Rangers - $10.9m
Tottenham Hotspur - $10.5m
Chelsea - $10.3m
Arsenal - $8.8m
Manchester United - $5.7m
Southampton - $1m
STORY HIGHLIGHTS
Premier League clubs spent $123 million of agents fees between October 1 2011 and September 30 2012
Records show an increase from previous year's total of $115 million
Manchester City are highest spenders after paying out $17 million
Premier League newcomers Southampton at the bottom of the pile
(CNN) -- The hidden costs of football were revealed as the English Premier League released figures showing that its clubs spent over $123 million on agents' fees between October 1 2011 and September 30 2012.
That's an increase from the previous year's figures where an estimated $115 million was paid out by clubs.
Premier League champions Manchester City were the biggest spenders, splashing out nearly $17 million.
Manager Roberto Mancini added significantly to his squad before the 2012-13 season with the arrivals of Jack Rodwell from Everton, Javi Garcia from Benfica and Matija Nastasic from Fiorentina.
That number is fractionally up on the previous year's figures, which saw City spend just under $15.5 million.
While cash-rich City might have been expected to be leading the table, Liverpool's second place ranking comes as something of a surprise.
Fair play? Football clubs seek to beat financial offside trap
The Anfield club spent around $13.8 million on agents' fees, with much of that coming from the reported $40 million it paid out for Fabio Borini and Joe Allen in August.
Relegation-threatened Queens Park Rangers spent the third highest amount.
The west London club has yet to win a single league game this season and appointed Harry Redknapp as its new manager last week after dispensing with the services of Mark Hughes.
Rangers paid around $10.9 million to agents with former boss Hughes signing a host of players including Brazil's Julio Cesar from Inter Milan, Real Madrid's Esteban Granero and Ji-Sung Park from Manchester United.
Tottenham ($10.5 million) and Chelsea ($10.3 million) are also at the top end, while Premier League newcomers Southampton spent just over $1 million.
Arsenal insist $240 million windfall is 'all about football'
According to the figures, Manchester United paid $5.7 million, which was down from $7.1 million the previous year.
Of the newly-promoted clubs, West Ham United leads the way, racking up figures of $7.1 million, while Reading came close to hitting the $3.5 million mark.
Arsenal ($8.8 million) and Newcastle ($5.6m) were also significant contributors.